NBC's venerable comedy show skewered both Rep. Debbie Wasserman Schultz (D-Fla.) and Rep. Jason Chaffetz (R-Utah) in their cold open Saturday night during which comedians parodied a "Fox & Friends" segment.
"Saturday Night Live" comedians Vanessa Bayer, Taran Killam and Bobby Moynihan portrayed a bumbling version of the Fox News' show's real hosts, Steve Doocy, Elisabeth Hasselbeck and Brian Kilmeade as they discussed the ongoing contentious House Speaker race and the undercover Planned Parenthood videos.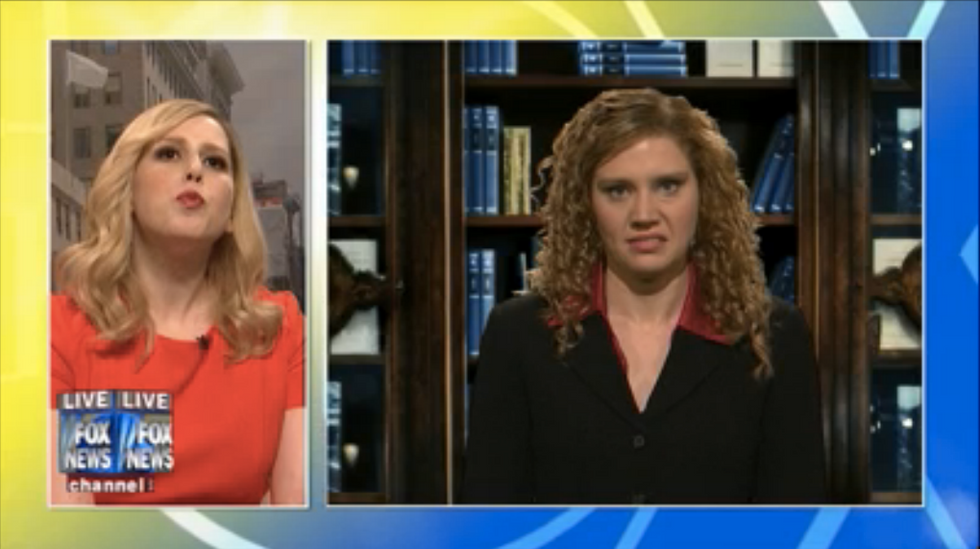 Image source: NBC
Kate McKinnon joined the parodied segment as a crazed DNC chair who appeared to be having a breakdown over the idea of defunding the women's healthcare and abortion provider.
"Let me ask you, Elisabeth, do you want to get into a legal battle with Debbie Wasserman Schultz? My name sounds like a law firm," McKinnon's character said.
"Have you considered what might happen when you mess with millions of women? You know when a bachelorette party walks into a bar and just blows the place up?" she said. "It's going to be like that, but instead of a bar, it's America. We're organized, we're pissed and we're all looking for a pap smear."
Wasserman Schultz's unhinged monologue was met with applause and cheers by Kilmeade who said he just likes to side with "whoever is the loudest."
The "Fox & Friends" hosts also interviewed Chaffetz, portrayed by Pete Davidson, who announced his candidacy for House Speaker last week and appeared overjoyed to be on television. His excitement soon faded during the skit, however, when he learned that Rep. Paul Ryan (R-Wisc.) is rumored to possibly throw his hat into the ring as well.
Watch "SNL" parody "Fox & Friends" below.