For months, Hillary Clinton stood in the position of looking down on the rest of the Democratic field. On Tuesday night, she'll face them on equal footing on the national stage.
Here are six things to watch for when the Democratic presidential candidates face off on the debate stage for the first time.
1. Hillary vs. Bernie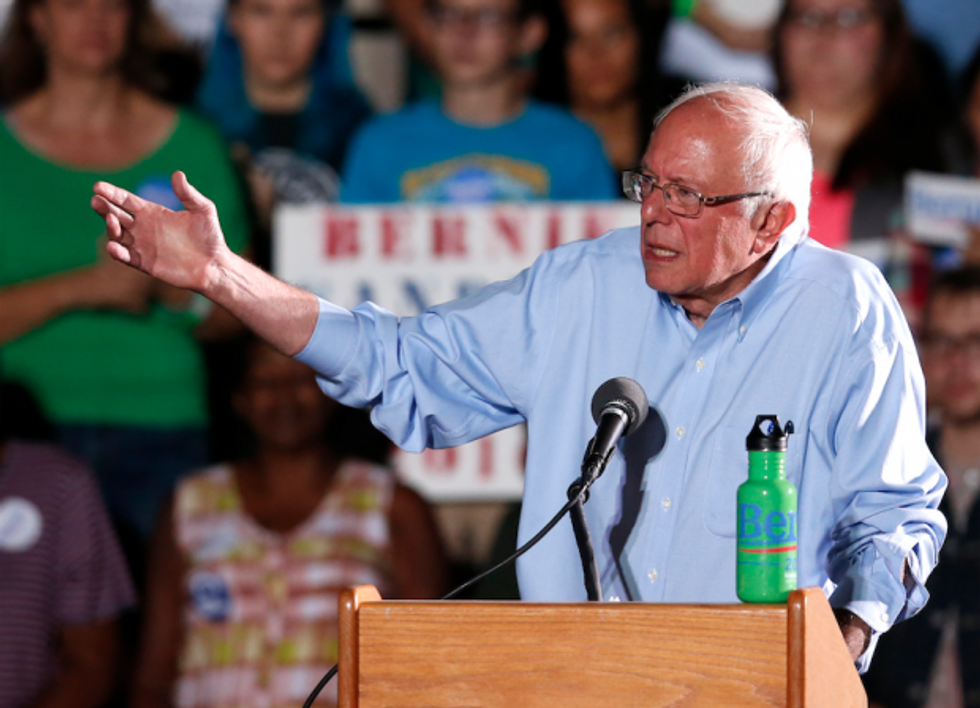 Democratic presidential candidate Sen. Bernie Sanders, I-Vt. speaks during a rally, Friday, Oct. 9, 2015, in Tucson, Ariz. (AP Photo/Rick Scuteri)
Although there are five candidates, expect the former secretary of state and Vermont Sen. Bernie Sanders to dominate the debate, said Terry Michael, a former press secretary for the Democratic National Committee.
"Clinton is criticized for a lack of authenticity and Sanders is known for igniting energy and this will be the first time they will engage on stage," Michael, now the executive director of the Washington Center for Politics and Journalism, told TheBlaze. "His supporters want to see him draw a contrast. Money is not a problem for either. The problem for both is history. For her, Bill Clinton, for him, that he has identified himself as a democratic socialist."
Most national polls show Clinton with a significant lead over Sanders, but the polls that typically count in a presidential race are in early states; Sanders leads Clinton in several New Hampshire polls, while he's close to her in Iowa.
Michael believes that Sanders could win the nomination based on his populist appeal, in contrast to the lack of trust even many Democratic voters have for Clinton.
Other candidates in the race – former Maryland Gov. Martin O'Malley, former Virginia Sen. James Webb and former Rhode Island Gov. Lincoln Chafee – are all at 2 percent or less in most polls.
"Sanders, because he is posing more of a threat, a lot of eyes will be on him," Alan Schroeder, a journalism professor at Northeastern University and the author of "Presidential Debates: 50 Years of High-Risk TV," told TheBlaze. "Others aren't going to be plotted plants. O'Malley has signaled he sees this as an opportunity to gain leverage."
Schroeder said he doesn't anticipate Sanders will have a strategy of pushing Clinton to the left, but thinks the senator will point out differences between the two of them.
"There is bound to be contrast, substantive contrast, but there is danger in going too far left for him should he actually become the nominee," Schroeder said.
2. The Biden Dynamic
Of course, the elephant — so to speak — in the room is Vice President Joe Biden, who is polling double-digits without even having announced his candidacy.
CNN is giving Biden up to the last minute to decide whether to join in on Tuesday. While he's not expected to, there is literally an empty podium waiting for him just in case.
In case of Biden break out podium number 6. Here it is folks. #DemDebatepic.twitter.com/27B7ij3IEO

— Jim Acosta (@Acosta) October 12, 2015
Still, whether physically or just in spirit, Biden's presence will certain be felt.
"He will definitely have a presence," Andy Smith, director of the University of New Hampshire Survey Center, told TheBlaze. "It will almost be like there is an empty chair. There will be Joe Biden questions in this debate about what that means for the race. It will be like Joe Biden's spirit is hovering over the stage."
If Biden does run, skipping the first debate won't harm his candidacy, Republican strategist and Dallas talk show host Debbie Georgatos told TheBlaze.
"Joe Biden's absence will not hurt him," Georgatos said. "He has virtually 100 percent name recognition and apparent backing by President Obama. He is seen as an Obama loyalist and his recent floating of Elizabeth Warren as a potential VP choice will add to his credentials among the further left-leaning Democrat voters who might be considering supporting Bernie Sanders."
3. The Moderator
Analysts also agree that the moderator, in this case CNN's Anderson Cooper, can have an impact on the debate.
"How significant this debate is in the presidential race could depend on how aggressive the moderators are at pulling the candidates off their talking points as they did with Republican candidates in the Fox News and CNN debates," said Tim Hagle, a political science professor at the University of Iowa. "One job will be to show how these candidates disagree."
Schroeder thinks Cooper and other CNN panelists might refrain from being too prominent.
"Anderson Cooper is one of CNN's big personalities and they want him in that role, but we saw Jake Tapper in the last Republican debate hang back," Schroeder said. "That may be the thought process of CNN. But sometimes the moderator becomes the story anyway, whether they mean to or not. Look at Megyn Kelly."
4. Email Questions
The scandal over Clinton's private server has dogged her for much of the year. While she has answered questions before, on Tuesday she'll face not only journalists but also Democratic opponents who might have their own questions.
"How she handles the email questions will depend on how well she does in the debate," Smith said. "She has been given an opportunity with [House Majority Leader] Kevin McCarthy's comment to say 'This is all Republicans out to get me again.' That can help her in front of a receptive Democratic crowd, and it has worked for her in the past. But the difficulty is still explaining why she had a private serer to begin with."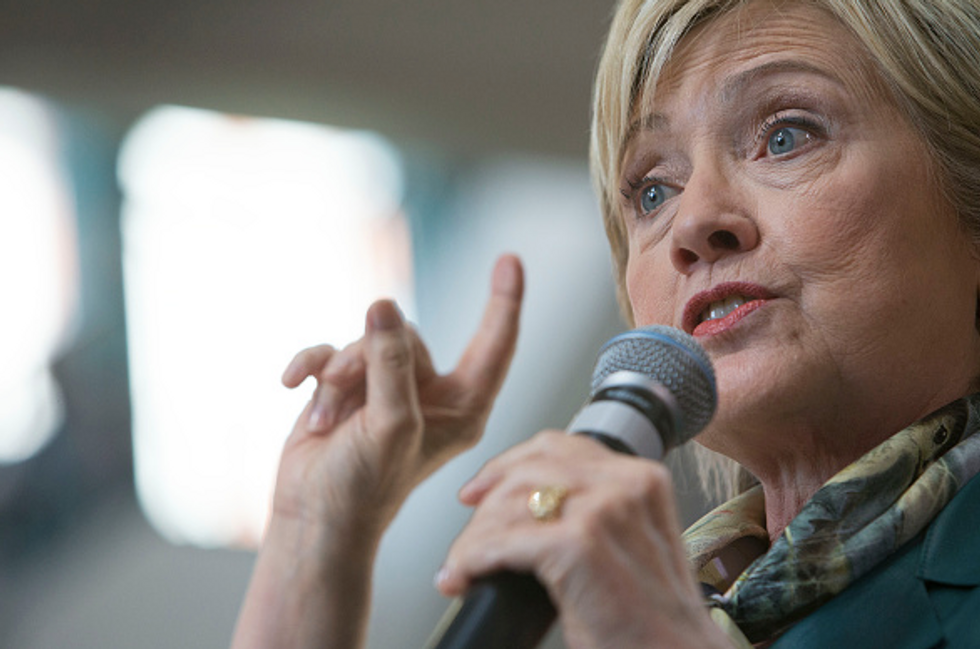 Hillary Clinton, former secretary of state and 2016 Democratic presidential candidate, speaks during a campaign stop in Davenport, Iowa, Oct. 6, 2015. (Daniel Acker/Bloomberg via Getty Images)
5. Who Will the Winners and Losers Be?
Clinton has the most to lose Tuesday night; Sanders has much to gain; and the other three candidates have nothing to lose.
"It could help some of these candidates get a boost in fundraising and polling, as we saw from the Republican debate with Carly Fiorina, who was nowhere before the first debate and now everyone is talking about her," Hagle said.
However, the Democratic contest is so lopsided that a strong performance might not be enough.
"These other candidates can do well, but it would have to be vis-a-vis Hillary Clinton doing poorly because she already towers over everyone on the stage, with Sanders being the possible exception," Hagle added. "Someone would have to stand out as a viable alternative."
Georgatos, the Republican strategist, believes Webb has a chance to stand out.
"His military background, coupled with service in the United States Senate, along with a hint of the erudite — he taught literature at the Naval Academy and was a Harvard Institute of Politics Fellow — may cause some to give a fresh look at his candidacy," she said.
Michael, the former DNC spokesman, doesn't foresee the lagging three candidates making a breakthrough.
"I can't see any advantage for any of the other three candidates unless Clinton and Sanders crash and burn, which isn't gong to happen," Michael said.
Based on his record of drawing enthusiastic crowds, Sanders could be the big winner, Smith said.
"People who have seen him up close have liked him," Smith said. "This is a real opportunity for him to widen his base to Democrats that may not know him."
6. Does the Debate Really Matter?
One debate doesn't determine a nominee, though primary debates can winnow the already comparably small pool of Democratic candidates.
"The fact that there were 24 million viewers for the first two Republican debates means that debates are a big deal so far," Schroeder said. "There are only six Democratic debates scheduled, so there aren't many more chances for people who are interested."
Also, no Donald Trump could produce a more sober tone, Schroeder said.
"There will likely be a more serious feeling to this debate because there is no Trump circus," Schroeder added. "On the other hand, that could mean the audience isn't as big or the audience doesn't stay."
So few debates have been a point of contention among several candidates who charge that the Democratic Party is trying to protect the frontrunner.
There is potential for that to backfire, given that Clinton's campaign has had more trouble than expected, Smith said.
"The DNC has gone with Clinton's wishes, but now, she might need more debates," Smith said. "With only six debates scheduled, people will wonder, why not have more?"