Boeing showcased its research with what it's calling the "Lightest. Metal. Ever." in a recent video. While it might be airy enough to sit on top of dandelion fluff without crushing it, the company says its " record-breaking lightness" packs a strong punch.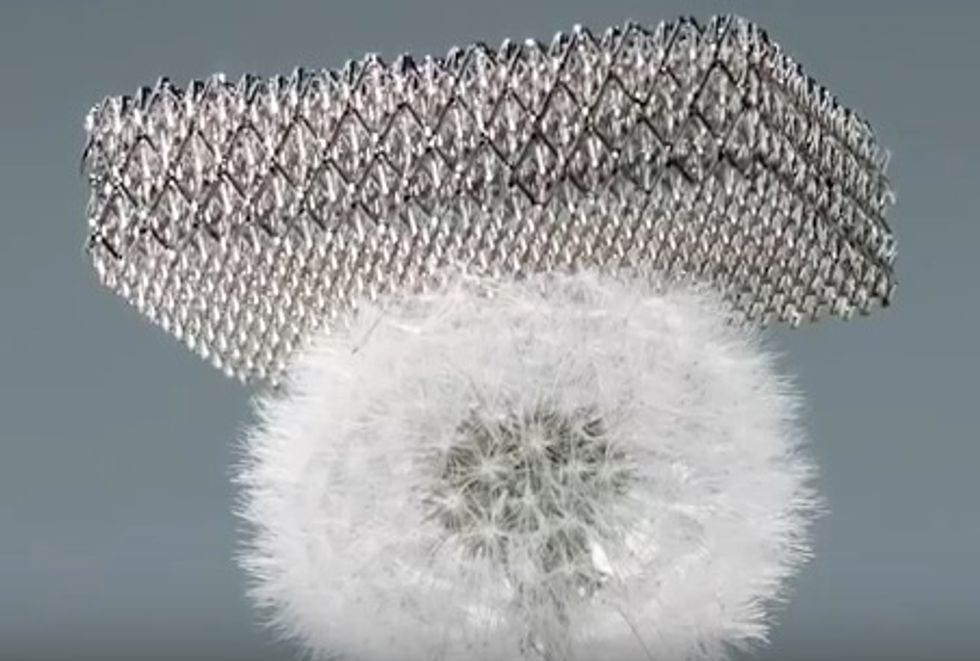 Image source: Boeing/YouTube 
The microlattice metal being studied by Boeing's innovation arm is something it hopes could be used on planes and cars someday.
"The entire structure was basically 99.99 percent air," said Sophia Yang with HRL Laboratories, which is in a joint venture with Boeing.
Yang explained that the metal — "one of the strongest and lightest materials known to science," Boeing wrote — is similar to bone in its structure.
"In your bone structures, the outside of your bone is very rigid, but on the inside, it's actually mostly hollow," she said.
The microlattice design was introduced a few years ago, but Boeing and HRL are looking into how it could be applied to structures now.
"In the future, the material can help Boeing to save a lot of weight to make airplanes more fuel efficient," Yang said.
Watch this video from Boeing to learn more:
HRL Laboratories announced another possible application for the microlattice metal last year, that being inside football helmets as padding. HRL's company Architected Materials, Inc., and the University of California, Los Angeles, were awarded a $500,000 grant to test the material in helmets.
(H/T: SlashGear)