Hillary Clinton will face her Democratic rivals for the first time on the debate stage Tuesday, but anything she says may well have to compete for attention in the news cycle: Some 1,500 pages of new emails are set to be released the same day, at least some of which are expected to show a breach of classified information, Politico reported.
This time, the batch of emails is coming from the House Select Committee on Benghazi. Committee Chairman Trey Gowdy announced in a letter last week that more emails would be released regarding Clinton ally Sydney Blumenthal.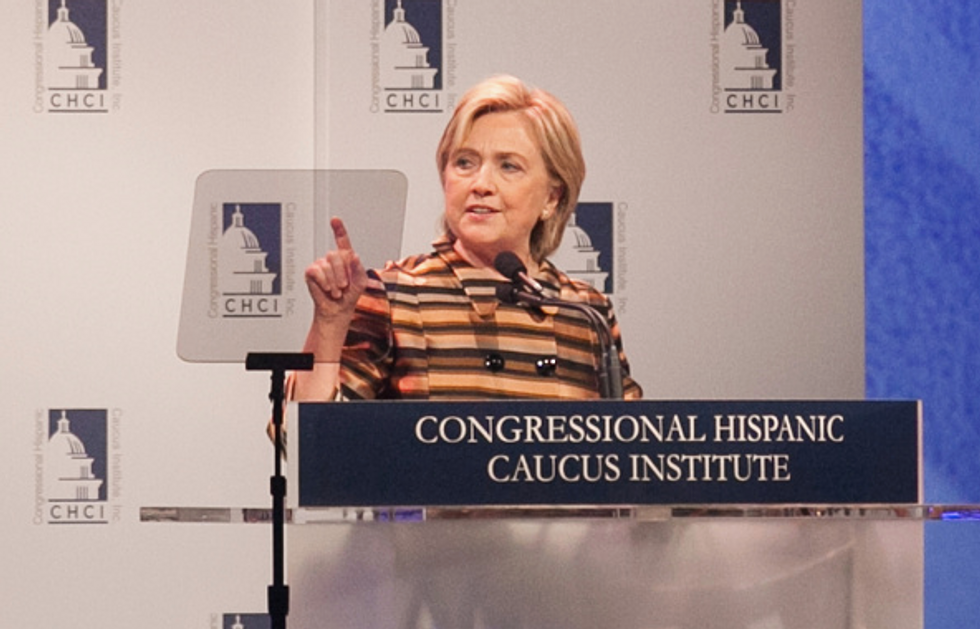 Teresa Kroeger/Getty Images
Politico reported Monday that the expected release of emails includes one message that names human sources providing information to the CIA, according to Gowdy.
Gowdy in the letter described this as "information Clinton should have known was classified at the time she received it."
The email controversy has dogged Clinton for much of the year. The FBI is investigating whether the private email server she used while serving as secretary of state contained classified information. Most previous email releases have been by the State Department under the Freedom of Information Act in response to news organizations or government watchdog groups.
From Politico:
The timing of another release appears to be no accident, and Republicans on the House Benghazi Committee have been defending themselves from charges that the whole investigation is a partisan witch hunt designed to derail Clinton's candidacy. That line of attack intensified over the weekend.

The Tuesday release includes more than 1,500 emails relating to Libya, including over 500 pages of emails to and from Blumenthal. His involvement has been controversial because he had been rejected by the Obama administration for a top job under Clinton but had a back channel to her, while simultaneously pursuing private business interests in Libya. She forwarded some of his emails to other top officials ...

Some information has emerged from the Benghazi committee and two Senate panels probing aspects of Clinton's email setup. The campaign has also been buffeted by disclosures in the nearly 40 Freedom of Information lawsuits pending in federal court. Most of the suits were filed by two conservative groups long at odds with Clinton and her husband, former President Bill Clinton — Judicial Watch and Citizens United.

The Clinton campaign's strategy for handling the email mess has evolved in recent months, passing through three distinct phases. At the outset of the controversy, Clinton insisted she'd done nothing wrong, and she sometimes treated the issue as a joke. This approach was epitomized by her response at an August press conference where she was asked if her email server had been wiped of all the emails her lawyers deemed were personal and she replied: "What with a cloth or something?"

The second phase, triggered by slumping poll numbers, involved greater contrition and an acknowledgment that many potential Clinton supporters had concerns about her decision to put the entirety of her email records as secretary of state on a private server. Clinton conceded that her decision to do that was a "mistake," while Clinton's aides also took on a proactive effort to publicly litigate the facts, including through a web video that tackled alleged misstatements in news accounts about the furor.

The third phase of Clinton response, and the one the candidate is expected to display at Tuesday night's debate, has shown increased combativeness, illustrated by Clinton's angry reaction when asked by an interviewer last week about the email aspect of the Benghazi probe.>