Billionaire businessman and Republican presidential candidate Donald Trump wasn't the only one drawing attention on Twitter Tuesday night. Former Red Sox pitcher Curt Schilling attracted plenty of eyeballs when he said that "ISIS" was winning the Democratic primary debate.
Trump, who was live-tweeting the debate, sent a tweet asking his followers who they thought was winning so far.
Schilling responded, "ISIS."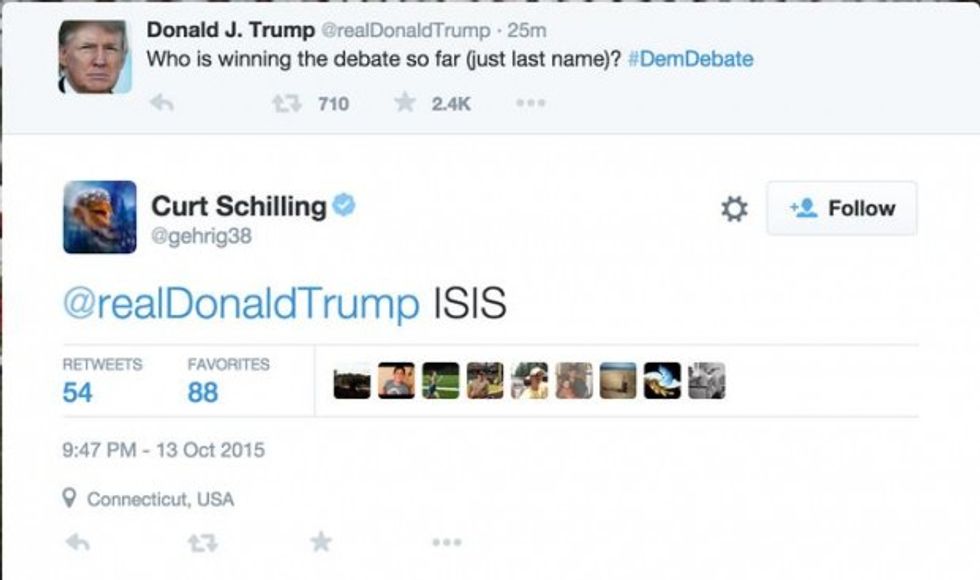 Image source: Twitter
The blowback to Schilling's tweet was both quick and harsh.
"Curt. stop tweeting. you're making all the Red Sox fans who once loved you so sad," one user tweeted.
"Why are you so terrible, @gehrig38?" another asked Schilling.
Why are you so terrible, @gehrig38? http://t.co/k3prytB1qg

— abolish the police (@abolish the police) 1444787905.0
Another Twitter user took a shot at Trump and Schilling, tweeting, "I can't decide which of these a**holes I hate most, @gehrig38 or @realDonaldTrump."
Schilling's controversial tweet came less than two months after he was suspended as an ESPN commentator for tweeting a meme comparing Muslims to Nazis in World War II. The tweet was only up for about ten minutes, but a number of users still shared screenshots.
"You'll be lucky if you still have a job by tonight what a stupid thing to say," one user replied to Schilling in August.
The legendary pitcher later apologized, but it was too late. ESPN initially suspended him from an announcer gig at the Little League World Series and then for the rest of the season.
(H/T: Boston.com)
–
Follow Jon Street (@JonStreet) on Twitter