For a few months now, Facebook has been taking its users on a walk down memory lane.
Perhaps the social media site's "On This Day" feature has reminded you of that dinner you made two years ago that you were oh so proud of. Perhaps it was the day you met the person who would become your spouse. Perhaps it was the moment you finished your last college final.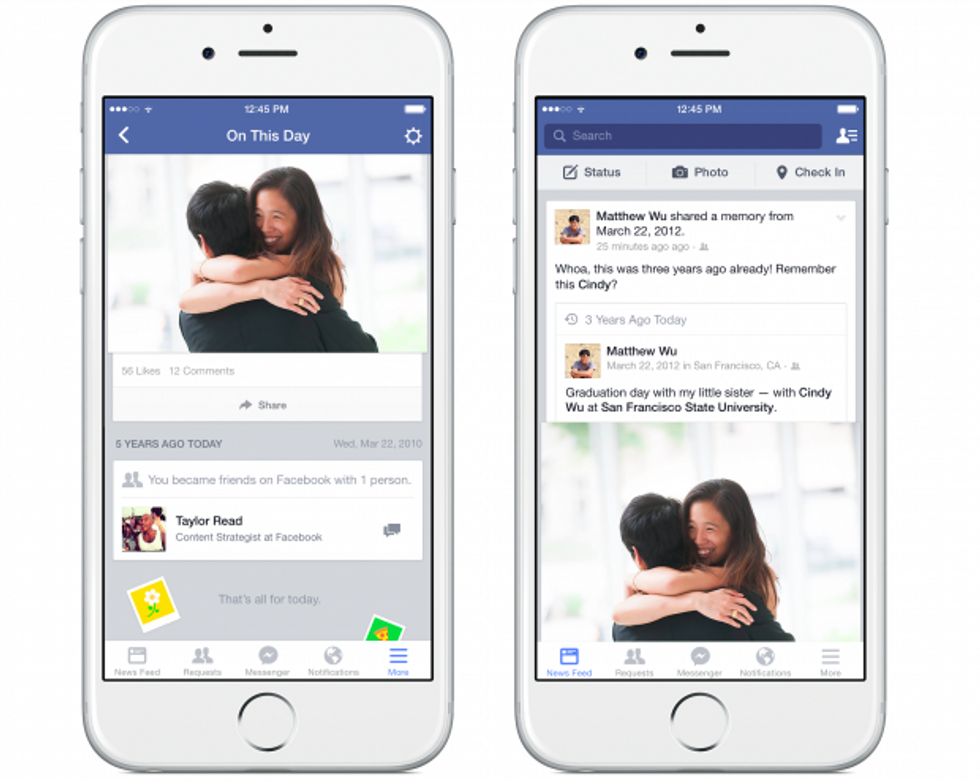 Image source: Facebook
But there could be memories that you don't wish to be dredged up, like reminders of an ex-girlfriend or a loved one who has since passed away.
Now you can control that.
"We know that people share a range of meaningful moments on Facebook — from celebrating good times like a birthday to getting support in tough times like the passing of a friend or relative," Facebook told ABC News. "As a result, everyone has various kinds of memories that can be surfaced — good, bad and everything in between. So for the millions of people who use On This Day, we've added these filters to give them more control over the memories they see."
Here's how to set your preferences:
You can control which memories you see in your News Feed and at facebook.com/onthisday by adding filters for people or dates you don't want to be reminded of.

To filter memories about a person:

Go to facebook.com/onthisday

Click Preferences

Click Edit next to People

Enter the names of the people you don't want to see memories with

Click Save

To filter memories for dates:

Go to facebook.com/onthisday

Click Preferences

Click Edit next to Dates

Click Select Dates

Select a start and end date for the date or dates you don't want to see memories from, then click Done

Click Save
Facebook launched its On This Day feature in March of this year. The reminders that pop up on your newsfeed are only visible to you — and only you can see your On This Day page — but Facebook allows you to share these memories as well.
(H/T: SlashGear)
—
Front page image via Shutterstock.