"Disturbing."
That's how KOMONews radio reporter Pete Combs described an emergency drill that took place at a junior high in Maple Valley, Washington, this week.
A man wearing all black with the hood of his sweatshirt pulled up over his head walked down the hallway of Tahoma Junior High. In his hand, he held a gun, a fake but realistic looking model. Lining that hall were students on the ground, pretending to be shot.
"This is a drill. Intruder alert. Begin lockdown procedures," a voice over the school's intercom said.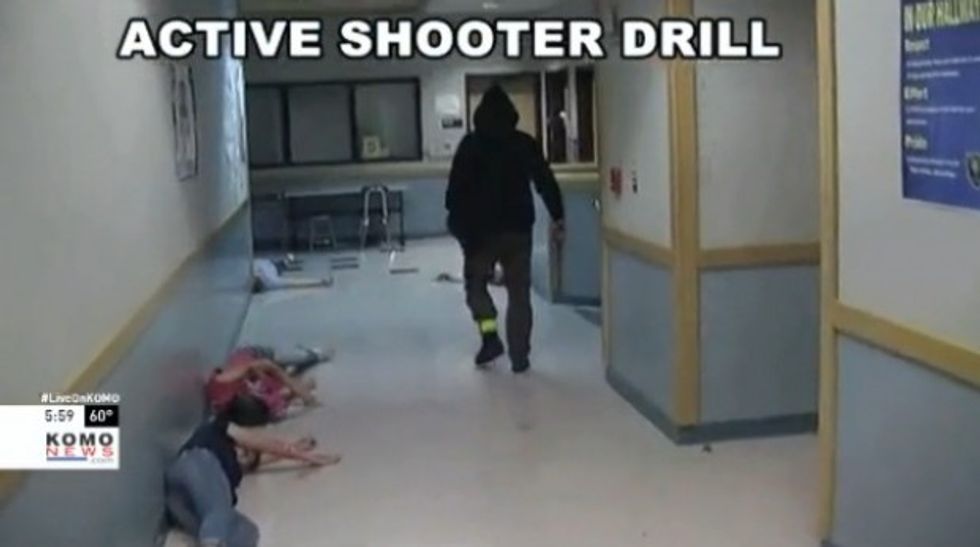 Image source: KOMO-TV
"Even though you knew it was a simulation, when you watch these children made up as if they'd been shot and lying on the floor, and then you see the shooter come through and you hear the gunshots from the simulated weapon, it's real and it's very disturbing," Combs told KOMO-TV of the active shooter drill that took place Tuesday morning.
Laura Pierson, a ninth grader, was one of the students who pretended she had been hit.
"Even though it was a simulation, it was still very traumatic in a way," she told the news station. "It was scary."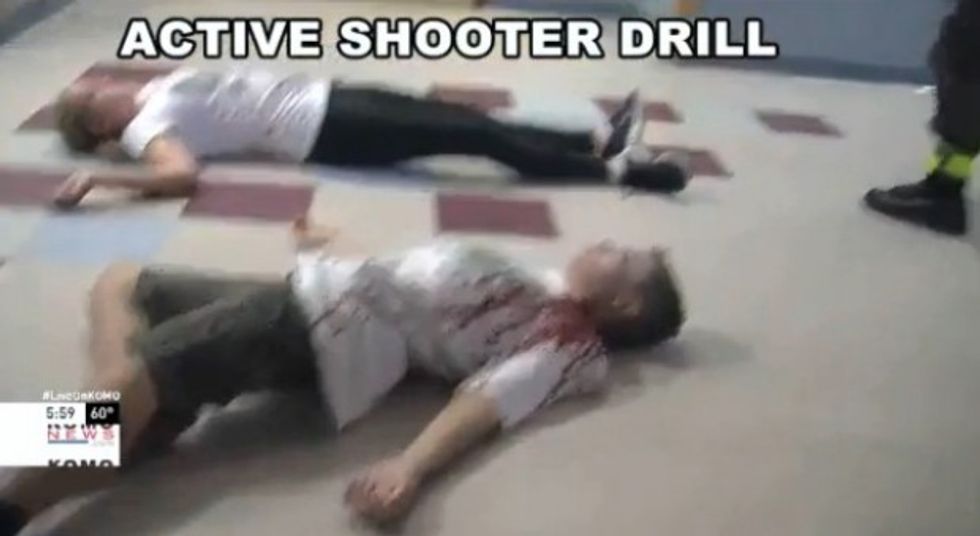 Image source: KOMO-TV
Pierson told KOMO though even in light of that, she thinks it was worth it.
"There's no way of really stopping something that would happen. And I think it could happen at any time because [the shooting in Oregon] was so uncalled for and I think this just kind of prepares you even more just for that extra step of precaution."
According to the Tahoma School District's Facebook page, deputies participating in the drill removed the actor, another deputy, who was playing the shooter, "secured the scene, and protected fire personnel and emergency medical technicians who responded to treat the students acting as patients."
"A small number of students were chosen to participate as wounded and escaping victims; the majority of the student body participated in the lockdown drill inside their classrooms, just as they would during a real threat," the district said on Facebook.
Watch KOMO's report:
Emergency responders in the area said such drills are helpful for them because it allows different agencies to learn how to work together in such a situation.
"What we do now is we will take the fire department in there, into that warm zone, and we train with them to extract victims before they die," King County Sheriff John Urquhart told KING-TV. "The sooner we can get to someone's who's injured, the more likely they are going to survive."
The school district said drills like this have been hosted for many years, though the scenarios change.
Reaction to the drill, as seen in the comments on Facebook, was mixed.
One person called it "sick" and said the students would "have nightmares from this." Other commenters though said drills like this were unfortunately necessary.
"While I struggle with our youth being in a position where they need these types of drills, I think it's an important preparedness step. In the 1950's students had done 'atomic bomb drills', how scary that too must have been," another Facebook commenter wrote.
In light of school shootings in recent months and years, schools and emergency crews around the country have been holding such drills.
A recent review of university procedures by the Associated Press found that some schools require incoming students to train for active shooter situations, while others provide brief guidance online.
The AP looked at public colleges and universities in more than 40 states after the killing of nine people at an Oregon community college Oct. 1, which was then followed by another shooting at an Arizona university that resulted in one death.
At some institutions, such as the Colorado School of Mines and Arkansas State University, training on how to respond to an armed intruder has become as much a part of fall orientation as lessons on alcohol abuse. Students hear presentations covering their options, such as running, hiding or fighting back.
Other schools have purely voluntary training. Or they put information on what to do in an emergency on websites, where it can easily be overlooked by students and staff members. Many public college and university systems leave it up to their individual campuses to draw up emergency plans and decide what level of training, if any, to give employees and students.
The 2007 slaughter of 32 people by a student at Virginia Tech prompted Congress to require colleges and universities to adopt procedures for notifying the campus of an immediate threat. Under the law, schools also must publicize their emergency response plans "in a manner designed to reach students and staff."
The AP review found that most schools have set up sophisticated alert systems that use text messages, social media or technology that can remotely take over computers tied to campus servers. Many also have added armed officers, conducted drills with law enforcement authorities and created threat-assessment teams that try to determine whether an overheard remark or violence-tinged essay is a genuine danger sign.
—
The Associated Press contributed to this report.