Drivers in a village just outside of Cleveland might see their local officers holding devices to gauge speeds, but they're not your typical radar guns.
According to WJW-TV, officers in the Newburgh Heights Police Department are starting to use hand-held speed cameras. These devices allow cops to measure speed, take pictures and issue tickets without having to pull over the alleged speeder at the time. Like fixed speed cameras, these tickets are issued in the mail.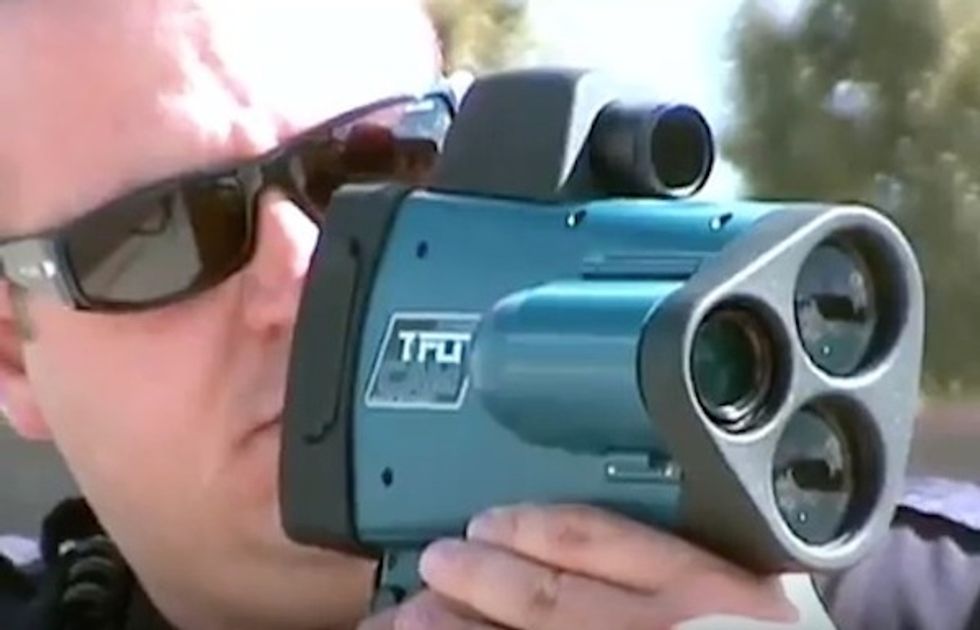 Hand-held devices like this TruCam by Laser Technologies, Inc., allow officers to not only measure a driver's speed but take video and pictures as well. Some police departments have started using such technology to issue traffic tickets in the mail. (Image source: YouTube)
Part of the criticism of speed cameras that automatically issue tickets is the lack of human oversight. This device, as opposed to fixed and automatic speed cameras, has a human element, but Ohio driver Ron Leaman, who got a ticket based on information collected by one such hand-held system, is still fighting it.
"To me, it's an ambush," he told WJW.
According to Cleveland's court journal Daily Legal News, the use of these hand-held devices to issue civil citations for speeders started on June 25. Here's how it works:
A police officer sensing the presence of a motor vehicle potentially traveling in excess of the posted speed limit activates the handheld device, which measures the speed of the vehicle and takes two (2) photographs. The registered owner of the vehicle that the police officer using the handheld device has measured as traveling in excess of the posted speed limit may receive a civil Notice of Liability for the violation.

[...]

It is expected the police officer use of these handheld devices will have a positive effect on the safety of village residents and visitors by reducing overall speeds throughout the community. Utilization of these handheld devices will afford the village the ability to redeploy resources for community policing and enforcement.
Watch this video from the company Laser Technology, Inc., showing how its TruCam, a device that measures speed and takes video and pictures, works:
In addition to encouraging motorists to drive at posted speeds, police chief John Majoy told WJW that the use of these devices could increase officer safety as well. The news station noted that a Newburgh officer was hit and injured by a drunk driver while trying to pull over a speeder last year.
Though not as common as fixed speed cameras or use of a traditional radar gun, these hand-held devices that issue tickets in the mail without pulling a driver over are not entirely unique to Newburgh. Police in Youngstown, Ohio, started using these types of guns that track speed and take pictures to issue tickets in August. According to the Youngstown Vindicator, police issued 1,000 tickets in 12 days with these devices, more than was issued the whole of 2014.
Earlier this year, the Memphis Police Department in Tennessee saw a proposal to use devices developed by Automated Transportation Enforcement Solutions: Traffic Solutions.
"I don't see this as anything other than a public safety enhancement of the MPD," John Baine, vice president of marketing for ATES: Traffic Solutions, told the Memphis Flyer at the time. "It's not impersonal, like a pole in the ground that says a metal mass is speeding. It gives the officers discretion and opportunity."
In 2011, then Texas attorney general Greg Abbott, now governor, ruled that radar guns that also took video or pictures were not allowed to be used in the state.