Cheerleaders at Florida's Tampa Bay Tech raised money last year to buy special pink uniforms for Breast Cancer Awareness Month — and the the 18-member team donned their outfits at every October football game last season.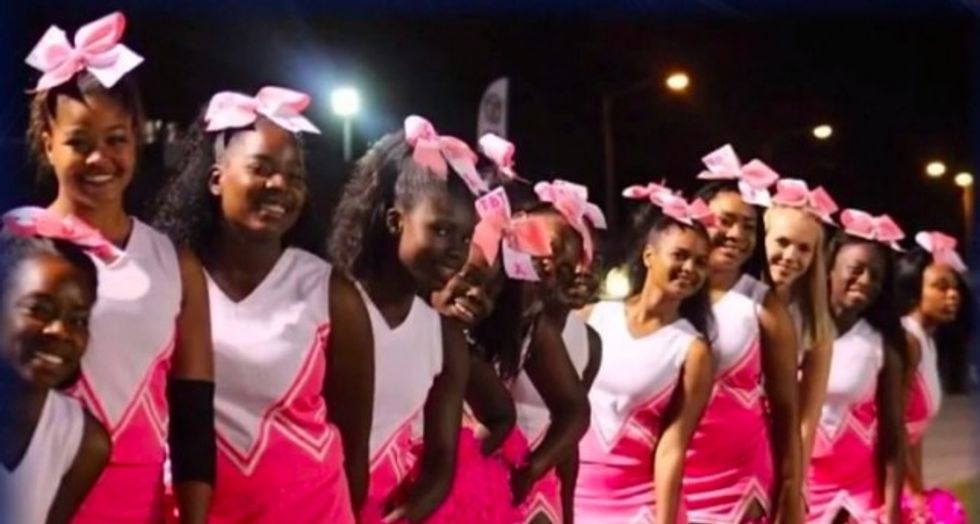 Image source: WTVT-TV
"Both of our aunts had breast cancer and they're breast cancer survivors," cheerleader Kelly Warren told WTVT-TV in an interview with a fellow cheerleader. "It's a personal basis for us. We even had a guidance counselor at Tech who had breast cancer that she overcame ... we're trying to show them that we support them."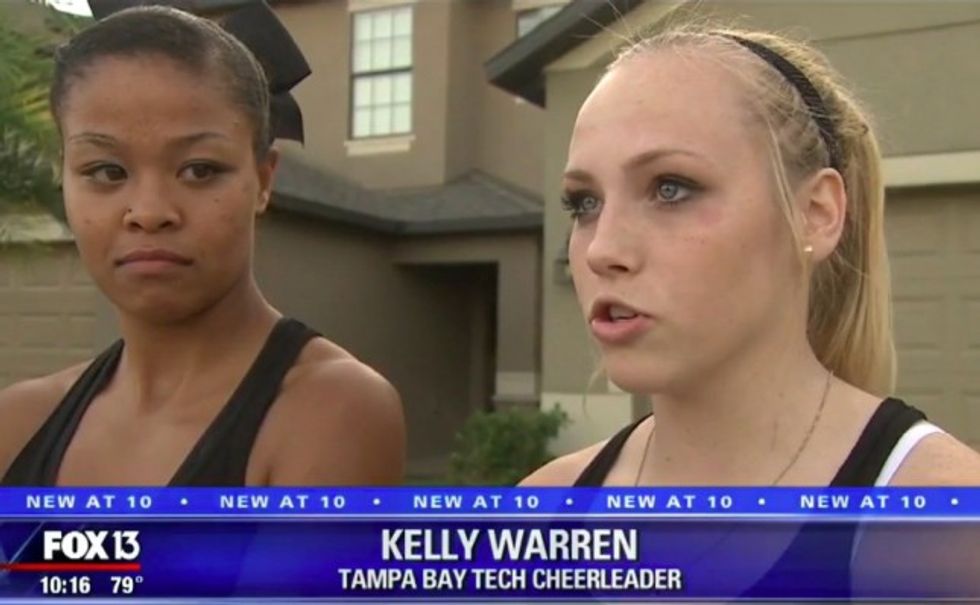 Image source: WTVT-TV
Naturally the girls planned a repeat performance this month — until the school district found out, that is.
Hillsborough County Schools recently sent a letter telling all sports teams that district-issued uniforms must be worn unless special approval to wear other uniforms has been granted, the station said.
District spokeswoman Tanya Arja told WTVT Wednesday not only weren't the cheerleaders' pink uniforms approved last year — the district didn't even know they had purchased them.
"We want to make sure that all of our schools have the same playing field, and so if there are any uniforms out there that a school might want or a team might want, we just ask them to go through the approval process," Arja told the station.
"We encourage our schools to accessorize, so if you have pink shoes, pink socks, pink headbands, pink bows, pink wristbands, gloves — that's how we encourage our students to actually go out there and support and be out there for Breast Cancer Awareness Month," she added.
The policy also keeps things fair, Arja explained, so that schools in upscale locales aren't acquiring uniforms that other schools can't afford. The pink uniforms cost about $100 each, WTVT said.
—
Follow Dave Urbanski (@DaveVUrbanski) on Twitter