President Barack Obama on Thursday announced plans to keep thousands of troops in Afghanistan through the time he leaves office, despite his promise to bring one of America's longest-running conflicts to an end on his watch.
The president said that while the U.S. combat mission came to a "responsible end" in December, "our commitment to the Afghanistan people continues." As such, the U.S. will keep its 9,800 troops in Afghanistan through "most of" 2016, and will keep 5,500 troops on several military bases after that.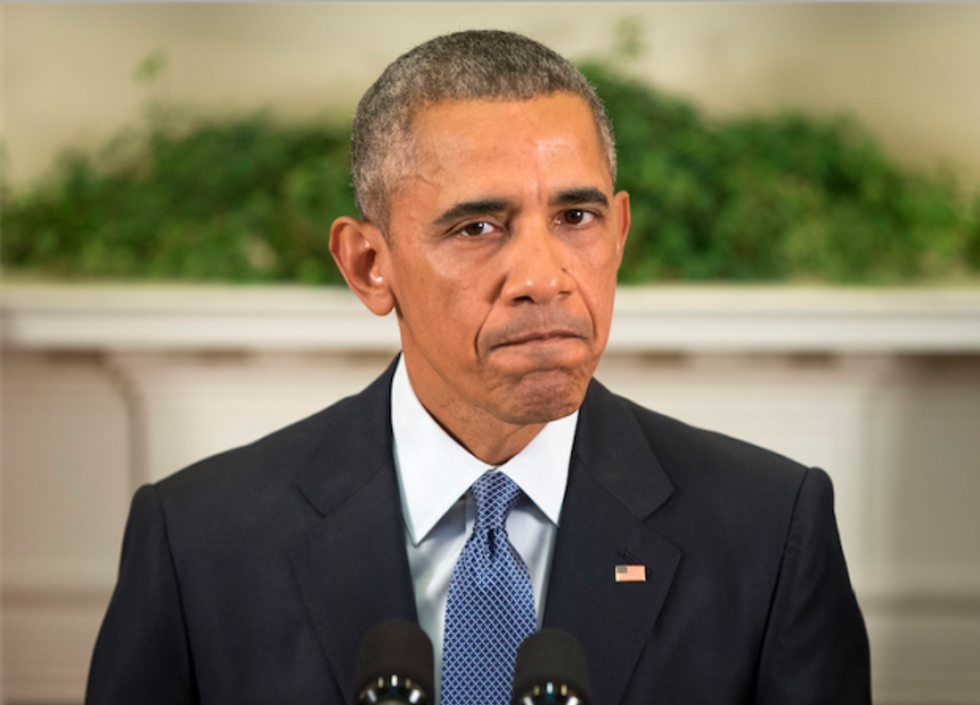 President Barack Obama pauses as he speaks about Afghanistan, Thursday, Oct. 15, 2015, in the Roosevelt Room of the White House in Washington. Obama announced that he will keep U.S. troops in Afghanistan when he leaves office in 2017, casting aside his promise to end the war on his watch and instead ensuring he hands the conflict off to his successor. (AP Photo/Pablo Martinez Monsivais)
"As commander in chief, I will not allow Afghanistan to be used as safe haven for terrorists to attack our nation again," Obama said.
The 5,500 troops in particular mark a departure from the president's original plan to leave only a small military presence to secure the U.S. Embassy in Kabul by the end of his presidency. While it was worsening conditions on the ground that led to the change, Obama insisted the move is consistent with the overall goal.
"I'm not disappointed because my view has always been how do we achieve our goals while minimizing the strain and exposure up on our men and women in uniform, and make sure that we are constantly encouraging and sending a message to the Afghan people [that] this is their country and they've got to defend it," Obama said in response to a reporter's question.
Obama said the U.S. will maintain its current number of 9,800 troops in Afghanistan through the end of 2016, then reduce the number to 5,500 in 2017. These counterterrorism forces will be based in Kabul, Jalalabad and Kandahar.
Obama praised the leadership of Afghanistan led by Afghan President Ashraf Ghani.
"We will continue to support President Ghani and the unity government as they continue to institute reforms," Obama said.
Obama said in a message to the American military that he does "not take sending you into harm's way lightly." He told the war-weary American public, "I do not support open-ended war."
"This mission is vital to our national security interests in preventing terrorist attacks against our citizens and our nation," Obama said. "Modest but meaningful extension of our presence, while marinating our mission will make a real difference."
For the announcement, Obama was joined in the Roosevelt Room by Vice President Joe Biden, Defense Secretary Ash Carter and Chairman of the Joint Chiefs of Staff Joseph Dunford.
The decision seems to represent a concession to military leaders who have urged a stronger military presence to combat Taliban forces in what has been one of America's longest conflicts at 14 years. The decision also means a third president will be dealing with the conflict that began in response to the 9/11 terrorist attacks, as it was the Taliban that was harboring Al Qaeda.
"We are going to continually make adjustments to ensure that we get the best possibilities for success and I suspect that we will continue to evaluate this going forward, as will the next president and as conditions improve we'll be in a better position to make further adjustments," Obama said.
The announcement comes more than a year after the prisoner swap for Sgt. Bowe Bergdahl, after which Obama said, "This is what happens at the end of wars."
It also comes after days of speculation that Obama would not withdraw troops as quickly as he initially planned. On Wednesday, White House spokesman Josh Earnest told reporters only that it is possible the president would extend the amount of time U.S. troops are in Afghanistan.
Administration officials said the policy has been under review for months, but after Taliban forces took over the city of Kunduz last month, it sparked a new approach. Moreover, U.S. officials are concerned that the Islamic State is recruiting within the Taliban.
The announcement also comes shortly after a U.S. airstrike killed 22 people at a Doctors Without Borders hospital. Obama has apologized for the mistaken air strike.