A high school football coach who has been ordered by school officials to stop praying with students on the field after each game is fighting back and refusing to back down.
Joe Kennedy has joined forces with the Liberty Institute, with the conservative law firm firing off a letter this week to officials at Bremerton High School that calls it unconstitutional for the district to order Kennedy to stop praying after games.
Attorneys specifically asked that the ban, which was reportedly outlined in a letter to Kennedy on September 17, be overturned before Friday evening at 5 p.m., so that the coach will be able to pray after the homecoming game that evening, according to a press release.
"Coach Kennedy says he will exercise his constitutional right to pray privately, regardless of the school's response," the statement reads.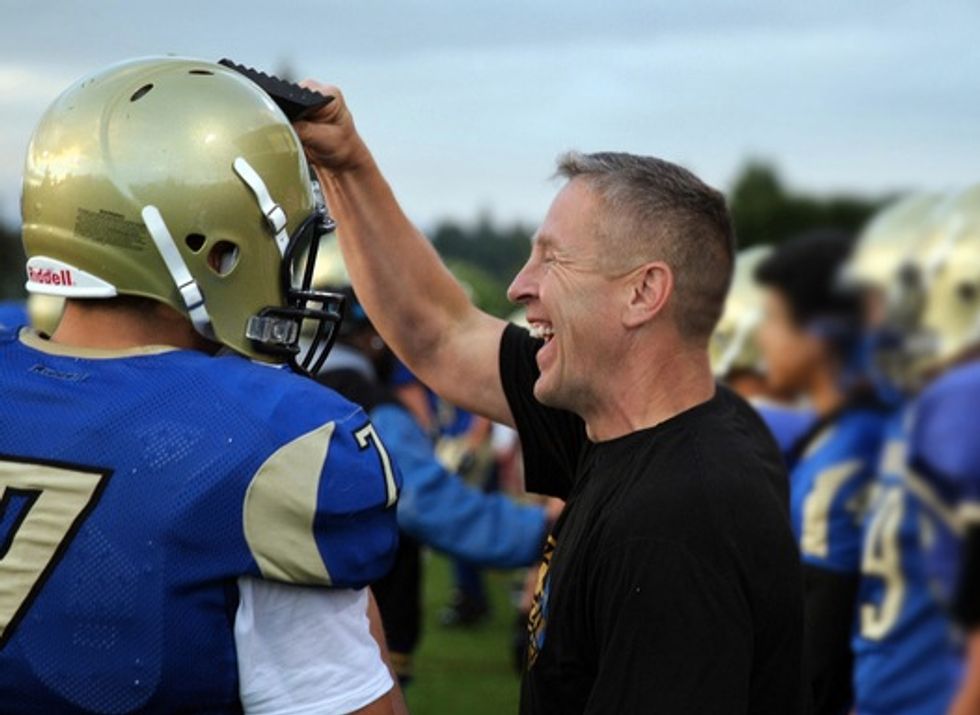 High school football coach Joseph Kennedy (Liberty Institute)
As TheBlaze previously reported, Kennedy came under fire last month and was investigated by the district for routinely praying on the 50-yard line after every game, where he regularly thanks God for each and every one of his players.
While he typically goes on the field to pray alone, students and players often voluntarily join him — and that is what has sparked controversy and concerns over the separation of church and state.
"I never asked anyone. They just all showed up one day and the next thing I know, the other team was showing up with us," Kennedy said in an interview last month. "I spent 20 years in the Marine Corps, and it's been about protecting the freedom of other people. It's about the freedom, and people can believe whatever they want. I'm just exercising my right."
The district sent a letter claiming that an inquiry showed that Kennedy leads prayer in the locker room and that he delivers inspirational talks on the field that generally includes religious sentiment. While voluntary, these activities would pose a constitutional problem, according to Superintendent Aaron Leavell.
Kennedy agreed to halt the locker-room prayers, as he concurred that it involved a "captive audience" and was, thus, illegal, but he isn't backing down from prayer at the 50-yard line, with the Liberty Institute arguing that his prayers do not reference a specific deity and do not end with an "amen." For now, he has no plans of halting his invocations.
"I love my players. It's an honor to work with them and teach them about good sportsmanship and teamwork," the coach said in a statement. "I hope the school district will allow me to continue working with these kids – and thanking God for them."
Liberty Institute attorney Hiram Sasser said that federal law requires that the district allow Kennedy to pray privately after games, and said that this practice must be allowed to continue. The district, though, said that students are not permitted to join in.
See some of the rules outlined by the school district below:
Rules outlined for Coach Kennedy surrounding how he must proceed
If the ban is not overturned, Kennedy's attorneys said that they will sue the Bremerton School District.
Follow the author of this story on Twitter and Facebook: