Conservative commentator Tomi Lahren has officially joined TheBlaze TV as the network's newest personality and she's brining her popular "Final Thoughts" segment with her.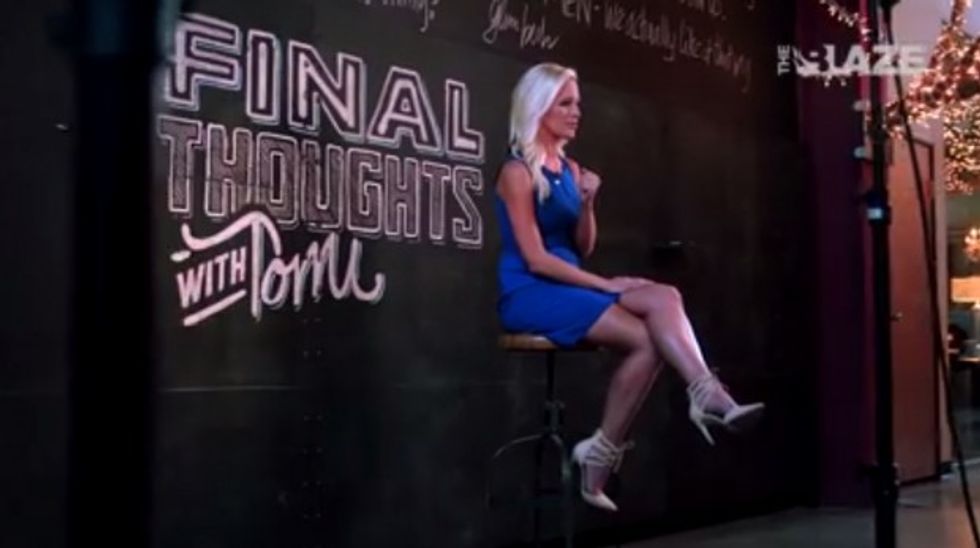 TheBlaze TV
Lahren kicked off her new gig by going after the 2016 Democratic candidates and also hitting Hillary Clinton personally over the private email scandal that continues to cast a shadow over her campaign.
She described the Democratic field as "the socialist, the semi-Republican, the no-names and, of course, the queen."
"What a line-up from the party diversity and youth," Lahren said sarcastically. "Old, rich, white and -- if the pantsuit fits -- male too?"
She continued: "If you want to blow the minds of your liberal friends, ask them this: 'What does Hillary really want: what's best for this country or to be president?' Chances are they'll tell you, 'It's her time' or 'she deserves it.' Excuse me, let's get something straight. Being a woman does not qualify you to be president nor does it distinguish you from Obama."
Even at the Democratic debate, Lahren said, Clinton gave the "same tired answer" to the "same tired question" about the email scandal.
"It was a mistake, she takes responsibility — but not really," she added. "Textbook Clinton. She said the same thing about Benghazi, but what difference does it make, right?"
Lahren's "Final Thoughts" commentary segments will air weeknights during primetime programming on TheBlaze TV. Additionally, she will also host a self-titled show starting Nov. 8 at 8 p.m. ET.
Lahren found national fame when her fiery rant directed at President Barack Obama's response to the Chattanooga shooting went viral. The terror attack left five U.S. servicemen dead.
Watch the full segment via TheBlaze TV below:
Saturday's "Pure Opelka" on TheBlaze Radio featured an interview with Lahren.
---