During Tuesday's Democratic presidential debate, Hillary Clinton insisted she would hold Wall Street accountable, a common theme among Democratic candidates. Though she did not go as far as her top Democratic rival, Vermont Sen. Bernie Sanders, who has called for breaking up the banks, Clinton did declare her intentions to increase regulations on the banks, including empowering regulators to break up banks that "pose a risk."
But Clinton's rhetoric has not kept her campaign from raking in more money from the six largest U.S. banks than any other presidential candidate — Bloomberg News reported.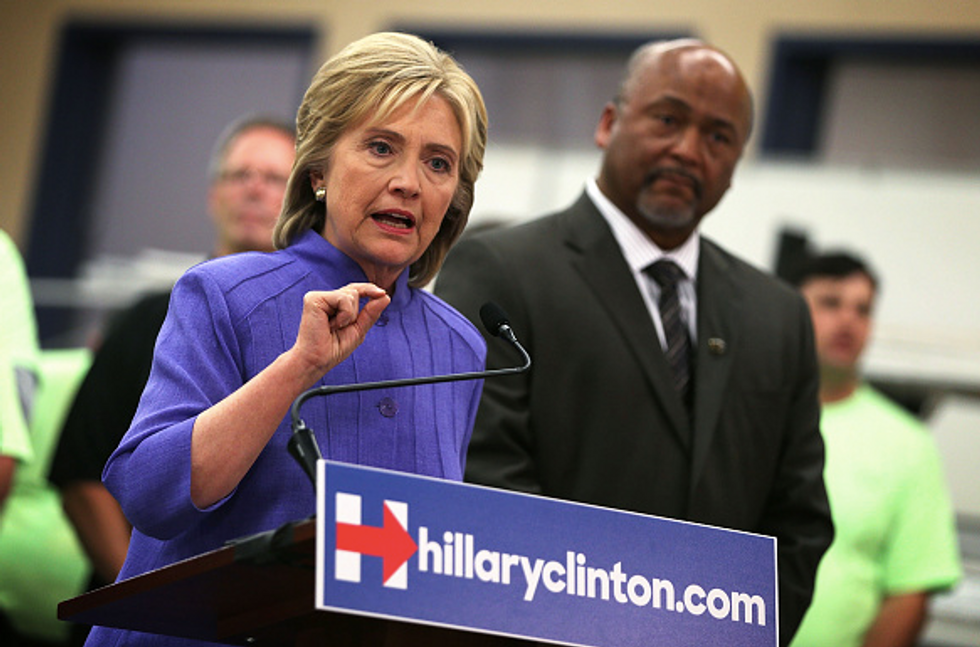 Alex Wong/Getty Images
The former secretary of state's campaign got $155,000 from the big banks in the third quarter of 2015 and more than $300,000 earlier this year.
She also beat out former Florida Republican Gov. Jeb Bush, who topped all GOP candidates with at least $390,000 from bankers over the last two quarters, Bloomberg reported, though employees of major banks have given more to the pro-Bush super PAC, Right to Rise USA, than to the pro-Clinton super PAC, Priorities USA Action.
Clinton has called for legislation separating commercial and investment banks to reduce the size of banks as a means of avoiding another bank bailout.
Sanders filed legislation in May to break up major banks such as Goldman Sachs Group Inc., Citigroup Inc. and JPMorgan Chase & Co. into smaller companies.
Former Maryland Gov. Martin O'Malley, who is also seeking the Democratic nomination, has echoed the calls to break up large banks.
During the debate Tuesday, Clinton said her plan for regulating banks was tougher.
"The plan that I have put forward would actually empower regulators to break up big banks if we thought they posed a risk, but I want to make sure we're going to cover everybody, not what caused the problem last time, but what could cause it next time," Clinton said during the Tuesday CNN debate.
Sanders pointed to the 1990s when Bill Clinton was president.
"Check the record, and all due respect, in the 1990s, when I had the Republican leadership and Wall Street spending billions of dollars in lobbying, when the Clinton administration, when Alan Greenspan said, 'What a great idea it would be to allow these huge banks to merge,' Bernie Sanders fought them, and helped lead the opposition to deregulation," Sanders said.
"Today, it is my view, that when you have the three largest banks in America, much bigger than they were when they were 'too big to fail,' we have got to break them up," the Vermont senator added.
Clinton said she gave stern warnings to Wall Street in the past.
"As a senator from New York, I went to Wall Street in December of 2007 — before the big crash that we had — and I basically said, 'Cut it out! Quit foreclosing on homes! Quit engaging in these kinds of speculative behaviors,'" Clinton said. "I took on the Bush administration for the same thing."
Sanders later responded that not enough is being done.
"In my view, Secretary Clinton, Congress does not regulate Wall Street. Wall Street regulates Congress, and we have got to break off these banks," Sanders told Clinton. "Going to them and saying 'please do the right thing' is kind of naïve."