Last month TheBlaze reported on the controversy swirling around a Washington state high school football coach and his on-field, post-game prayers.
After groups opposing public prayer threatened a lawsuit against the Bremerton School district, assistant coach Joe Kennedy began issuing a generic address at midfield with no mention of God or faith.
That is, until Bremerton High School's homecoming football game Friday night.
While he ended pre-game locker room prayers since player attendance is mandatory at the time, Kennedy made it known Wednesday of his intention to pray on the field after the game despite the looming legal threat, KIRO-TV reported. He reasoned that since player attendance isn't mandatory during his post-game prayers, they are protected free speech. The assistant coach is also getting legal advice from Liberty Institute.
"I'm going to do what I've always done and I will do my prayer," he said.
So after the game ended, just as he promised, Kennedy walked to the center of the football field and took a knee to pray.
But he was not alone. Kennedy found himself completely surrounded by football players — from the Centralia team he just coached against.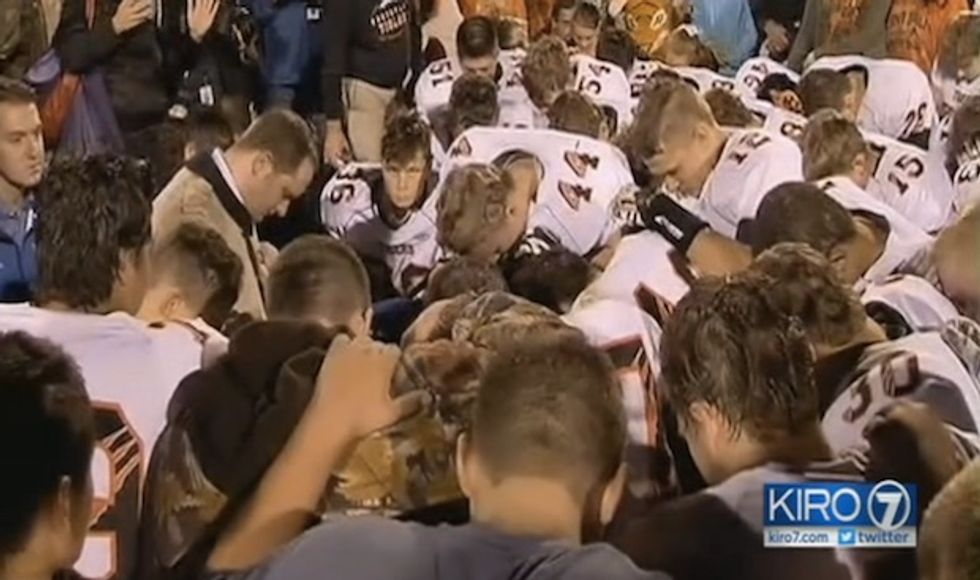 Image source: KIRO-TV
Later an emotional Kennedy talked about the experience: "All of a sudden I feel all these bodies around me and I'm hoping they're not kids."
After the game, local news outlets covered the story —
Despite orders, high school football coach prays on field after game http://t.co/XmAIofcQQs pic.twitter.com/XwxYYW0kTP

— WTVR CBS 6 Richmond (@CBS6) October 18, 2015
— and support for Kennedy sprang up on social media from Centralia:
Centralia Tigers support #CoachKennedy! God is good. #SupportCoachKennedy pic.twitter.com/kCTwRk2wdL

— Cori Riffe (@thecoririffe) October 17, 2015
Is Kennedy in hot water now that he prayed on the field after the game? The Bremerton school district has not made an official statement about his actions. The school district on Sunday didn't immediately answer TheBlaze's request for comment.
Watch the local report:
(H/T: KIRO-TV)
—
Follow the author of this story on Twitter and Facebook: