Larry David joined the cast of "Saturday Night Live" to perfectly portray Sen. Bernie Sanders as the venerable comedy show opened with a mocking sketch of the first Democratic presidential debate.
The man behind "Seinfeld" and "Curb Your Enthusiasm" was joined on stage by "SNL" regular Alec Baldwin who played a grumbling former Virginia Sen. Jim Webb. The hilarious sketch mocked last week's CNN debate and joked of a camaraderie between David as Sanders and comedian Kate McKinnon as Hillary Clinton — who made several references to her ever-changing demeanor to become more likable as a candidate.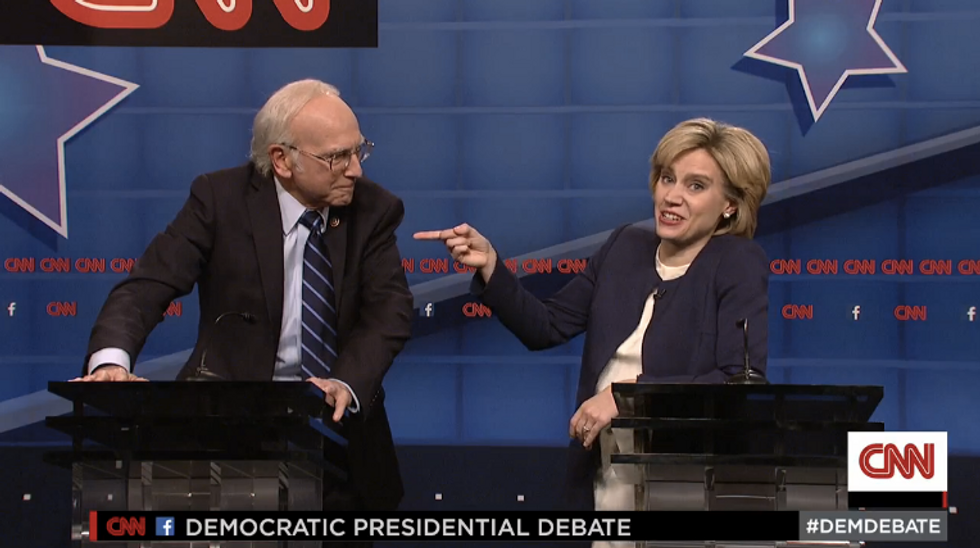 Image source: NBC
"God, it must be fun to scream and cuss in public," McKinnon said. "I have to do mine in tiny little jars."
David's personation of Sanders throughout the show's cold open was impeccable.
"We're doomed! We need a revolution! Millions of people are on the streets, and we gotta do something and we gotta do it now," David said.
As Sanders, David also blasted big banks — specifically banks' pens.
"Why do they chain all their pens to the desk?" David said. "Who's trying to steal a pen from a bank? Makes no sense."
David and McKinnon teamed up to mock the real Sanders' defense of Clinton's email scandal during last week's debate that included an exaggerated handshake.
"Hey, what's the deal with emails anyway?" David said. "I forgot my password the other day, so they say 'we'll email you a new one.' But I can't get into my email to get the password!"
Watch the "SNL" cold open below.