Actress Candice Cameron Bure was unabashed in her impassioned defense of the right of Americans to voluntarily pray in public on Monday's edition of "The View." Her point of view stood in stark contrast to that of co-host Raven-Symone, whose body language alone made that much clear.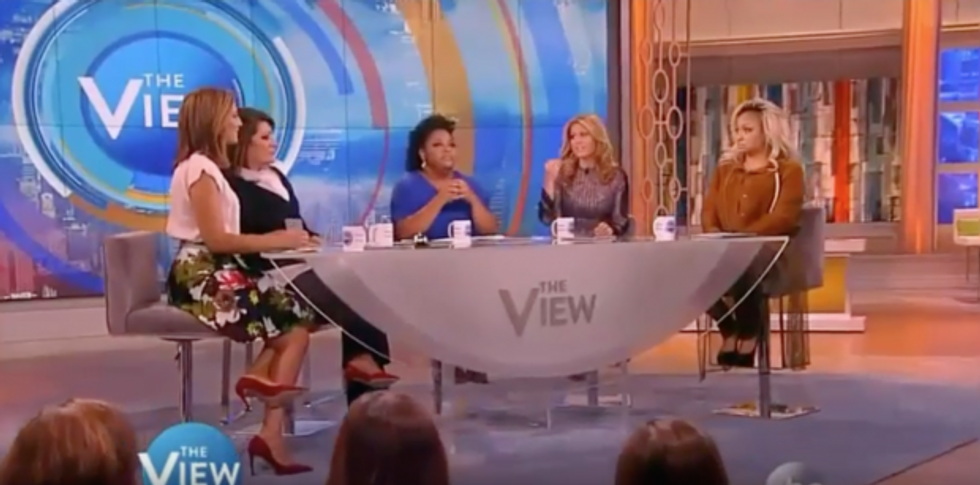 The View
The women of "The View" were discussing the story about a high school football coach who recently defied a lawsuit threat demanding he stop praying on the field after games. The assistant coach, Joe Kennedy, is claiming the post-game prayer session is not mandatory and is therefore protected free speech under the First Amendment.
"The separation of church and state does not mean that we cannot pray publicly," Bure said. "It actually guarantees our free exercise of religion so that if it is voluntary, we are allowed to pray wherever we would like to."
Raven-Symone immediately confronted Bure, asking, "So why did they take prayer out of the beginning of school and now it's just silence?"
"I don't know, I wish they wouldn't have," Bure shot back.
"But that's not fair to somebody who doesn't pray," Raven-Symone added.
"You don't have to — it's voluntary," Bure said. "If people would actually put more effort into prayer than to fight prayer, you would see a whole difference in this country to see that power of prayer."
Bure went on to praise the football coach for taking a stand for prayer and said schools need to hire "more men like this who are willing to pray for our students, for our athletes, for protection, for safety."
For the most part, "The View" panel seemed to side with the coach because the post-game prayer was completely voluntary and didn't force any religion on objecting students. But Raven-Symone was clearly displeased with Bure's final statement as she rolled her eyes and raised her hand out of apparent frustration as the discussion concluded.
Watch the segment below via ABC:
---