Daily applications for Israeli gun license requests have skyrocketed 5,000 percent as citizens scramble to find ways to defend themselves in response to a wave of Palestinian terror attacks at public transportation facilities, on buses and on city streets, an Israeli financial newspaper reported.
Israel's public security ministry told The Marker that it's been getting 8,000 gun license requests per day over the last two weeks — a massive increase over its regular 150 license requests per day.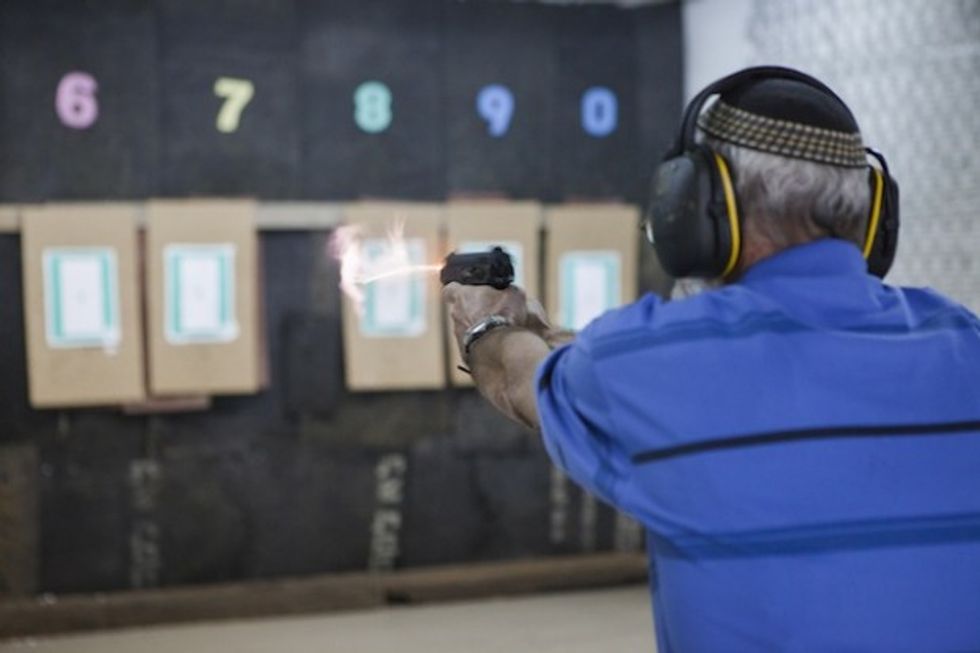 An Israeli shoots his weapon at a gun range near the West Bank Jewish settlement of Givat Zeev, Sunday, Oct. 11, 2015. (AP Photo/Dan Balilty)
The Marker reported that even though the Israeli government last week loosened criteria for obtaining a gun license – a prerequisite for gun ownership in Israel – the wait for a license was about three months due to the large number of applications.
Yariv Ben Yehuda, an owner of the gun shop Lahav in Tel Aviv told the newspaper, "Usually, there are a lot of workers here, but no buyers. But in the last week or so, everything has changed."
"Our sales of weapons alone increased by 30 percent in the last two weeks," said store CEO Shaul Darby, who said the majority of sales to private citizens are "Glocks and Smiths."
Glock and Colt importer Uri David told the financial paper that he has seen a 50 percent increase in demand for pistols.
Besides those looking for guns, other customers wanted to purchase clubs and pepper spray, but were disappointed to learn that pepper spray had sold out of the Tel Aviv store.
Another firearms shop owner reported selling out his stock of stun guns and tear gas canisters.
Public Security Minister Gilad Erdan last week loosened criteria for gun licensing in Israel, calling citizen gun carriers a "force multiplier" in defending against terrorist attacks.
"Many citizens helped the Israel Police neutralize terrorists carrying out attacks. Citizens trained in the use of firearms are a force multiplier in the struggle against terror," Erdan said last Wednesday.
The move followed a call earlier this month from Jerusalem Mayor Nir Barkat – himself a licensed and trained gun owner – urging Israelis with gun licenses to carry their guns with them when they leave their homes.
While gun laws vary in different U.S. states, in Israel, licensed gun owners are permitted to carry their guns at all times.