Two paramedics are in serious condition after being attacked early Tuesday morning and repeatedly stabbed while attempting to render aid to a Detroit woman.
WWJ-TV reported that the incident took place shortly after midnight when Alfredo Rojas and Kelly Adams were called to help a woman with an ankle injury. A man was said to have become "agitated" and attacked the duo.
"It was a horrific scene. The EMS rig, the scene inside of the rig is horrific," Fire Commissioner Eric Jones said, according to WJW. "Their injuries are horrific."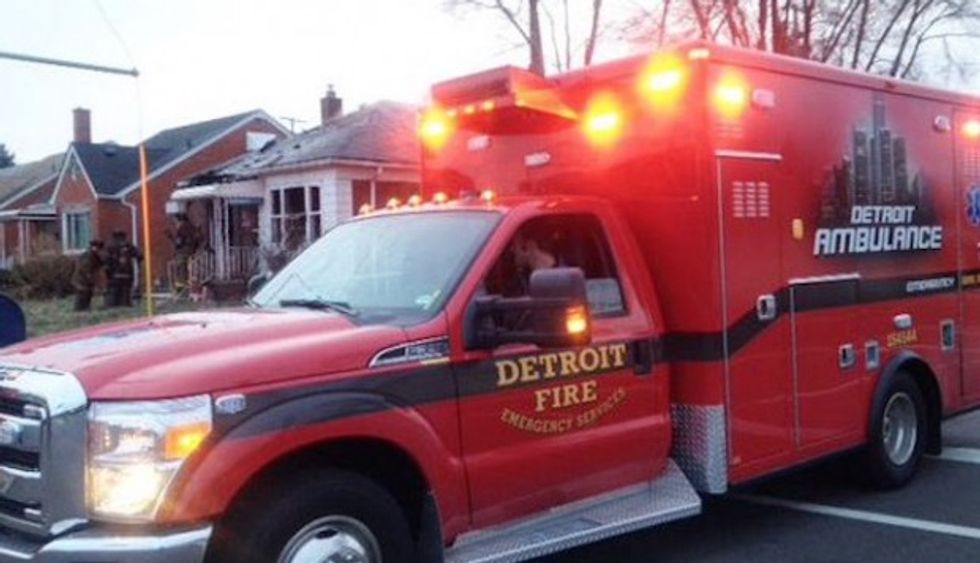 A Detroit fire ambulance. (Image source: Detroit Fire via Twitter)
"Both of the EMTs are going to require some extensive surgeries. The injuries — they came to within inches of dying," Jones added, noting that the two will have significant scarring.
[sharequote align="center"]"The injuries — they came to within inches of dying."[/sharequote]
The suspect attacked Rojas first, WJW reported. When Adamas intervened to help, she was also attacked. Her actions were hailed as heroic by Detroit Mayor Mike Duggan.
"What I can tell you is, at Detroit Receiving Hospital — which many of you know I ran for nine years — they consider the EMTs are part of the family. Those ambulances are in and out of there all the time," Duggan said. "They are being totally embraced by the doctors and nurses. And, as I told them, everybody in this community is thinking about them and our thoughts and our prayers are with them."
Jones said that a motive was unclear as the suspect remained at large.
"The male subject was upset at the assessment of the EMTs so as they were treating her — I can't get inside of his head, I don't know what he was agitated about, but he was upset for some reason — and at some point during the encounter, he produced this weapon."
—
Follow the author of this story on Twitter and Facebook: