An admittedly drunk Texas state representative was caught on camera during a bizarre exchange with a local reporter and appeared to attempt to physically assault him following a House meeting.
The reporter with the American Phoenix Foundation, a journalism training organization, filmed his confrontation with Rep. Dan Huberty (R) after the House adjourned. He initially asked the lawmaker if it was appropriate for legislators to date their staff members and if it was waste of taxpayer money to have several public safety officers lining the state Capitol.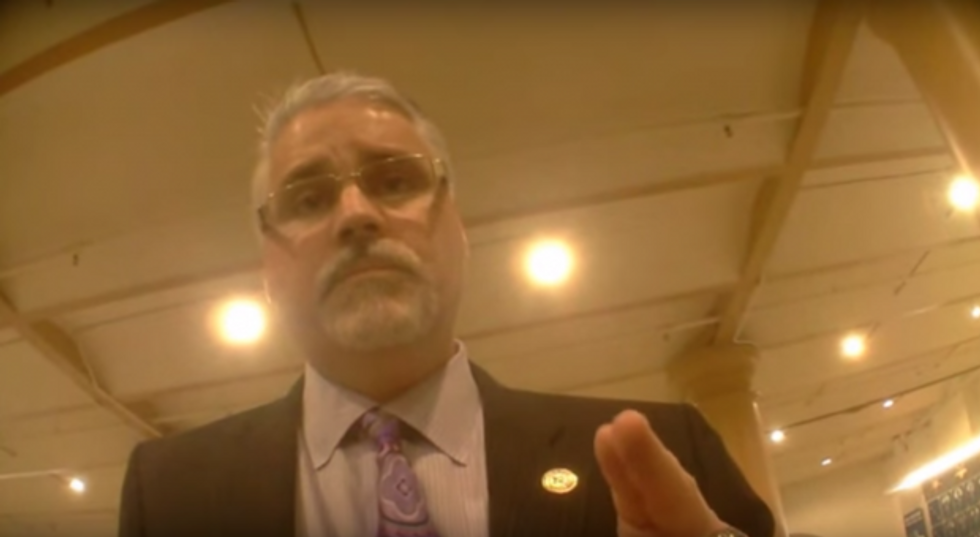 Image source: YouTube
Huberty, who was on the phone, immediately laughed off the reporter and called him a "joke" before offering to let the reporter speak to his wife because, Huberty said, the reporter was being a "dick." It was then that the unidentified reporter asked Huberty if he had been drinking.
"I'm an adult. I can have a drink at night," Huberty said.
"Didn't you just get off the floor? Didn't you adjourn like 10 minutes ago," the reporter asked.
The American Phoenix Foundation noted that Huberty is an ardent supporter of Mothers Against Drunk Driving.
Huberty contested that the House had adjourned two hours before and said he has a "right to be human." He then allowed the reporter to file off a series of questions, but when the reporter again asked him about his drinking, Huberty began to get irate. At one point the lawmaker invited the reporter over to his house and gave out his address which is when two staff members put themselves between Huberty and the reporter.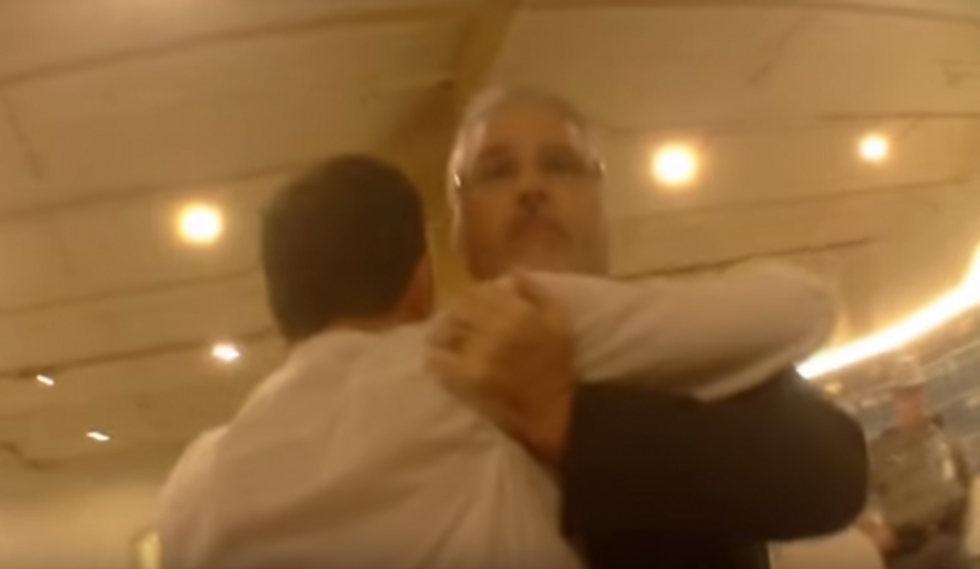 Image source: YouTube
The staff members and security had to physically restrain Huberty who appeared to attempt to go after the reporter. Several times staff members said, "He's not worth it."
"You need to walk away," a female staff member yelled at the reporter as another aide attempted to restrain Huberty.
"You know what, you're a hack. You're a f***ing hack. You want to report that? Go ahead," Huberty shouted.
After Huberty was walked away by a gaggle of staffers and security, the reporter followed and finally caught up to him at the stairwell, which is when Huberty looked up and waved.
"Thank you. I appreciate your conversation," he said.
Huberty's office did not return multiple requests for comment from TheBlaze. Calls to his Capitol office phone number went immediately to a voicemail system.
Watch the bizarre interaction, with some strong language, below.