Months before the deadly 9/11 terror attacks on Sept. 11, 2001, Donald Trump made a chillingly accurate prediction about a large-scale terror attack in his 2000 book "The America We Deserve." On Tuesday morning, a seemingly stunned "Morning Joe" panel reacted to the passage flagged by BuzzFeed.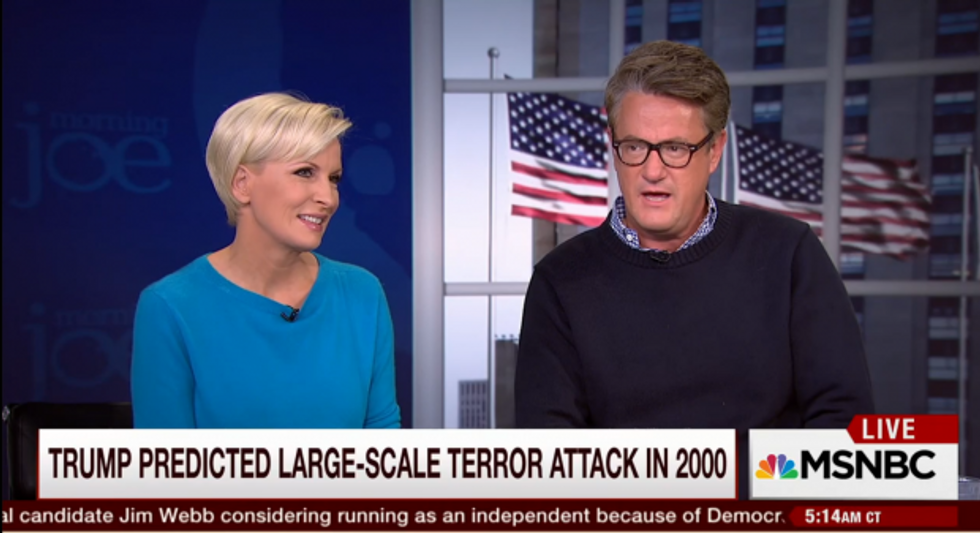 MSNBC
Here's what Trump wrote in the book released 19 months before 9/11:
"I really am convinced we're in danger of the sort of terrorist attacks that will make the bombing of the Trade Center look like kids playing with firecrackers….No sensible analyst rejects this possibility, and plenty of them, like me, are not wondering if but when it will happen."

[…]

"One day we're told that a shadowy figure with no fixed address named Osama bin-Laden is public enemy number one, and U.S. jetfighters lay waste to his camp in Afghanistan….He escapes back under some rock, and a few news cycles later it's on to a new enemy and new crisis."
"Wait, wait, wait," co-host Joe Scarborough said. "OK, hold on a second. Is this really Trump before 9/11? Have you read this? Did you make this up, Mika?"
Co-host Mika Brzezinski then mockingly asked New York Times reporter Nicholas Confessore to tell the panel how Trump's presidential bid is "over," which he has done before.
"He predicted -- basically predicted -- the attacks from Osama bin Laden," Scarborough reacted.
The MSNBC panel went on to analyze Trump's attack on former President George W. Bush because he was commander in chief when the 9/11 attacks occurred.
Watch below:
---