When Brandon moved to San Francisco to begin his new job as a software engineer for Google, the rent was just too damn high.
So the 23-year-old came up with an ingenious way to forgo paying rent and save approximately 90 percent of his income — he moved into a 128-square-foot truck.
According to Business Insider, Brandon, whose last name and photo have been withheld for privacy reasons, interned at Google last summer and rented the cheapest corporate house available, which included two bedrooms for four people for around $2,000 per month.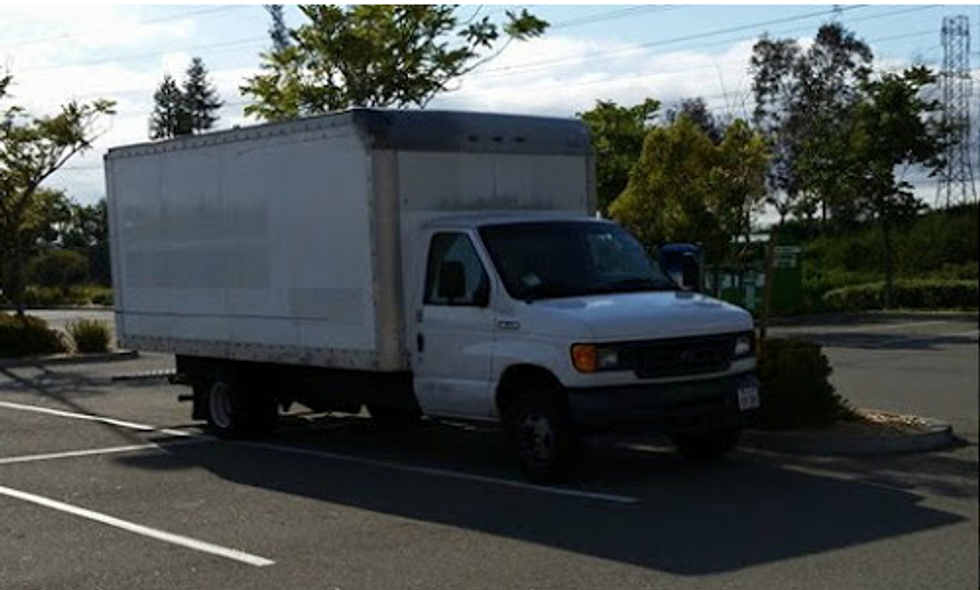 Photo via "Thoughts From Inside the Box"
"I realized I was paying an exorbitant amount of money for the apartment I was staying in — and I was almost never home," he told Business Insider. "It's really hard to justify throwing that kind of money away. You're essentially burning it — you're not putting equity in anything and you're not building it up for a future — and that was really hard for me to reconcile."
One year later, Brandon was headed back to Google as a full-time employee, and so with his signing bonus, he purchased a 2006 Ford with 157,000 miles on it for $10,000. According to Business Insider, the only fixed cost he has is his $121 monthly truck insurance. He doesn't require electricity as he says he doesn't own anything that needs to be plugged in, he eats all of his meals at work, he showers every morning after a workout at Google's gym and his phone is paid for by Google.
Brandon keeps a "savings clock" on his personal blog, where he says that Wednesday was the day when his net savings went from being in the red to in the black as he'd finally saved enough money to cover the cost of the Ford's purchase.
"I've mentioned on numerous occasions that it's not entirely about the money, but regardless, it's an interesting metric to have," Brandon wrote in his blog, "Thoughts From Inside a Box."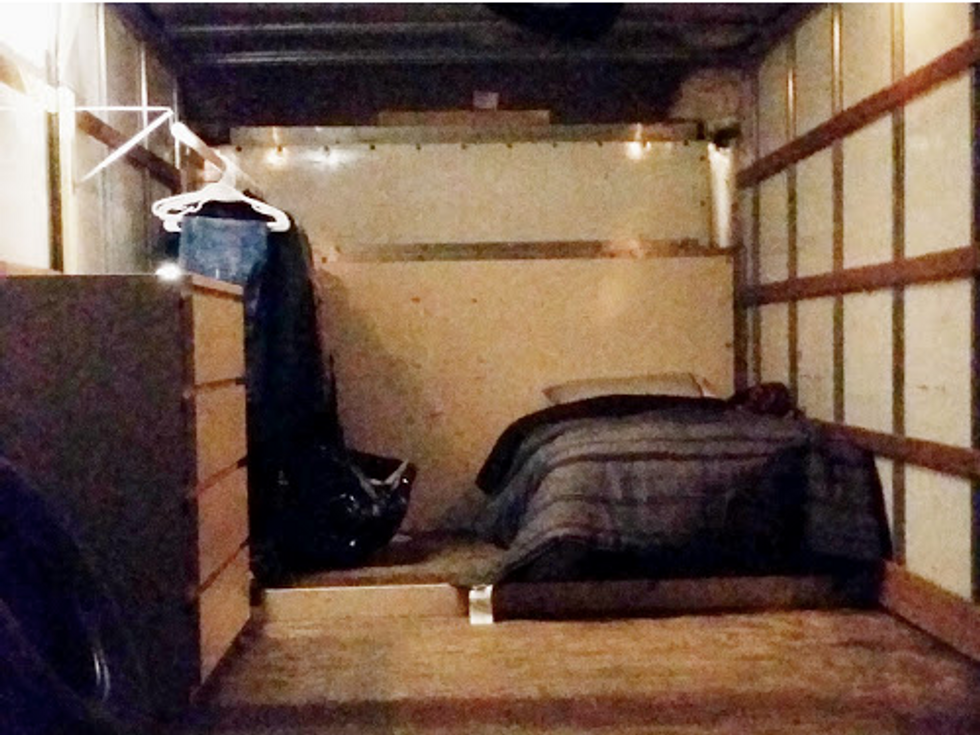 Photo via "Thoughts from Inside the Box"
On his blog, where Brandon chronicles his daily life living inside a truck and even offers tips to others who may want to do the same, he said he has looked up city ordinance laws and there are no concrete regulations on being homeless — which he said he technically is since he's living in a truck.
"I might just be missing the ordinances in my specific city, but from what I've read, it might not actually be illegal," he wrote in June. "Naturally, these laws only apply to public property. Since I'm in a parking lot owned by my company, it's well within their power to 'evict' me, if they so chose."
Brandon also details some of the first nights spent in the truck:
Being completely new to the whole process of living in a van, I was pretty anxious for most of the night. I set up the environment on my work computers to my liking, played some Dance Dance Revolution at an arcade (in my office!), grabbed a late dinner with a few friends, and then headed over to my super secret hiding spot. Interestingly enough, the place I picked to park the box truck was already inhabited by more than a few equally sketchy looking vehicles: an RV, a few hippy vans, and a large truck or two. I have a hunch that I'm not the only person doing this.

I felt like a criminal walking across the parking lot. It's 9:30 PM, a dark truck with tinted windows slowly drives by just as I'm approaching the box truck. My heart is beating out of my chest, I slow down until it drives past, and then open up the back once I'm convinced they've passed. I re-lock the door behind me, leaving it slightly open for ventilation and so that no one can lock me in. I spend the next ten minutes quietly getting undressed and unpacking the suitcase I threw in early in the morning, completely paranoid that someone is watching/listening and going to bust in at any second. I shut off my lantern, and spend the next half an hour listening intently to the silence of the parking lot, interrupted only by the occasional thuds of doors closing and squeaks of suspensions going over speed bumps. Eventually I fall asleep, waking up intermittently because of strange truck and security-related nightmares. When my alarm goes off at 5:30 AM, I silence it immediately. I grab my already-packed gym bag, and I start my day.

I did it.
As Business Insider reported, the living space in Brandon's truck is actually larger than any of the bedrooms he has previously lived in, and he's really only ever in the truck to sleep anyway.
Brandon hasn't put a deadline on his truck home, but he did tell Business Insider that he doesn't see himself giving it up anytime soon.
(H/T: Business Insider)