A 21-year-old with autism worked at an Applebee's in Rhode Island for over a year. He was described as a "tireless worker," and yet, he was missing one thing during his entire employment: a paycheck.
WPRI-TV reported that Caleb Dyl of Portsmouth was initially placed as a prep cook at the restaurant last year without pay as part of a training program. When he was hired part-time in August 2014 though, the news station reported, he should have started receiving the minimum wage.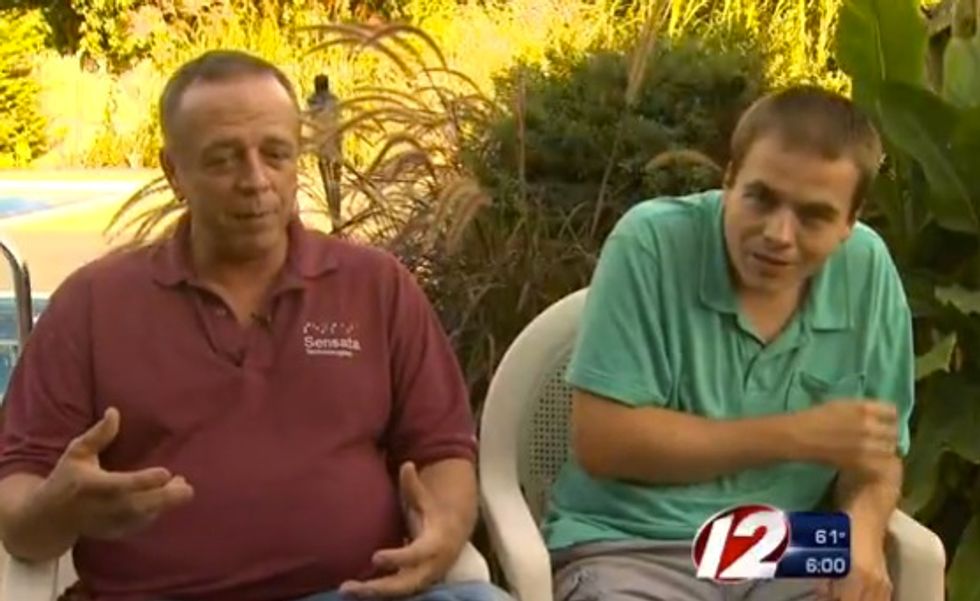 Bob Dyl (left), Caleb Dyl's father, says for a year his son didn't get paid for working part time at a Rhode Island Applebee's. The restaurant is now making the situation right, saying it wasn't aware of a payment issue, which had been reported to a staffing organization. (Image source: WPRI-TV)
WPRI went on to report that Dyl's parents said they filed the appropriate documents for taxes and direct deposit. After the family's repeated attempts to remedy this issue, it appears the Applebee's in Middletown is finally taking action.
"We have to make this right," Eleanor Clancy, regional director of operations for the chain restaurant, told the news station, noting that she was just made aware of the problem when WPRI reached out.
Clancy explained that Dyl's parents had contacted the training organization about the issue, but this firm never passed along the message to Applebee's management. Still, the restaurant is taking full responsibility.
"[T]his is on us. We obviously feel terrible," Clancy said.
Though Dyl's father, Bob Dyl, told the news station they weren't too concerned about the money because his son was "enjoying the job," the situation reached a point where "you kind of wonder what's going on."
Clancy told WPRI a check is being cut for Caleb Dyl for 166 hours of work as soon as possible. The family contends though that he has worked about 350 hours in the last year, according to the news station.
Watch WPRI's report:
—
Front page image via Ken Wolter/Shutterstock.com.