WASHINGTON (AP) — A U.S. Navy ship sailed near an artificial island built by China in the South China Sea in a long-anticipated challenge to what the Obama administration considers Beijing's "excessive claim" of sovereignty in those waters, a U.S. defense official said Monday.
The official said the White House approved the movement by the USS Lassen, a guided missile destroyer, inside what China claims as a 12-mile territorial limit around Subi Reef in the Spratly Islands archipelago, a disputed group of hundreds of reefs, islets, atolls and islands in the South China.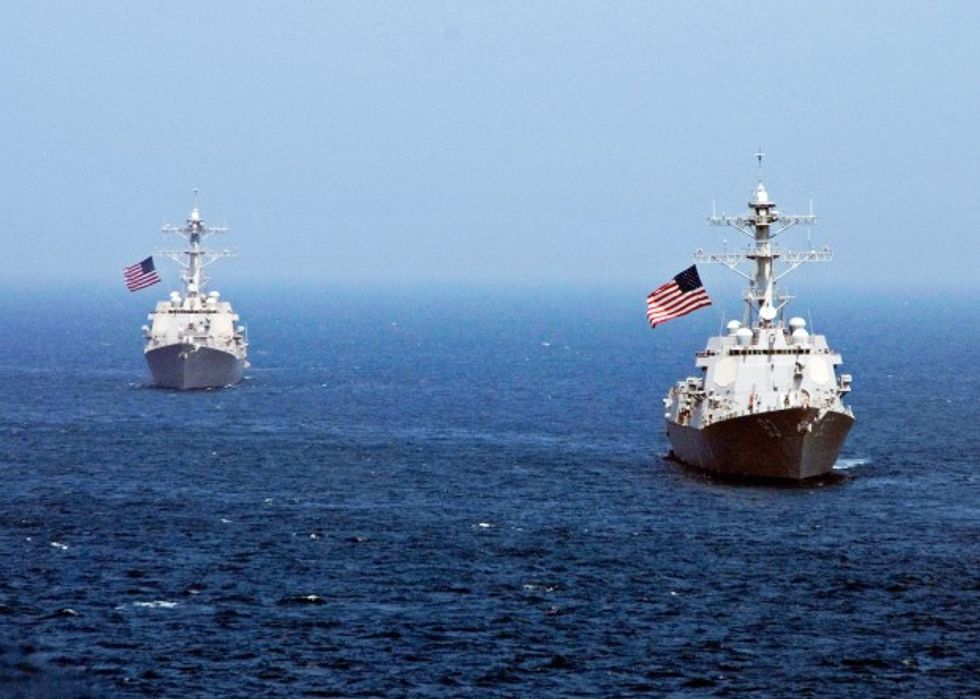 In this handout from the U.S. Navy, the guided-missile destroyers USS Lassen (L) and USS Chung-Hoon (R) are underway in the Sea of Japan July 27, 2010 in the East Sea. (Photo by John J. Mike/U.S. Navy via Getty Images)
The patrol was completed without incident, said the official, who spoke on condition of anonymity to discuss the Lassen's movements.
A Pentagon spokesman, Navy Cmdr. Bill Urban, declined to comment.
The Obama administration has long said it will exercise a right to freedom of navigation in any international waters, including in the South China Sea. The point of sailing a U.S. ship within 12 nautical miles of any of the artificial islands created by China would be to demonstrate the U.S. assertion that they are not sovereign Chinese territory.
"Make no mistake, the United States will fly, sail and operate wherever international law allows, as we do around the world, and the South China Sea is not and will not be an exception," Defense Secretary Ash Carter said on Oct. 13.
[sharequote align="center"]"Make no mistake, the United States will fly, sail and operate wherever international law allows..."[/sharequote]
"We'll do that at times and places of our choosing," Carter said. "And there's no exception to that, whether it's the Arctic or the sea lanes that fuel international commerce widely around the world, or the South China Sea."
Asked for comment about the U.S. move, a spokesman at the Chinese embassy in Washington, Zhu Haiquan, said China respects freedom of navigation in the South China Sea.
"Freedom of navigation and overflight should not be used as excuse to flex muscle and undermine other countries' sovereignty and security," he said. "We urge the United States to refrain from saying or doing anything provocative and act responsibly in maintaining regional peace and stability."
State Department spokesman John Kirby said Monday the U.S. would not be required to consult with other nations if it decided to conduct freedom of navigation operations in international waters anywhere on the globe.
"The whole point of freedom of navigation in international waters is that it's international waters. You don't need to consult with anybody. That's the idea," Kirby said. He referred questions about specific Navy ship movements to the Pentagon.
China's assertive behavior in the South China Sea has become an increasingly sore point in relations with the United States, even as President Barack Obama and China's President Xi Jinping have sought to deepen cooperation in other areas, such as climate change.
China claims virtually all of the South China Sea. The Philippines and other countries that have territorial disputes with China in the busy sea have been particularly concerned by China's recent land reclamation projects that have turned a number of previously submerged reefs in the Spratly archipelago into artificial islands with runways and wharves.
Adm. Harry Harris Jr., commander of the U.S. Pacific Command, has said the South China Sea is no more China's than the Gulf of Mexico is Mexico's.
—