A suburb of the San Francisco Bay area has seen a swarm of earthquakes in recent weeks that has some wondering if it has set a new record.
According to the U.S. Geological Survey, the city of San Ramon has experienced 435 earthquakes and counting in the last two weeks. They've been small and have not caused any damage or injuries, but still, that many shakes add up to the city experiencing more than one earthquake per hour of each day since Oct. 13.
USGS  geophysicist Brad Aagaard said most the small earthquakes them have ranged from magnitudes-2.0 to -3.0. The largest was a magnitude-3.6 on Oct. 19. To put that into perspective, the earthquake in Afghanistan earlier this week, which resulted in at least 385 deaths, was a 7.5 magnitude on the Richter scale.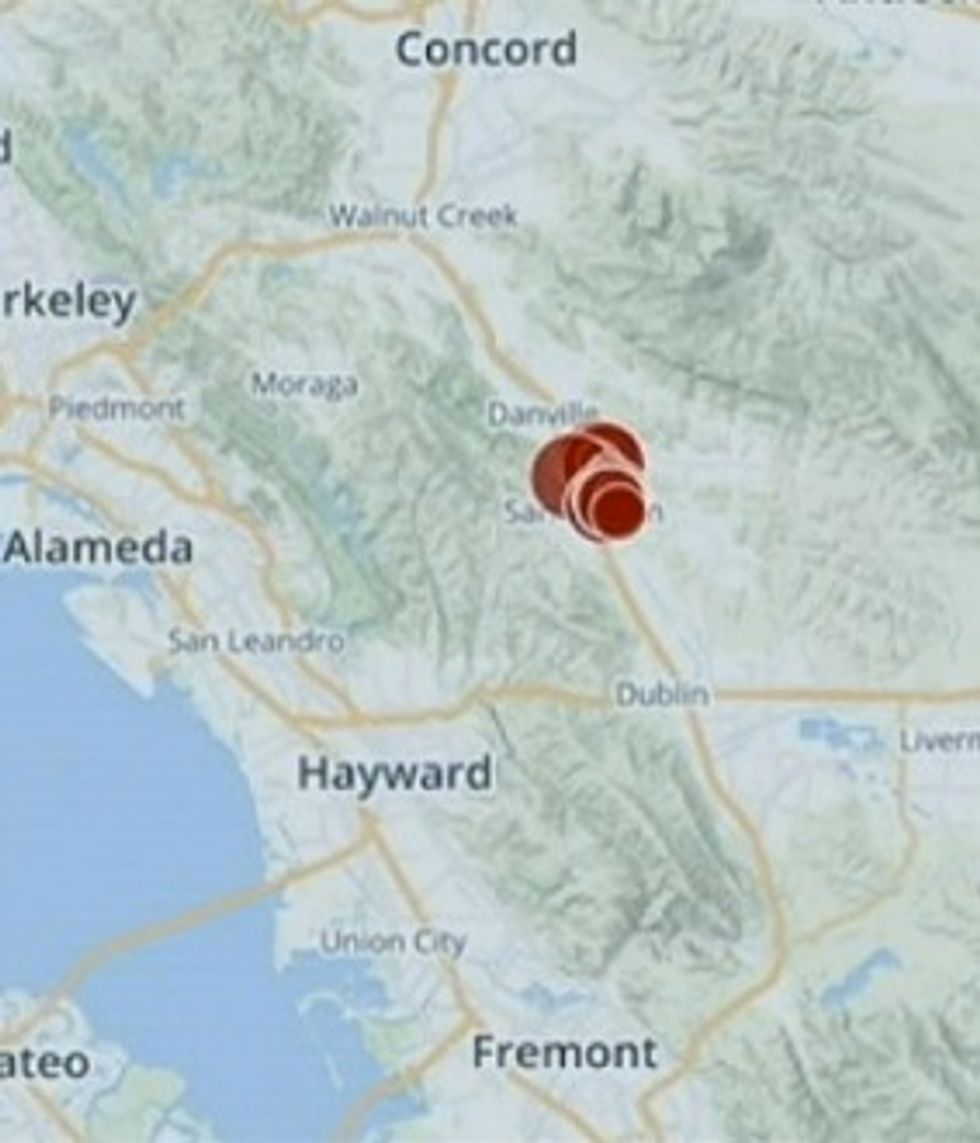 The earthquake swarm is occurring in the San Ramon area. (Image source: KNTV-TV)
San Ramon and other nearby cities sit on the Calaveras Fault, making them prone to such earthquake swarms. The USGS said they're not cause for extra concern and unlikely to lead to a large, damaging quake.
Based on other swarms, the agency predicts that the series of quakes may persist for several more weeks.
Even though they're small, residents said they've been able to feel them.
"I've not felt so many tremors in decades," Mark Stone told KNTV-TV.
The news station reported that based on USGS data, the Calaveras Fault has not produced a significant earthquake since the 1860s and it has a small likelihood of producing a quake larger than 6.7 magnitude.
Watch KNTV's report:
And as for this current swarm being a record, at this point USGS spokeswoman Leslie Gordon noted to the San Francisco Chronicle that it's difficult to compare the current data to historical records because there is a "difference in the record keeping."
USGS geologist David Schwartz went on to explain that scientists are able to detect and record much smaller earthquakes now. So when comparing the number to historical records, they're only counting earthquakes of 2.0 and higher.
"We want to compare apples to apples," he told the Chronicle.
Still, KTVT reported that this swarm beats the previous one in Alamo, a neighboring city, which had 351 earthquakes in 42 days in 1990.
Last week, a study by NASA and university researchers reported a 99.9 percent chance of a magnitude-5 or greater earthquake striking within three years in the greater Los Angeles area, where a similar sized temblor caused more than $12 million in damage in 2014.
Study leader Andrea Donnellan, a geophysicist at NASA's Jet Propulsion Laboratory, said the research is not a prediction. "It's a statistical probability that we computed," she said in an interview with the Associated Press.
USGS took issue with the study, asserting that it was unclear how the study derived its numbers and that the accepted probability is 85 percent.
Responding to the criticism, Donnellan said the study's references to other scientific papers would allow other researchers to reconstruct the process.
—
The Associated Press contributed to this report.  Front page image via Shutterstock.