NEW YORK (TheBlaze/AP) -- The Fox network has picked up "The 64th Annual Miss Universe Pageant" and domestic rights to air "Miss USA."
The three-hour "Miss Universe" will air live from Las Vegas' Planet Hollywood Resort & Casino on Dec. 20, the Miss Universe Organization and IMG, its new owner, said Wednesday.
"Miss USA" will air on Fox in 2016.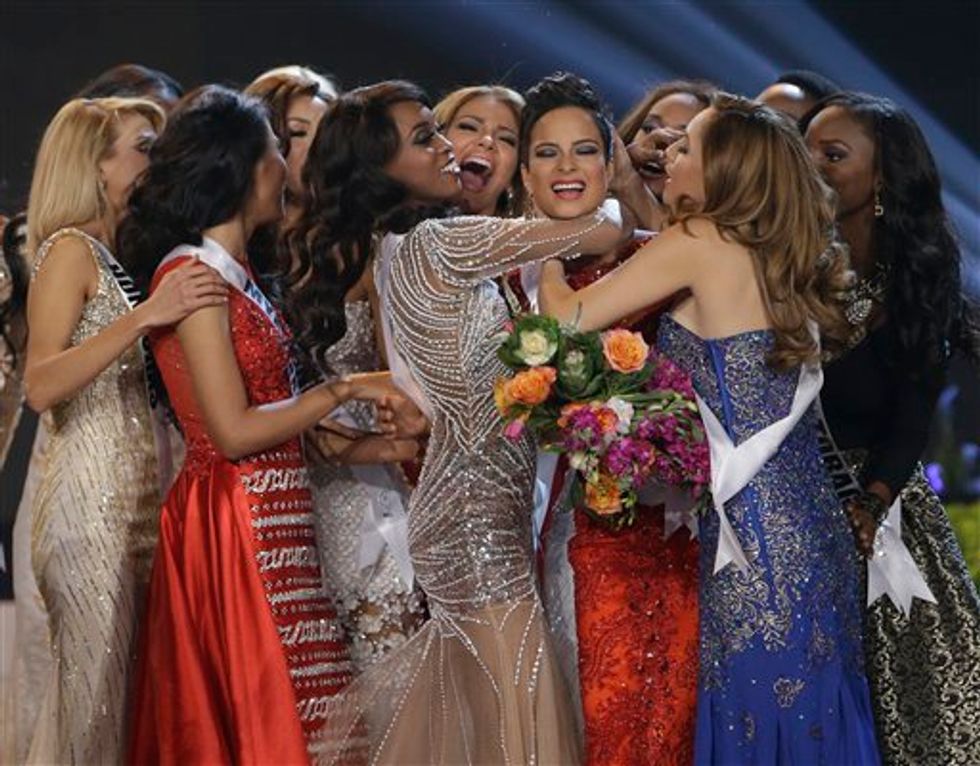 Miss Universe contestants congratulate Kaci Fennell of Jamaica, holding flowers, after having competed in the Miss Universe pageant in Miami, Sunday, Jan. 25, 2015. (AP Photo/Wilfredo Lee)
Partnering with Fox "marks a new era for the Miss Universe Organization as a whole," Michael Antinoro, IMG's senior vice president of original content, said.
"Fox is the perfect partner as we look to implement new and exciting changes to this show and the franchise," Antinoro added, according to The Wrap.
Fox entertainment president David Madden said the partnership would "infuse a fresh new energy into these perennial broadcast favorites." Madden called the Miss Universe and Miss USA pageants "iconic television events loved by generations of viewers around the world."
The announcement would seem to conclude months of turmoil for the pageants. The uproar began in June when Donald Trump, then co-owner with NBC, made anti-immigration remarks that offended Mexicans and others while declaring himself a Republican candidate for president.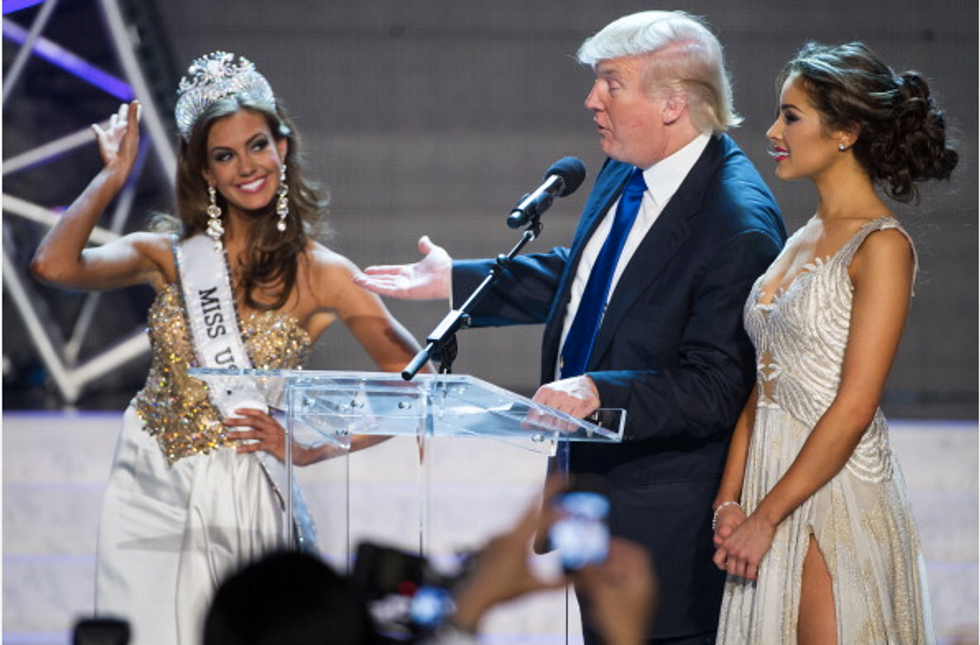 (L-R) Miss Connecticut USA Erin Brady, Donald Trump and Miss Universe 2012 Olivia Culpo onstage after winning the 2013 Miss USA pageant at PH Live at Planet Hollywood Resort & Casino on June 16, 2013 in Las Vegas, Nevada. (Photo by Michael Stewart/WireImage)
NBC subsequently cut its business ties with Trump, sold him its interest in the pageants, and cancelled its planned July airing of "Miss USA," which instead was carried by the Reelz cable network.
IMG acquired the pageants in September.
Contestants from more than 80 countries vie to become Miss Universe, while the Miss USA Pageant features contestants from all 50 states and the District of Columbia, with the winner competing for the title of Miss Universe.
"Planet Hollywood Resort & Casino has been a fantastic partner to The Miss Universe Organization, and it will be a great home for The 64th Annual Miss Universe Pageant," Paula Shugart, president of The Miss Universe Organization said.
"The resort's AXIS Theater is a premier entertainment venue, and the ideal site for the pageant's inaugural broadcast on a new network," Shugart said.