Quentin Tarantino's dad is speaking up just days after his son helped lead an anti-police rally in New York City, which happened to be in the wake of the sixth NYPD officer killed in the line of duty in less than a year.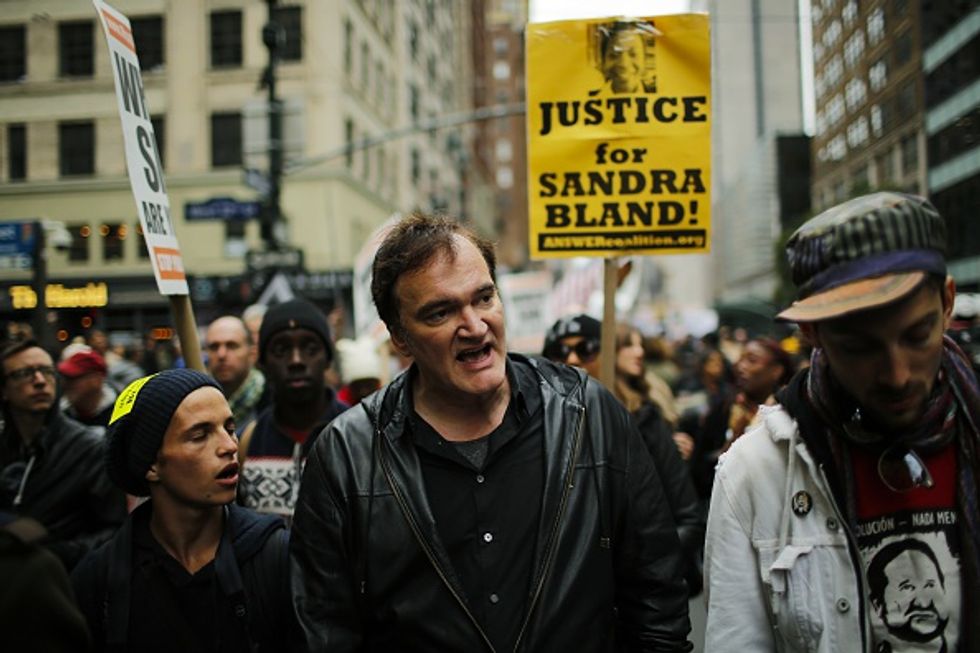 U.S. film director Quentin Tarantino (C) takes part in a march against police brutality called 'Rise up October' on October 24, 2015, in New York. Campaigners demanding an end to police killings of unarmed suspects demonstrated and marched through Manhattan. (EDUARDO MUNOZ ALVAREZ/AFP/Getty Images)
Tony Tarantino drew a stark contrast with his famous movie director son in a statement released Friday by the New York City Patrolmen's Benevolent Association, Fox News reported.
"I love my son and have great respect for him as an artist but he is dead wrong in calling police officers," Tony Tarantino said.
The director's father added that his son is a "passionate" man but that sometimes he lets his passion "blind him to the facts and to reality."
"I believe that is what happened when he joined in those anti-cop protests," Tony Tarantino said.
The comments came days after Quentin Tarantino was criticized for participating in a police protest in New York City, which took place in the wake of NYPD officer Randolph Holder's death in the line of duty.
(H/T: Fox News)
–
Follow Jon Street (@JonStreet) on Twitter