Actress Leah Remini — who released a memoir on Tuesday about surviving both Hollywood and Scientology — has been back in the spotlight in recent weeks, as she continues to reveal shocking claims about the former religion that she espoused for more than three decades.
With Remini, 45, openly discussing her former faith and her new book titled, "Troublemaker: Surviving Hollywood and Scientology," here are just five of the most bizarre accusations and events to reportedly unfold surrounding her past relationship with the secretive group:
--
Suri Cruise Crying on a Bathroom Floor?
Remini claims in her book that Tom Cruise and Katie Holmes left their seven-month old baby, Suri, on a bathroom floor during their wedding ceremony, and that Remini discovered the child surrounded by three people — Cruise's assistant, his sister, and another woman — after hearing mysterious crying and going to investigate, the Daily Caller reported.
The actress reportedly encouraged the three to give Suri milk in an effort to stop her from crying.
Remini Accuses Cruise of Hot Temper
Remini also said that she witnessed Cruise erupt at a female assistant over improperly prepared cookie dough that would be used for baking, claiming that the actor screamed, "Get in the f***ing present time, is what you need to do!"
She added, "It was horrible to watch someone I admired come undone, and even worse to witness the fear in the assistant's eyes," according to Radar Online.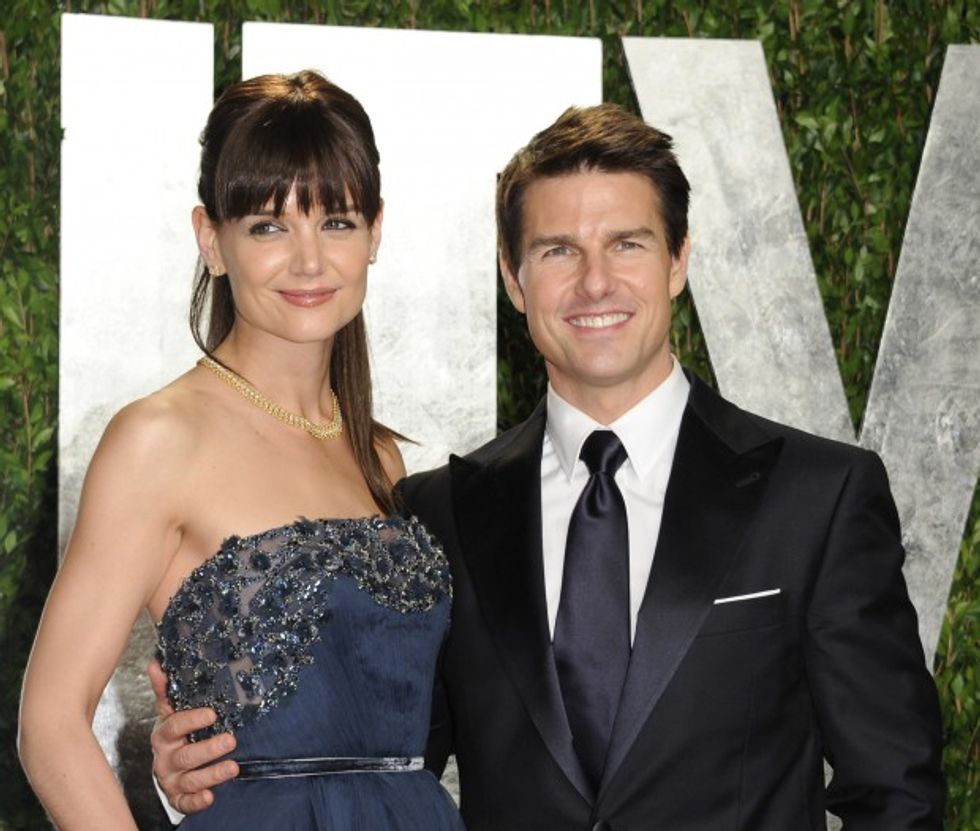 In this Feb. 26, 2012 file photo, actors Tom Cruise and Katie Holmes arrive at the Vanity Fair Oscar party, in West Hollywood, Calif. Cruise and Homes are calling it quits after five years of marriage. (AP Photo/Evan Agostini, File)
A Chipped Mug Also Reportedly Set Cruise Off
It wasn't just cookie dough that reportedly infuriated Cruise, as Remini recounted yet another incident during which he purportedly flipped on an assisted who served him tea in a chipped mug.
"You served me tea in a chipped mug? Do you know who gets served with a mug that's chipped?" Cruise reportedly raged. "F***ing DBs."
DB is short for "deranged beings," Radar Online reported.
This is an individual who is not able to be helped or audited in Scientology — a person who is clearly undesirable.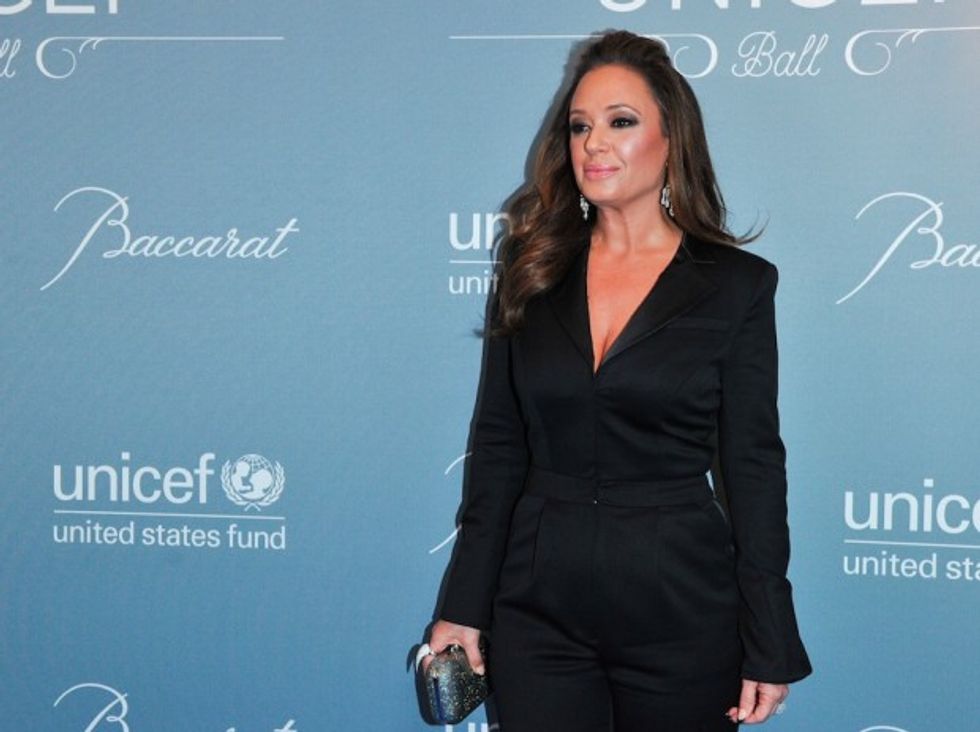 Leah Remini arrives at the 2014 UNICEF Ball on Tuesday, Jan. 14, 2014 in Beverly Hills, Calif. (Photo by Richard Shotwell Invision/AP)
Holmes Has Since Apologized to Remini
Holmes, who also left Scientology after her split with Cruise, reportedly previously had some bad blood with Remini, as Holmes had purportedly filed a "Knowledge Report" against Remini over the "King of Queens" star's behavior at her wedding, People Magazine reported.
Remini told People that she had been angry with Holmes at the time for filing a report claiming to be "disturbed" by Remini's behavior, and stating that she "made the party all about herself," but Remini has since changed her mind following an apology.
"I regret having upset Leah in the past, and wish her only the best in the future," Holmes said in a brief statement to ABC's "20/20," declining to answer a series of questions that producers sent her.
Remini reacted favorably to this response, noting that she now understands what Holmes was likely going through.
"I now see how hard things must have been for her and I'm so happy to see her and her daughter doing so well. I feel a kinship with her as a mother who wants do the right things for their child," Remini told People. "I went from being very angry with Katie Holmes while she was in the church because she wrote these reports, which my ass was handed to me for."
She continued, "Then she leaves and I thought, that's a ballsy move. As a mother I respect what she did."
Scientology Leaders Reportedly Asked Remini to Teach Cruise Salsa
Remini said that she and her husband, Angelo Pagan, were once asked by the Church of Scientology to teach Salsa lessons to both Cruise and then-girlfriend Holmes. They complied, but when they arrived at Cruise's home, she claims that two high-ranking Scientology leaders were there to observe the lesson, People reported.
After making a comment about Cruise during that Salsa lesson, Remini was written up.
"He was like, forcibly kissing Katie, and I said, 'Hey, get a freaking room,'" she recalled, noting that she was also reprimanded for commenting about Cruise's bizarre appearance on "The Oprah Winfrey Show" during which he infamously jumped on a couch, CNN reported.
--
Remini said during a "20/20" interview that aired on Friday that those who criticize Cruise are considered "evil."
Actress Leah Remini (Photo Credit: AP Photo/Matt Sayles)
"Being critical of Tom Cruise is being critical of Scientology itself … you are evil," Remini said.
The release of Remini's book comes two years after a very public split with Scientology — one that she told "20/20″ came with quite a bit of sacrifice.
"The decision to leave is — you are giving up everything you have worked for your whole life," Remini said.
So far, both she and her publisher Ballantine, an imprint of Random House, have done anything but shy away from controversy, throwing "Scientology" into the book's title, and using her experience in marketing materials to help drum up interest.
Remini is reportedly expecting some repercussions for so openly discussing and writing about what unfolded.
The church has responded by hitting back at Remini, saying in a statement that "she needs to move on with her life instead of pathetically exploiting her former religion, her former friends and other celebrities for money and attention to appear relevant again."
Follow the author of this story on Twitter and Facebook: