The largest, single religious group among Democrats is now the "nones" — an umbrella group that includes atheists, agnostics and those unaffiliated with a specific faith, according to the second installment of the Pew Research Center's 2014 Religious Landscape Study.
The new report, titled, "U.S. Becoming Less Religious" — a follow-up to a highly publicized report that the research firm released in May — found that the growth of the "nones" has had a "particularly pronounced impact on the Democratic Party coalition."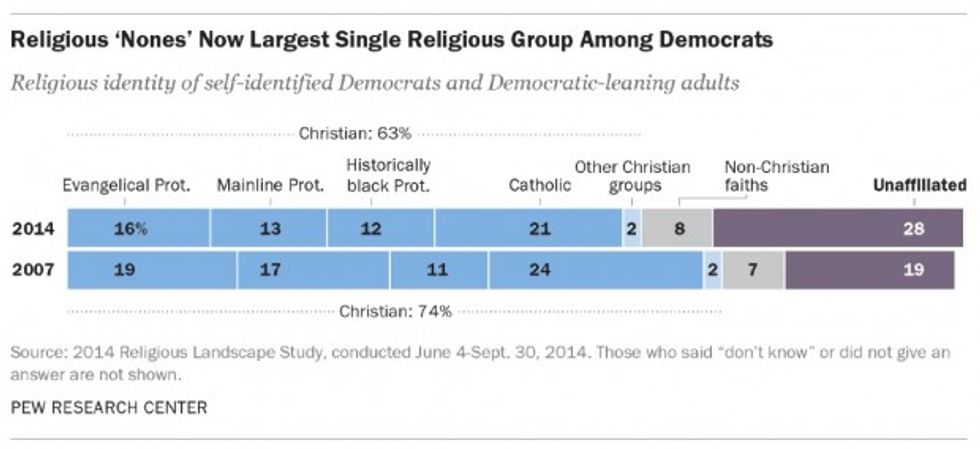 Among Democrats and Democratic-leaning adults, the "nones," as a singular religious group, now outnumber any other group, including evangelicals, Catholics, mainline Protestants and other religious cohorts.
Despite making up just 19 percent of Democrats and Democratic-leaning adults back in 2007, the unaffiliated now account for 28 percent, compared to the 21 percent who are Catholics and the 16 percent who are evangelicals.
Back in 2007, the proportion of Catholics was 24 percent and the proportion of evangelicals came in at 19 percent, according to Pew analysis.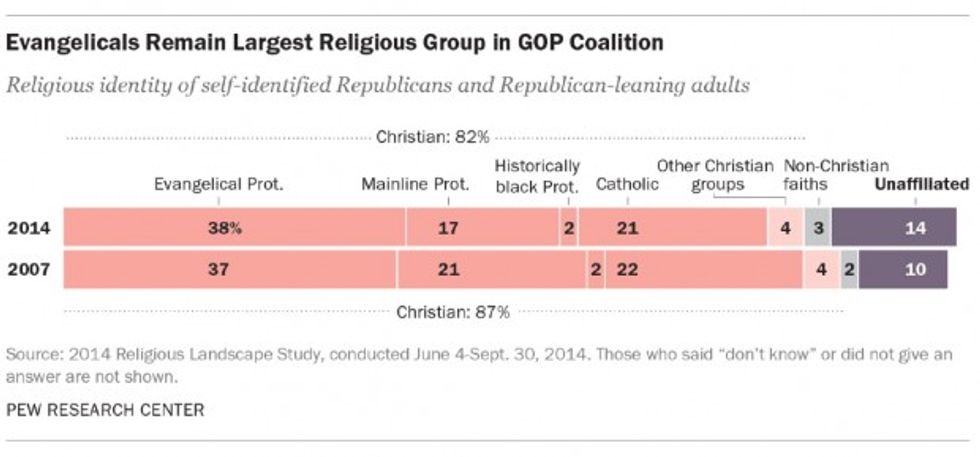 As for Republicans, the biggest religious cohort in the 2014 wave of the study remains evangelicals, who made up 38 percent of the GOP in 2014 as opposed to 37 percent back in 2007; the second biggest group in 2014 was Catholics, down to 21 percent from 22 percent in 2007.
It should be noted that the unaffiliated cohort among Republicans also grew from 10 percent in 2007 to 14 percent in 2014.
The newly released report — which found decreases in the proportions of Americans who say they believe in God, pray daily and attend church —  follows an earlier Pew Research Center report this year that documented a notable decrease in the proportion of Americans calling themselves Christians.
The "nones" are not necessarily atheist or agnostic, as TheBlaze has extensively documented. While the umbrella group most certainly includes non-believers, the latest report shows that 61 percent of "nones" still believe in "God or [a] universal spirit," though that proportion is down from the 70 percent that was observed in 2007.
Read the latest Pew report in its entirety here.
Follow the author of this story on Twitter and Facebook: