The University of Michigan's head football coach said Monday that he takes a vitamin everyday, but it's not coming from a pill bottle.
"It's called a steak," coach Jim Harbaugh said on his radio show, according to MLive.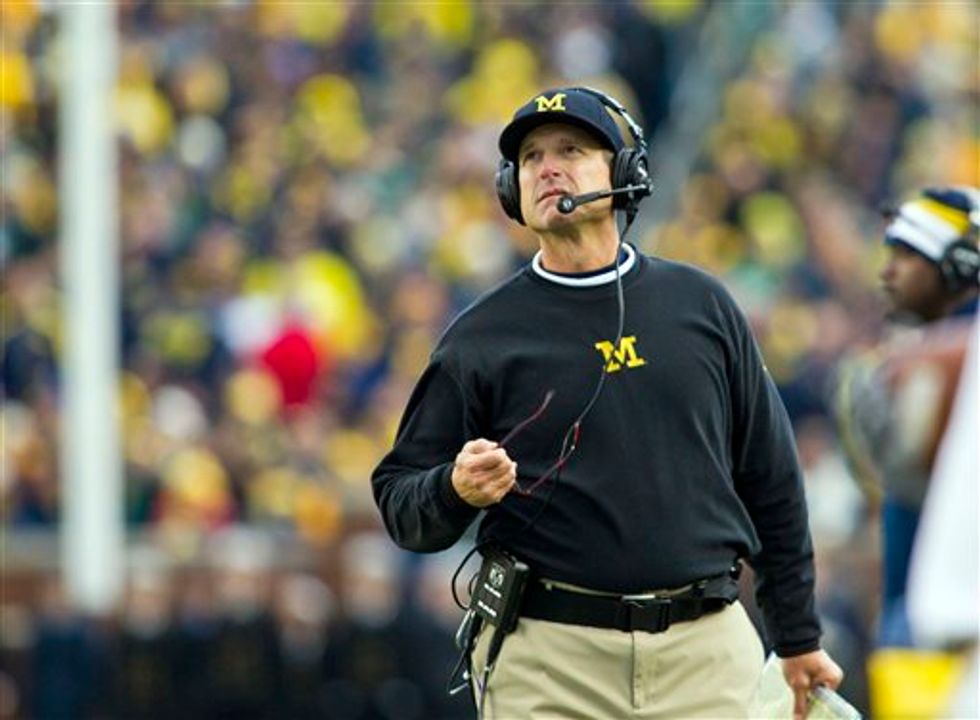 Michigan head coach Jim Harbaugh, wearing a headset, looks up at the scoreboard from the sideline in the third quarter of an NCAA college football game against Michigan State in Ann Arbor, Mich., Saturday, Oct. 17, 2015. Michigan State won 27-23. (AP/Tony Ding)
In response to a caller asking how they could get their young boy to be strapping quarterback someday, Harbaugh offered his advice for "natural steroids."
"I truly believe the No. 1 natural steroid is sleep, and the No. 2 natural steroid is milk, whole milk. Three would be water. Four would be steak," Harbaugh said, according to MLive. "... it goes with everything."
MLive pointed out that Harbaugh's comment regarding his daily vitamin coming from steak was borrowed as a quote from "Kicking & Screaming" character Buck Weston played by Robert Duvall.
Harbaugh's comments came a week after the World Health Organization announced that red meat was "probably" cancer causing. Processed meats, on the other hand, were classified by WHO as officially "carcinogenic to humans."
WHO's conclusions came from a group of 22 scientists who evaluated over 800 studies on the associations between meat and cancer. The North American Meat Institute said in a statement that "cancer is a complex disease not caused by single foods."
Donald Trump, in the running for the Republican nomination for president, made comments about his meaty diet Tuesday as well, telling Bloomberg TV's WADR he loves "steak and hamburger and pasta and French fries — all the things we shouldn't be eating is what I love."
"Bacon, eggs, steak, I don't know, I hear good and bad. Sometimes they'll come out with a report — steak is great. ... so the bottom line is they don't know what they're doing, so I eat what I like," the New York businessman said.
Watch the clip:
—
The Associated Press contributed to this report. Front page image via Shutterstock.