A Cleveland couple is fighting to get their newborn daughter back after she tested positive for a byproduct of marijuana when the hospital issued a drug test without the parents' permission.
Hollie Sanford told WJW-TV that she suffered from debilitating morning sickness and extreme sciatic nerve pain while she was pregnant with her new daughter, Nova. Doctors initially prescribed opiates, but she and her husband were worried not only about a possible addiction to the drug but also the affects it could have on their unborn child.
So the couple, who also have a son, researched medical marijuana and opted to try a medicinal marijuana tea as a safer and more natural way to quell her pain.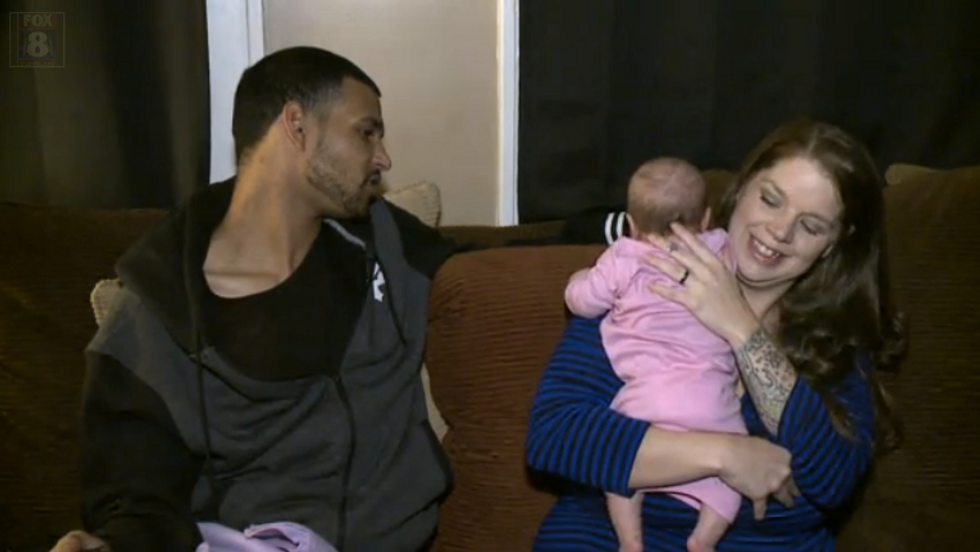 Image source: WJW-TV
"We did the research and the [Tetrahydrocannabinol], the psychoactive, doesn't reach the baby after it's already been metabolized through my body," Hollie told WJW. "So it's not like the baby is stoned in utero as people may think."
However, after baby Nova was born Sept. 26 healthy and alert, WJW reported that Fairview Hospital and social services intervened. A drug test was issued on Nova without her parents' permission.
Nova's urine sample tested negative; however, the meconium stool, composed of materials from inside the womb, did test positive for a byproduct of marijuana.
"They never even asked us," Hollie said.
The Sanders' attorney, Joseph Jacobs, said drug tests are routinely performed if the parents are using Medicaid or some sort of public assistance — which the Sanders are not.
According to WJW, the Sanders use private insurance.
Court records show that Nova was born "very healthy at birth" during a "normal delivery." The records also said there was "no evidence the child was exposed to THC or suffered from withdrawal." Still, the Sanders were prevented from taking their daughter, who has been placed with a family member as they fight to get custody. Hollie accused the hospital of "making it a physical abuse case."
"The case worker came in and said, 'You guys can leave, but you cannot take your daughter,'" Daniel, Nova's father, told WJW.
The Sanders' hearing isn't scheduled until December, but the Sanders said they are visiting their daughter everyday in an effort to build a relationship.
"It's very hard. We're just trying to be optimistic and count our blessings, that's what keeps us going," Hollie said.
"I do not have a dependency issue. I am not addicted to marijuana," Hollie said. "I've clearly already shown with my clean drug tests."
(H/T: WJW-TV)