The cellphone video showed a trio of Five Guys employees beating up and pulling the hair of a female customer inside the crowded burger joint — and the restaurant's representative responded by calling the brawl "simply unacceptable."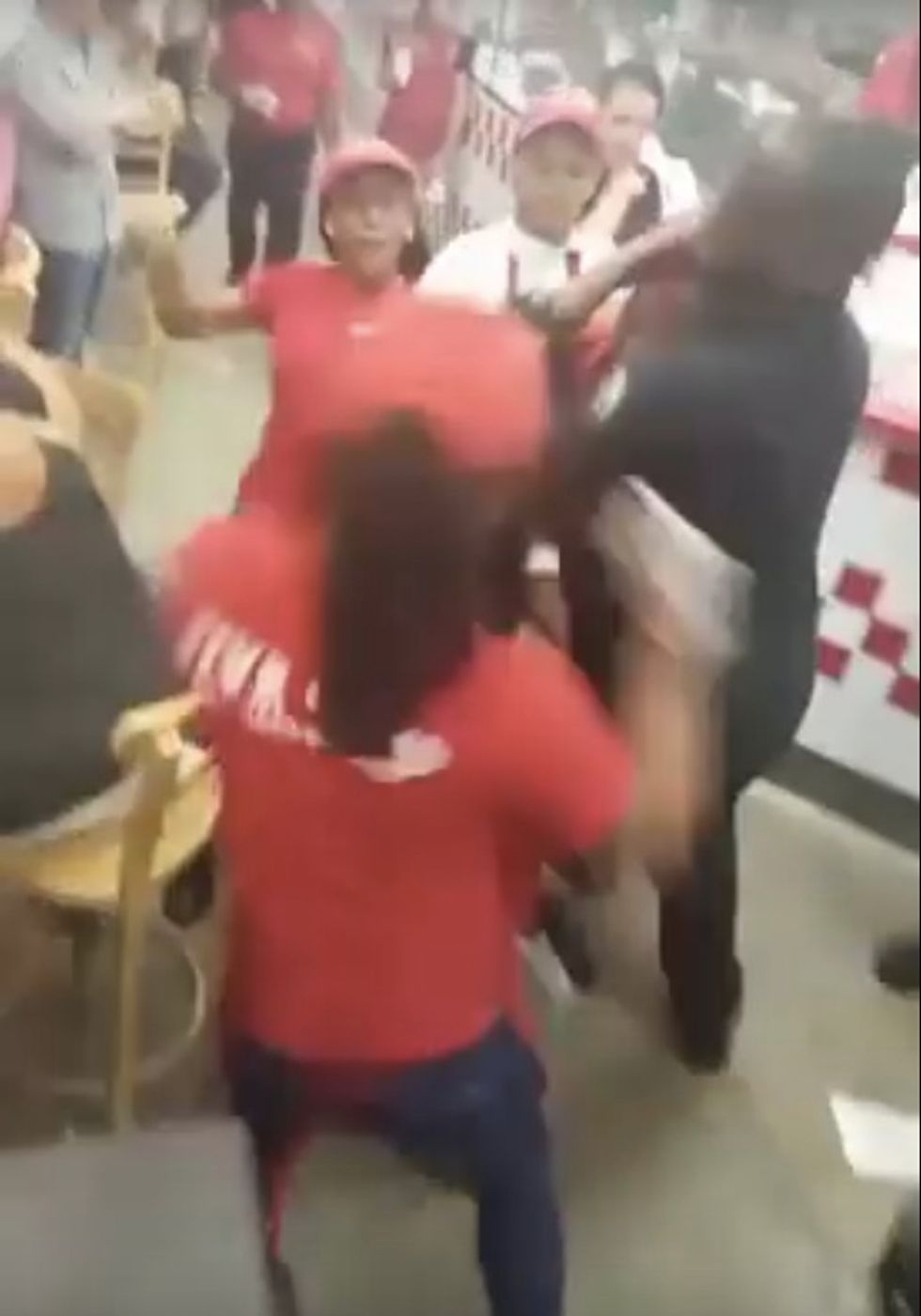 Image source: YouTube
It isn't clear why tempers flared at the Miami Beach outlet reportedly on Halloween night, WTVJ-TV said. But the video began with what appeared to be a host of plastic cups being thrown at the customer from behind the Five Guys' counter.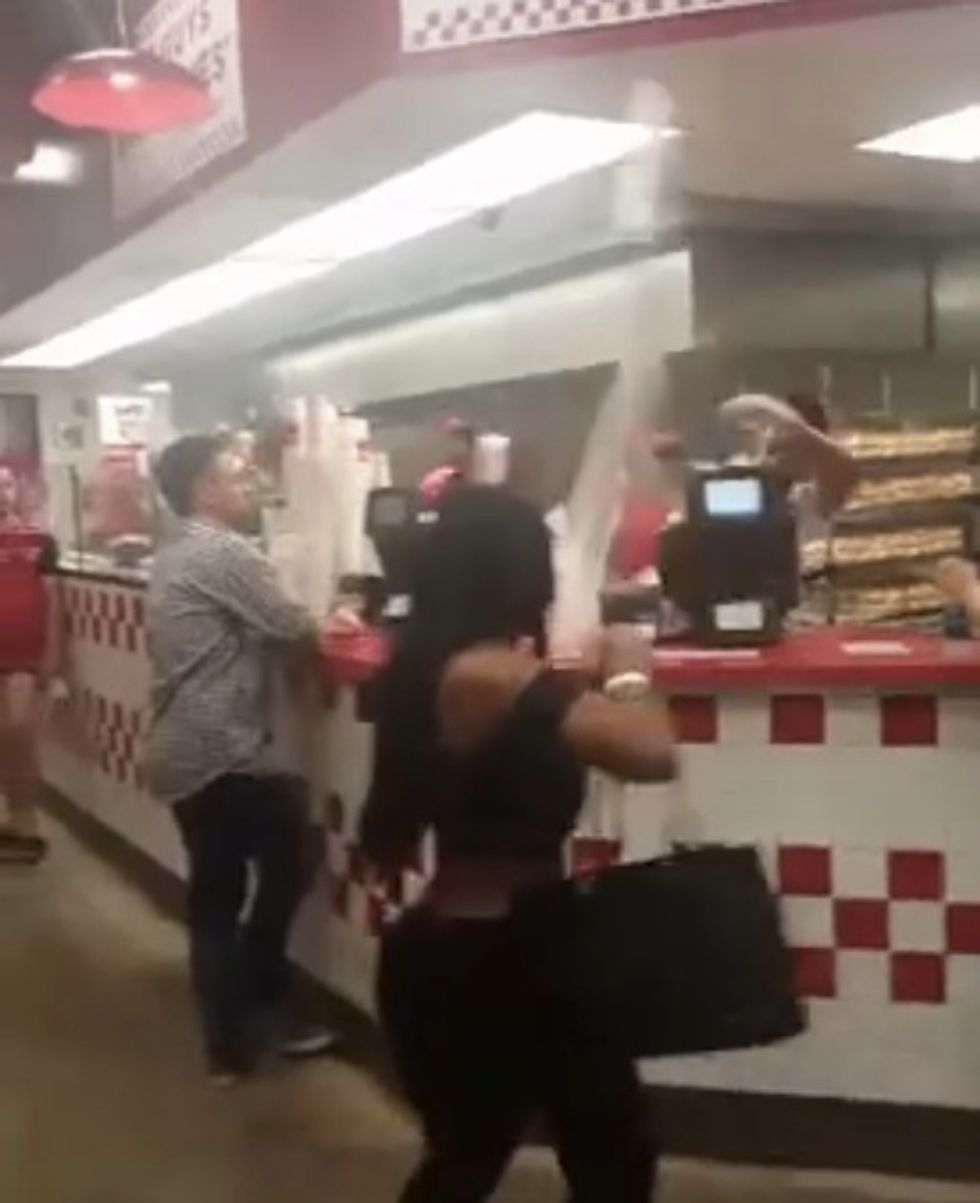 Image source: YouTube
In response, the woman strutted to the counter and appeared to reach over it —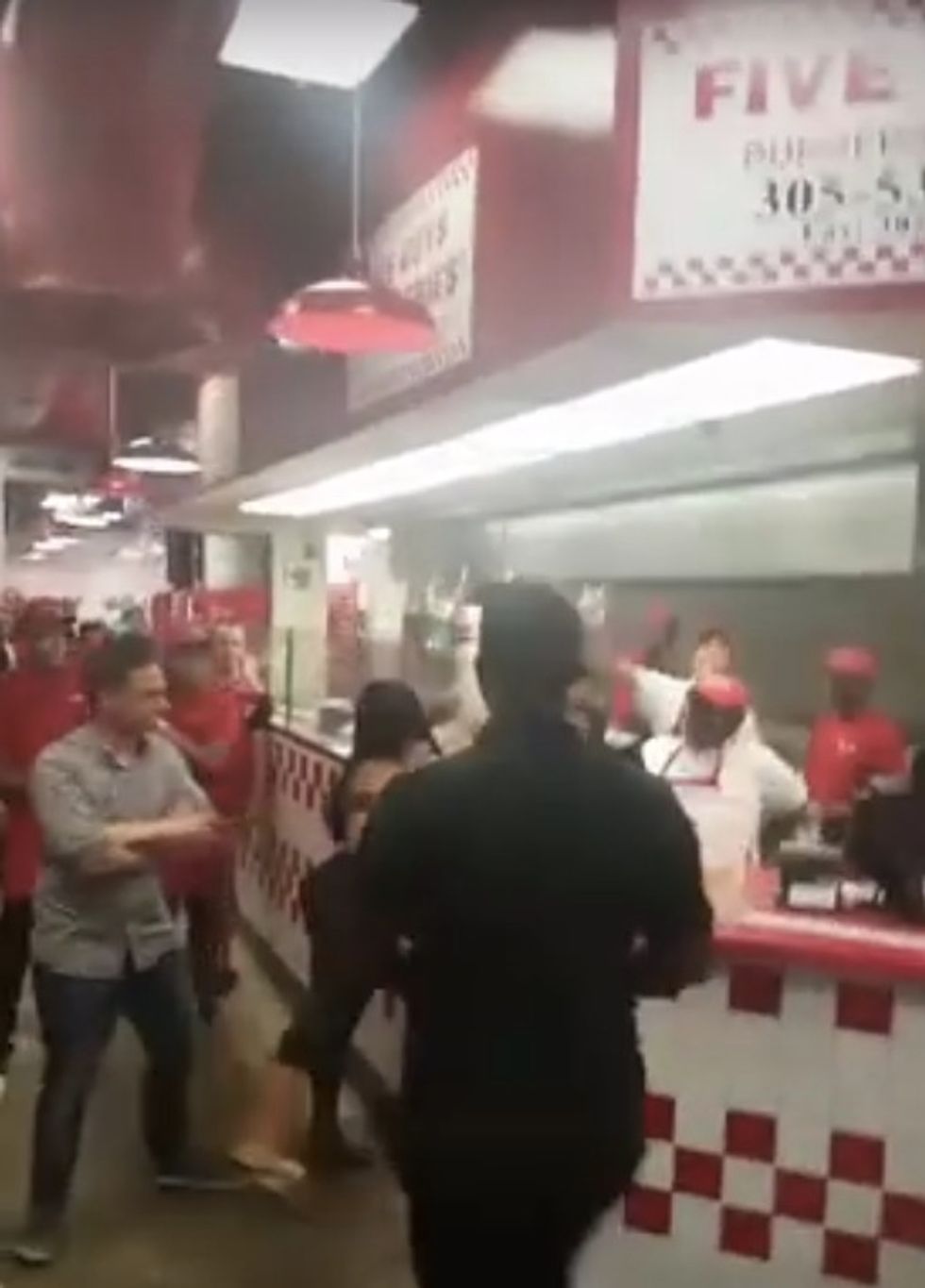 Image source: YouTube
— and then the cavalry arrived, led by one Five Guys employee who rushed up to the woman and struck her several times as a much larger man unsuccessfully intervened.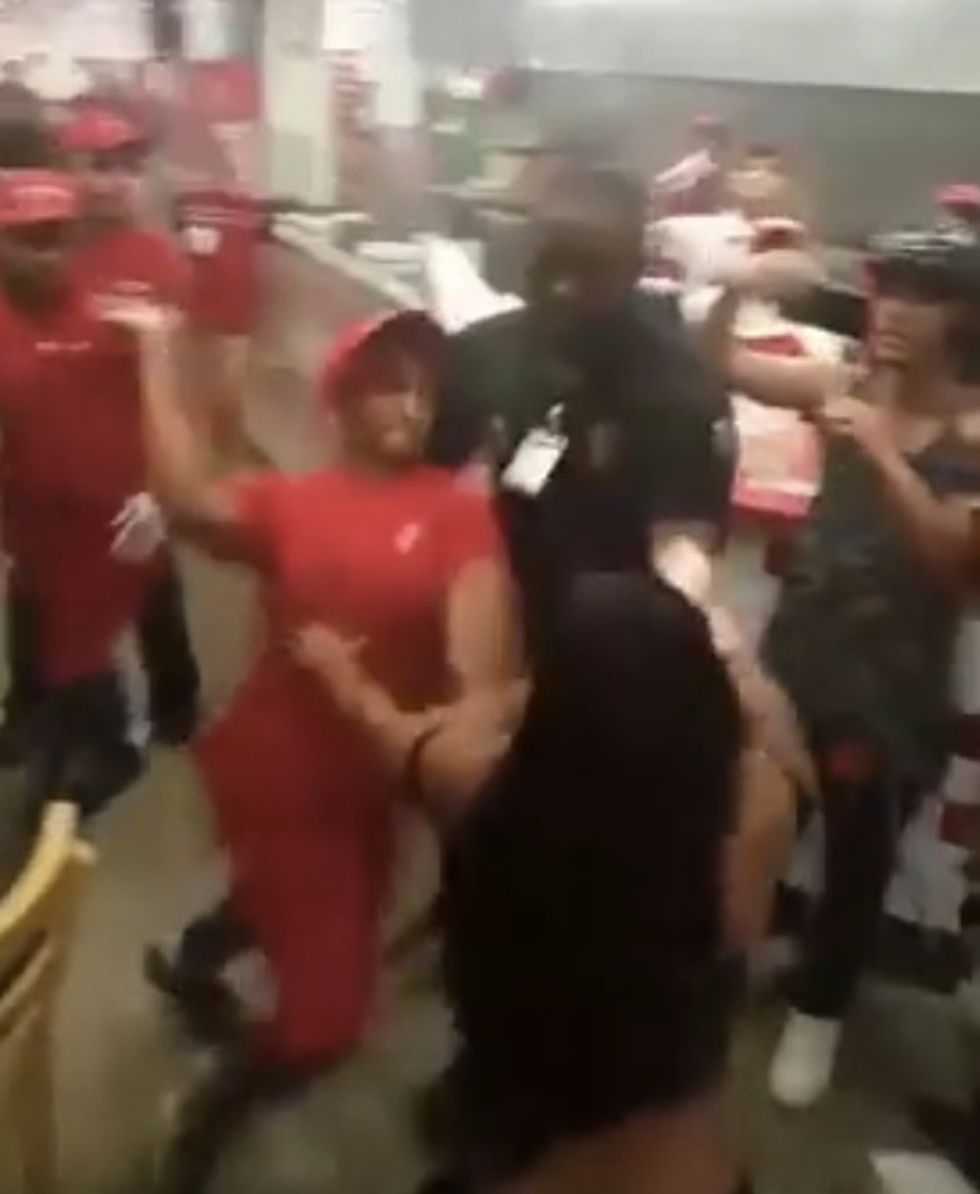 Image source: YouTube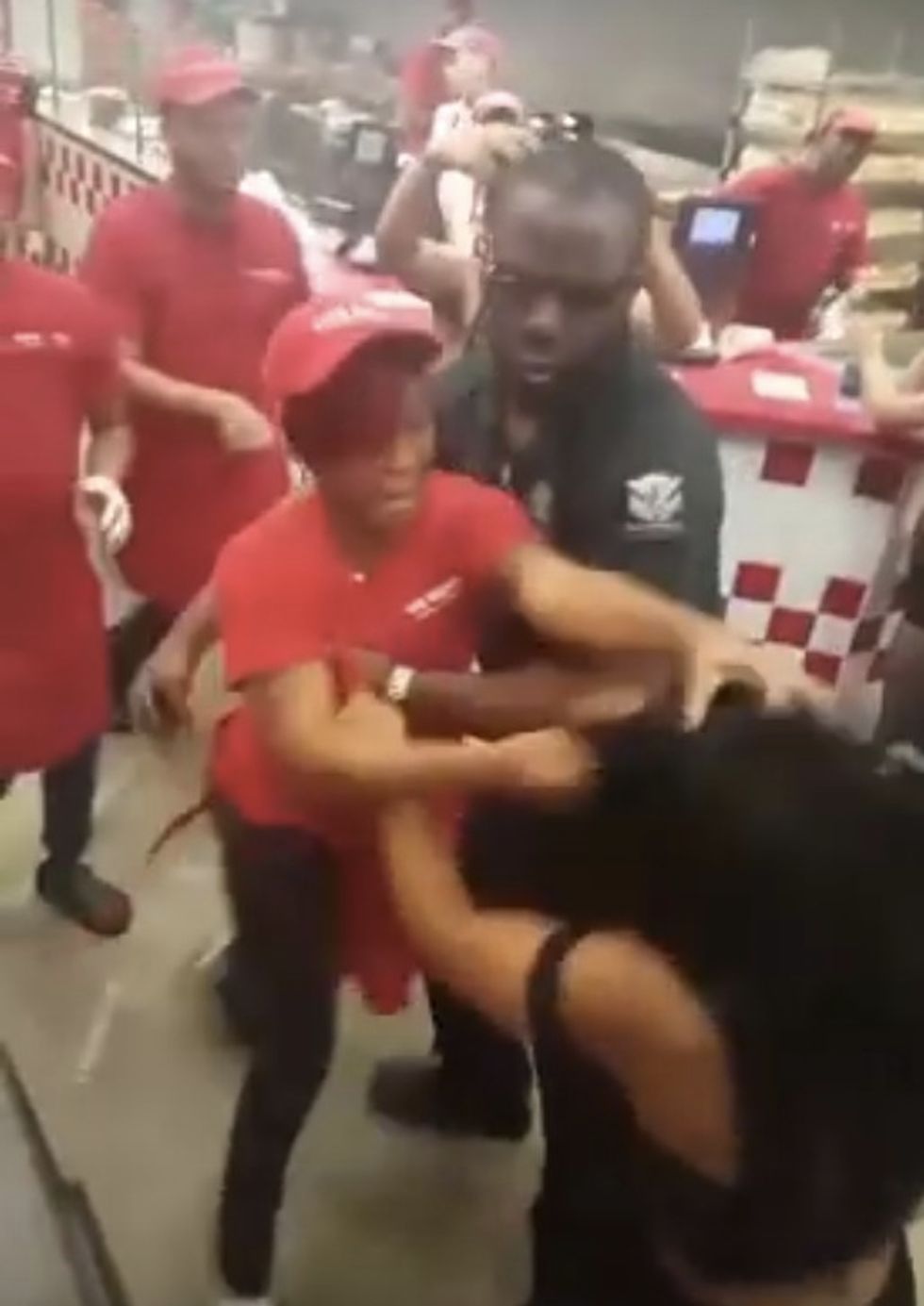 Image source: YouTube
Other Five Guys employees joined the fray, also landing blows and pulling on the woman's hair while bystanders videotaped, gawked, hooted and hollered or otherwise ignored the beatdown.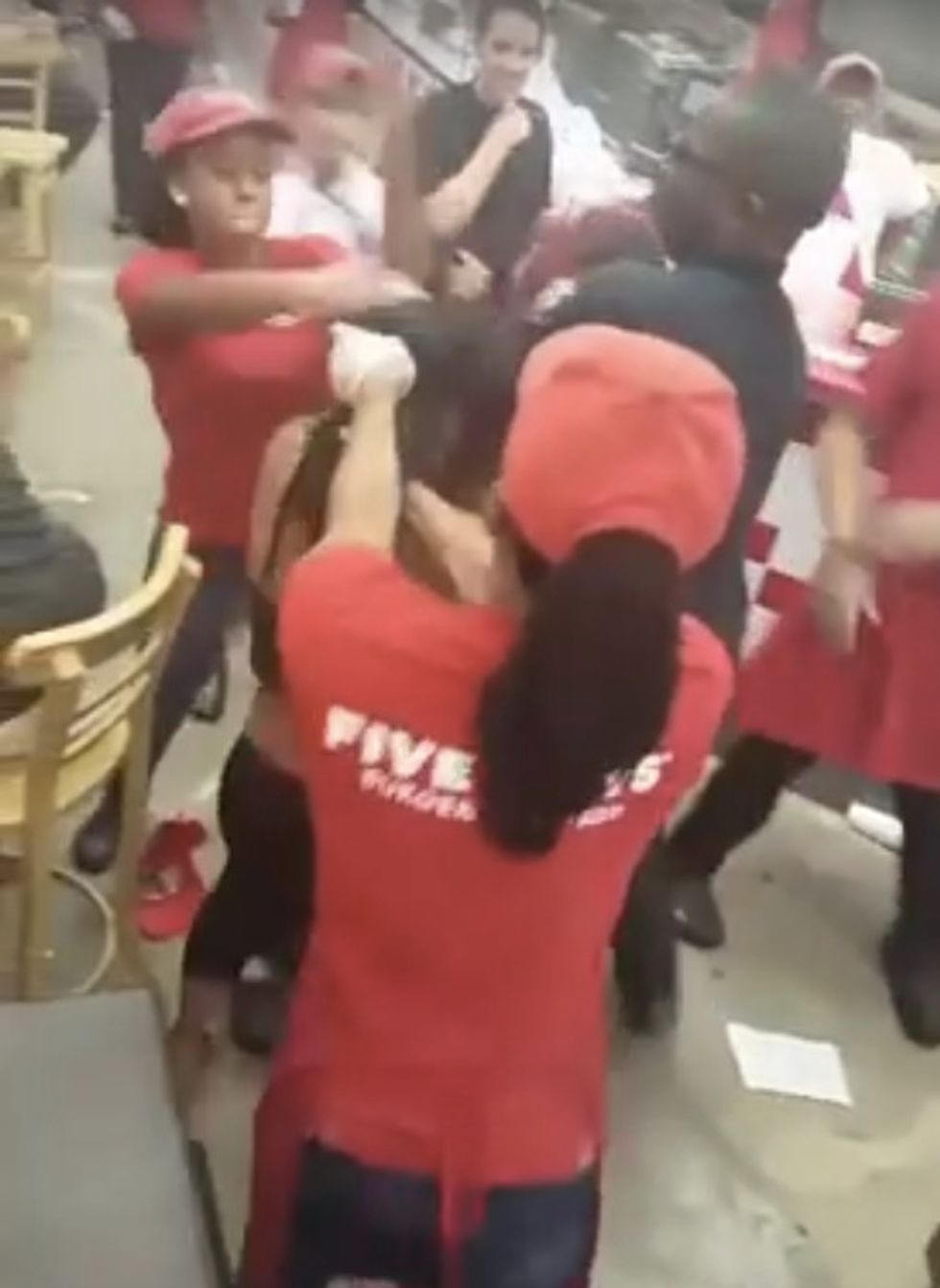 Image source: YouTube
The woman continued taking blows from the Five Guys workers while her hair — which appeared to be a weave or part of a costume — came off.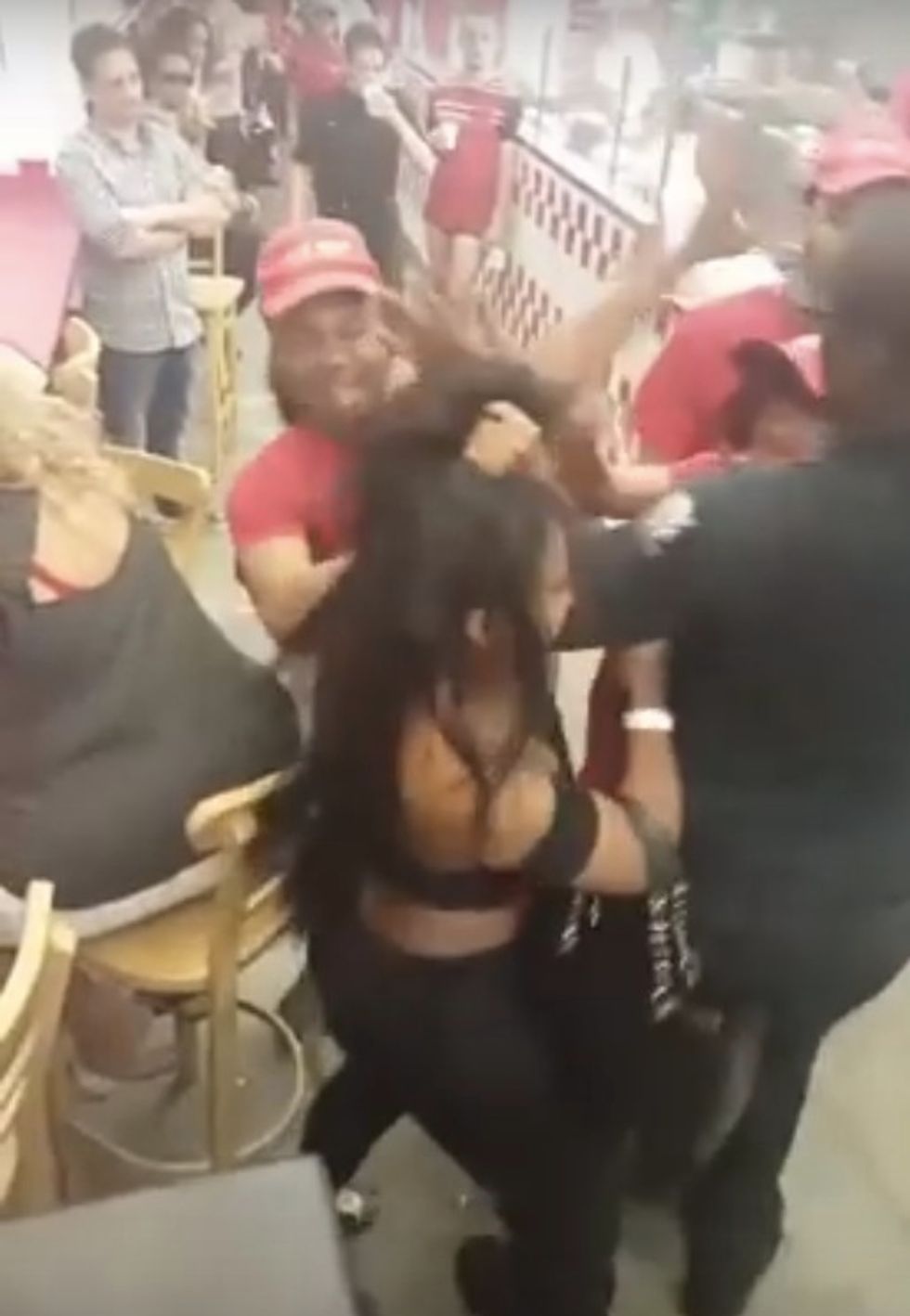 Image source: YouTube
Finally, the group separated and the woman retrieved her detached clump of hair and headed for the exit —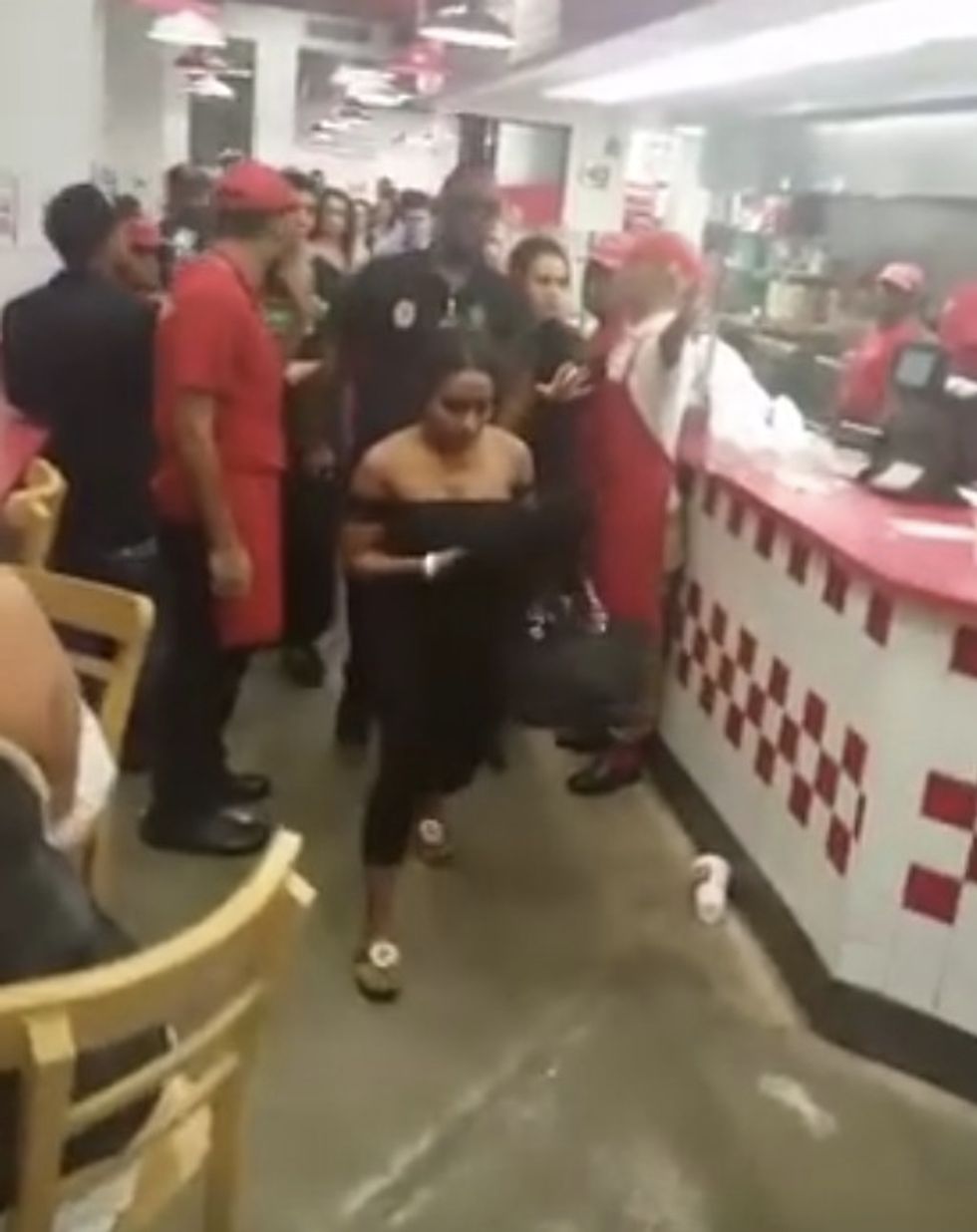 Image source: YouTube
— but not before giving the videographer a piece of her mind: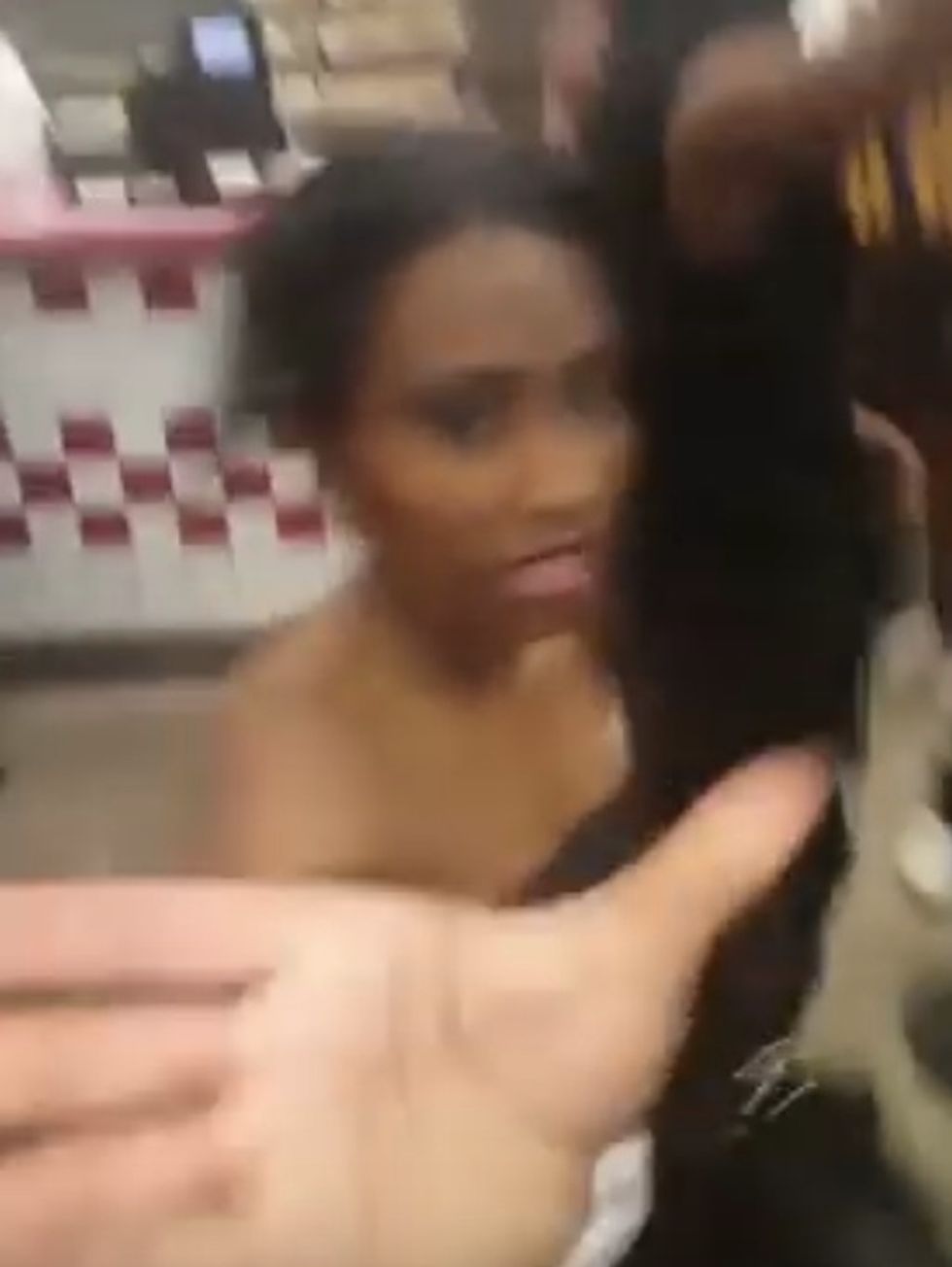 Image source: YouTube
Here's a clip of the incident via Live Leak. (Content warning: Strong language)
A witness told WTVJ that the while the woman never got physical she was being loud and appeared intoxicated.
Five Guys area supervisor Tina Holley released this emailed statement to WTVJ: "The actions displayed in this video are simply unacceptable. We are working with the franchise owner to do a full investigation and ensure appropriate disciplinary actions are taken."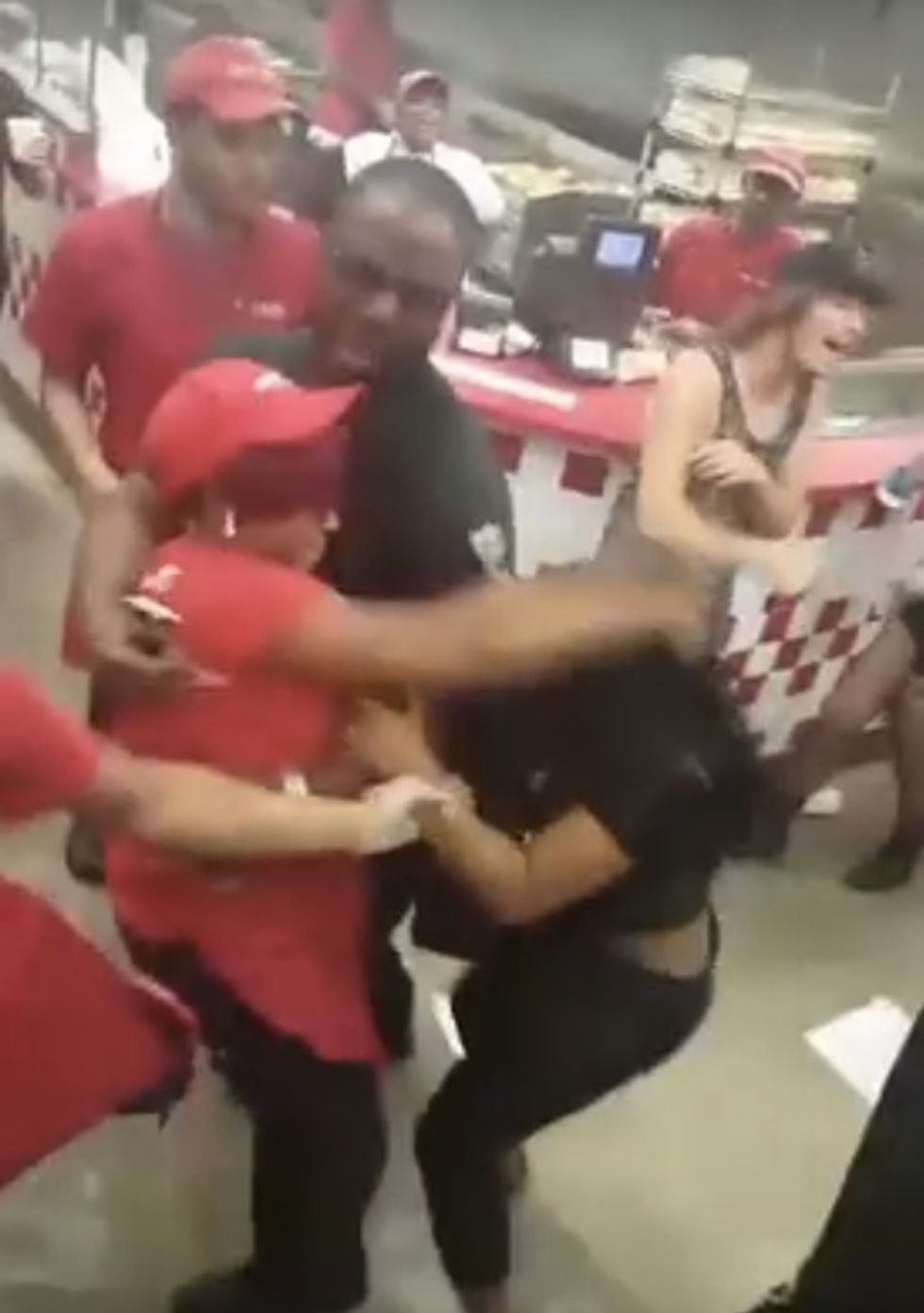 Image source: YouTube
Miami Beach police told the station they received no calls about the incident.
"It brings attention to the people of Miami Beach," Mayor Philip Levine, campaigning for re-election Tuesday, told WTVJ. "Let us move forward to clean Washington Avenue up and clean Ocean Drive up."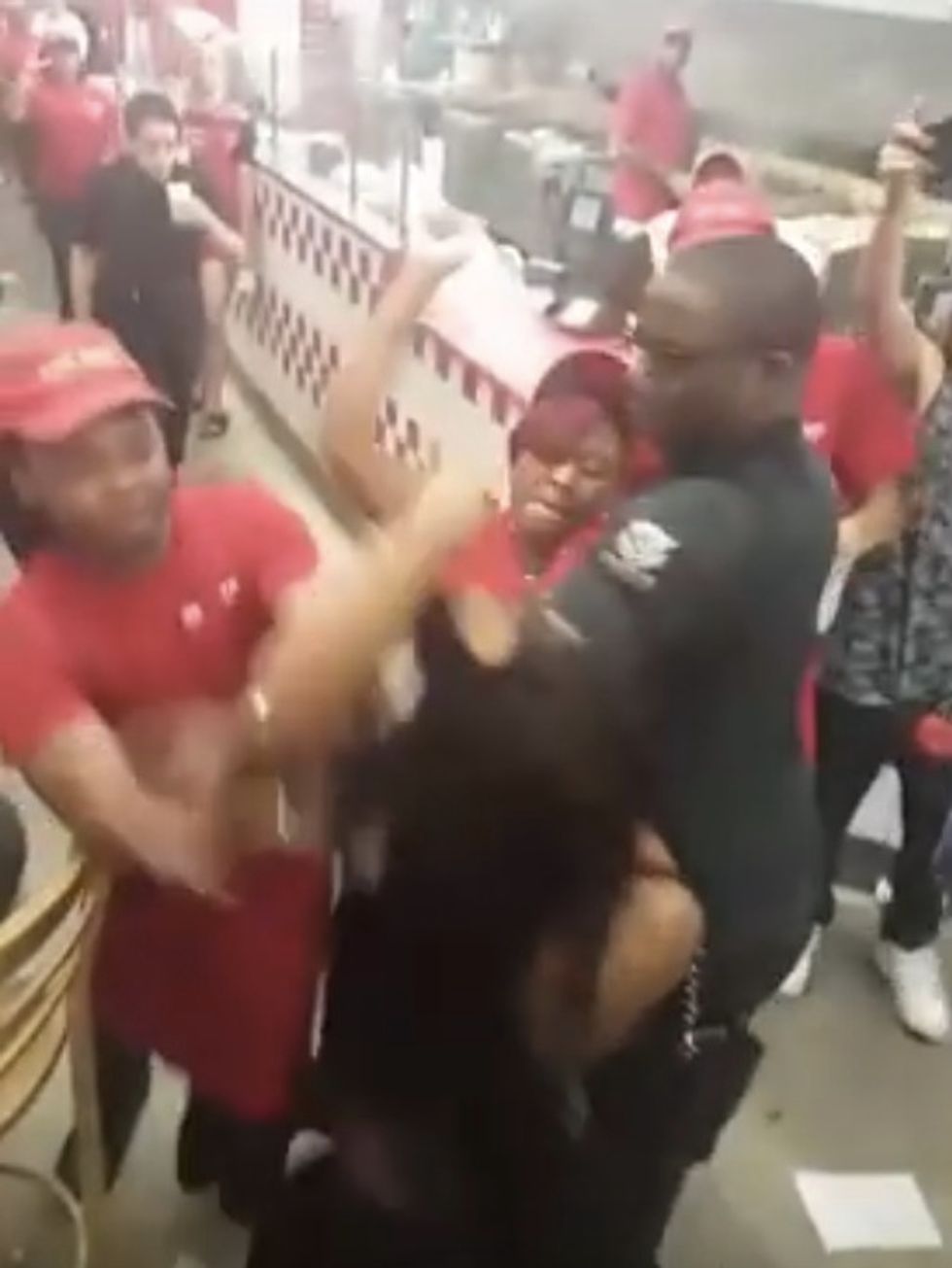 Image source: YouTube
Levine, who won his ree-lection bid, added that a two-year plan has been in place to combat disorder in the beach community.
"The people that have the commercial interest on Ocean Drive, that are fighting against this, that don't want us to clean it up, the people will push them and make them understand we must do it," Levine told WTVJ.0
—
Follow Dave Urbanski (@DaveVUrbanski) on Twitter