A Milwaukee woman was so shocked at what she saw happening inside of a parked school bus outside of her home that she hit the record button on her cell phone.
The woman, who wishes to remain anonymous, told WITI-TV that she noticed the bus driver and a woman on the bus take off their clothes before engaging in sexual acts. Although it is not clear if the woman on the bus was receiving payment for her services, the woman who filmed the interaction said prostitution is a huge problem in her neighborhood — and witnessing the raunchy act on the school bus was the last straw for her.
"On the school bus. Where your kids have to get on this bus," the woman can be heard saying in the video.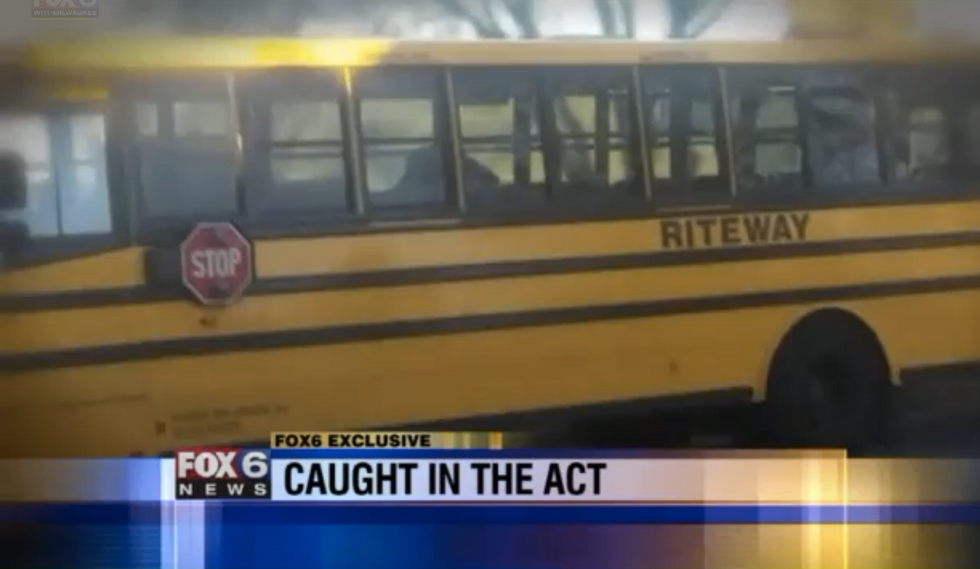 Image source: WITI-TV
The Milwaukee woman said she recorded the act for a few minutes until she got closer to the front of the bus, when the driver apparently noticed her and took off with the woman still inside of the bus.
The woman who recorded the video reported the incident to Riteway, the bus company, which said in a statement that the driver has been fired.
"At the time of the event, the employee was not on a company assignment, but instead was using our vehicle without permission," Paul Kolo, vice president of operations for Riteway, said in a statement to WITI. "We are grateful that the citizen approached the vehicle, and as a result of our investigation, the employee has been terminated for violation of company policy."
WITI reported that Milwaukee police have opened an investigation into the incident and are trying to determine if the woman on the bus was, in fact, a prostitute.
Police told WITI that they have been successful in breaking up drug and prostitution houses in the neighborhood, which could have forced the bus driver to use the vehicle for his afternoon delight.
"As far as the shooting and the drugs, they're getting better, but the prostitutes just won't go. They won't go," she told WITI.