The construction worker being called a hero after he stepped into the middle of a stabbing at the University of California, Merced, initially thinking he was stopping a fight Wednesday, has apparently said he wished he had a gun on him at the time.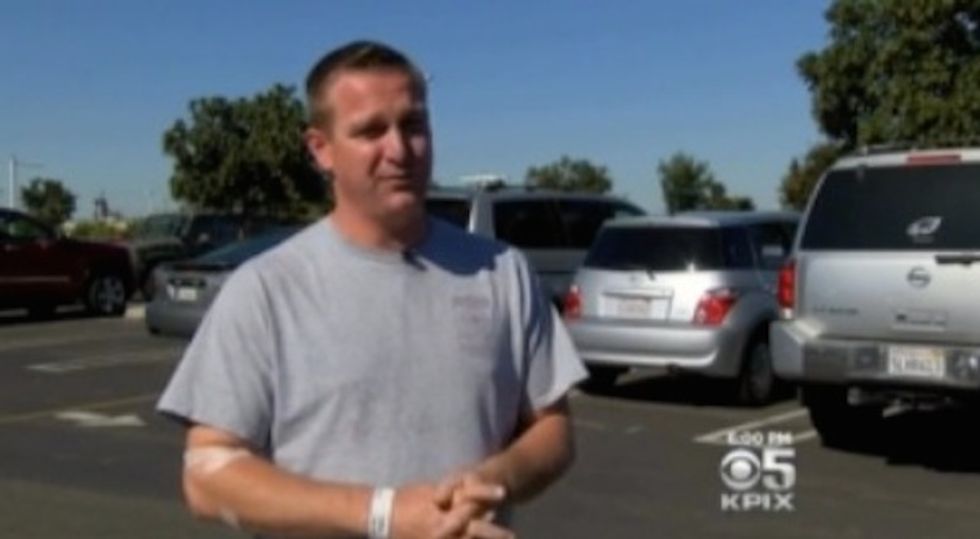 Byron Price is being called a hero when he stepped in to stop what he thought was a fight and ended up getting stabbed along with other victims. (Image source: KPIX-TV) 
Byron Price told KGPE-TV's Joey Horta, a reporter who is his soon-to-be brother-in-law, that he changed his mind about concealed carry weapons.
"He wishes he had one when this all unfolded for him today," Horta said in his broadcast on the news station Wednesday night. "He has four little kids waiting for him at home tonight, two of those from his fiancé. They are getting married next year. The good news is he's back home with all of them tonight."
Price's comment joins the debate over concealed carry weapons and firearms on college campuses as a whole. Though an ongoing topic of discussion, the shooting at Umpqua Community College in which nine students were shot and killed by 26-year-old Chris Harper-Mercer, who later shot himself, in Rosenberg, Oregon, on October 1 reignited the debate over gun-free zones and gun control.
Price was stabbed in the side in the incident that unfolded Wednesday morning and felt the blade hit bone, he told KGPE.
"It's hot, really warm," he said the the sensation of being stabbed. "It didn't hurt because there was so much going on."
Price received nine staples in his side to close the wound after he drove himself to an area hospital and was later discharged.
"To become a university student, to throw it all away like that, I just don't understand why he would want to do that," Price said of the suspect's actions.
While Merced County Sheriff Vern Warnke said in a news conference that he believes Price is a hero, Price himself told Horta he doesn't see himself that way.
Four people were stabbed by the suspect, who was identified as as 18-year-old Faisal Mohammad by authorities Thursday. Mohammad was a freshman at the college. According to the school, Mohammad was shot by campus police when fleeing the scene and died as a result of his injuries. The victims of the stabbings are all expected to recover.
Investigators are still trying to determine a motive.
Classes at UC Merced continued to be closed Thursday as the investigation is still ongoing, but they are expected to resume Friday.