White House spokesman Josh Earnest criticized the campaign against the proposed Houston transgender law that critics were concerned would allow men to access women's bathrooms, or boys to access girls showers and locker rooms.
Voters in Houston, the nation's fourth-largest city, soundly defeated the proposed ordinance with 61 percent of the vote.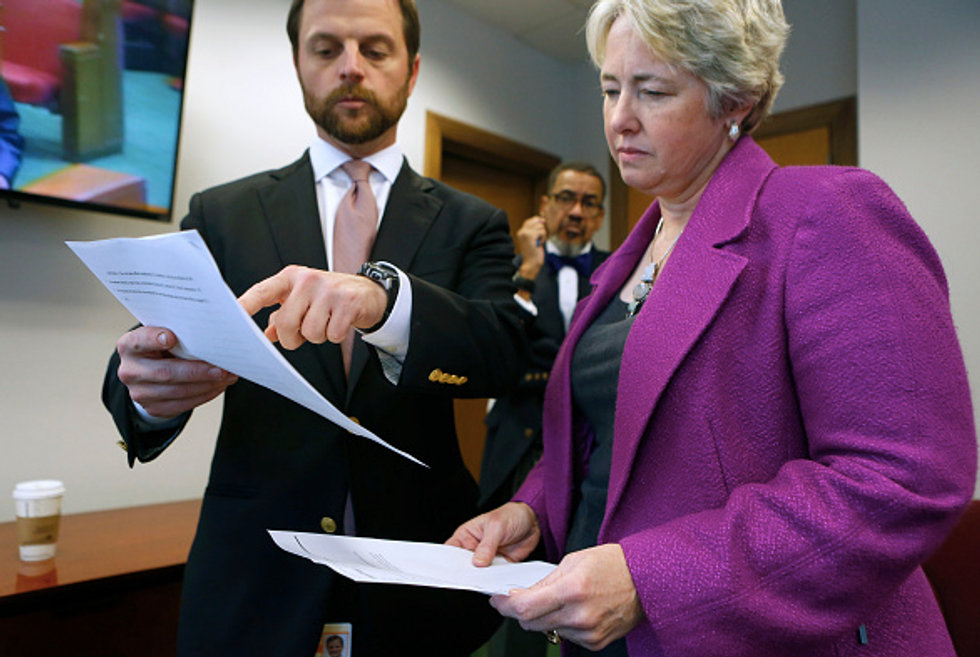 Houston Mayor Annise Parker meets with her chief of staff, Christopher Newport, in a back room during a city council meeting. (Erich Schlegel/For The Washington Post via Getty Images)
"What is clear is that the opponents of this particular ordinance in Houston were much more interested in a political tactic that diverted attention from the true intention of the ordinance. In this case, unfortunately, that cynical political tactic succeeded in securing the kind of election outcome they would like to see," Earnest said Thursday. "I do not think it will set back the broader trend toward equality and justice in this country."
The city law was approved in May 2014, but a lawsuit forced it to appear on the November 2015 ballot. After a long campaign, supporters said it would increase equal rights for the LGBT community and prevent discrimination on gender, age and religion. However, opponents said that it infringed on religious liberty, and the focused on a part of the law related to the use of public bathrooms by transgender men and women.
Earnest said he hasn't talked to President Barack Obama about the particular result but said, generally, the administration supports equality for LGBT Americans.
"Preventing discrimination because of their race or their gender or their ethnicity or who they love is something we should take steps to prevent, particularly when it comes to rights of LGBT Americans," Earnest said. "This country has made tremendous progress over the last several years and some of that was progress that was moved along by policies made by this administration."