Moments before President Barack Obama announced his administration's rejection of the hotly contested Keystone XL pipeline project, MSNBC anchor Chuck Todd said the environmental left "dragged" the president to his position.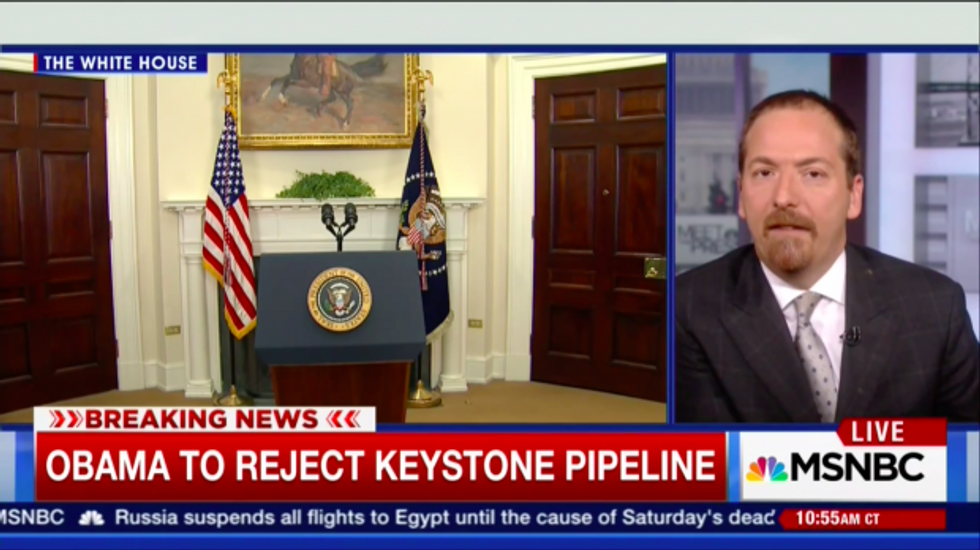 Chuck Todd, right, on MSNBC Nov. 6 (Image source: YouTube)
"What's been fascinating about this is that, you know, when this whole push first began by the company TransCanada to get the pipeline through a few years back, President Obama was essentially neutral on the project," Todd told his MSNBC colleague Frances Rivera.
Todd said that, in early deliberations over the project, Obama thought both the concerns of environmentalists and the business community were "over the top."
According to Todd, Obama was trying to "straddle the straw-man middle" during his 2012 re-election bid, but he credited the environmental left for pushing the president and then-Secretary of State Hillary Clinton to adopt an anti-Keystone position.
"They pushed this," Todd told Rivera. "This became a be-all, end-all. A symbolic, like, 'If you're truly an environmentalist, you're against this thing. If you're not, then you can't call yourself a real advocate on the climate change issue.'"
"It's been remarkable to watch this," Todd continued. "This was really driven by the environmental movement that dragged the president to this position."
Watch the exchange on MSNBC:
—
Follow Tré Goins-Phillips (@tregp) on Twitter