The U.S. Navy launched a second — and supposedly final — missile off the coast of California Monday afternoon, and in doing so, set off a plethora of conspiracy theories.
The Navy launched the first Trident missile Saturday night from a submarine, and because of the night sky, many people reported seeing the "mysterious light flash." However, KABC reported that since Monday afternoon's launch was during the day, no pictures have surfaced thus far.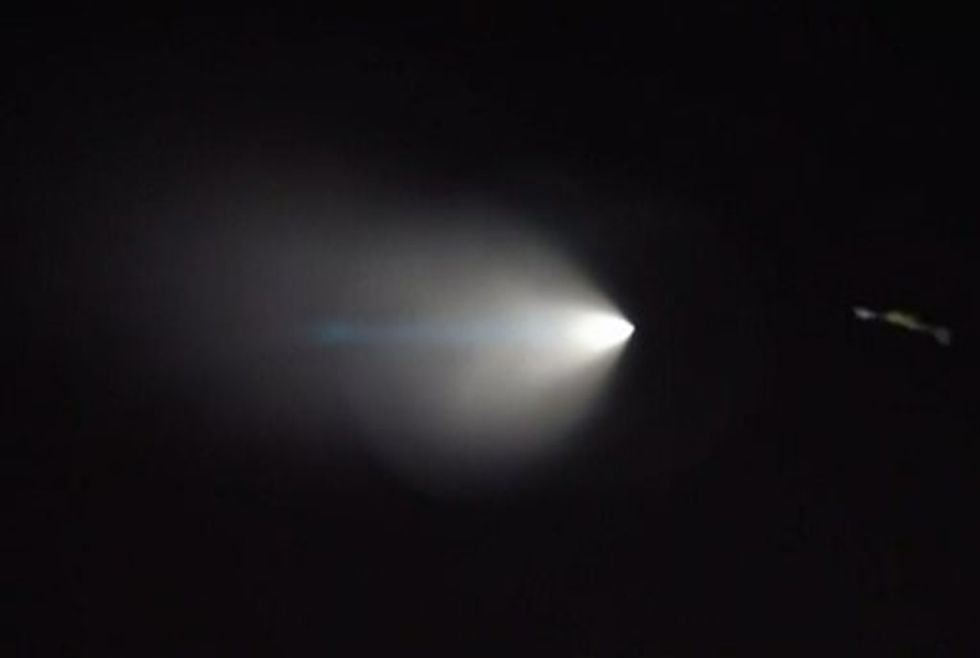 An unarmed missile fired by the U.S. Navy from a submarine off the coast of Southern California, creating a bright light that streaked across the state and was visible as far away as Nevada and Arizona. (Julien Solomita via AP)
"It's important that we test these missiles for our national security," John M Daniels, a spokesman for the secretive Strategic Systems Programs office that oversees nuclear-tipped missiles in the Navy, told the Los Angeles Times. "We don't announce future launches, but this is it for any time soon."
KABC reported that both missiles were scheduled to be launched Saturday, but there were too many private boats in the area.
Abe Blair, a 36-year-old photographer, told the Daily Mail that he was taking pictures of the skyline Saturday night when he spotted the first missile which he described as an "unreal blue and white cloud just expanding bigger and bigger."
"What is that?!" Blair said he and his friend both yelled as they attempted to "recompose and try and capture this UFO as it headed right towards us."
Blair and his friend weren't the only ones to assume the missile launch was a UFO.
Khloe and I are freaking out right now over this UFO situation

— Kendall Jenner (@KendallJenner) November 8, 2015
Of course they are because the government doesn't want to admit that we are not alone https://t.co/FgCzgE8dI2

— Khloé (@khloekardashian) November 8, 2015
"No further details" yeah ok..... Thanks that's because #WeAreNotAlone #AdmitIt

— Khloé (@khloekardashian) November 8, 2015
What do we expect people to say? Obvi they are going to say it's a meteor shower. I'm such a conspiracy theorist let me enjoy this

— Khloé (@khloekardashian) November 8, 2015
California coast. DID. ANYONE. ELSE. JUST. SEE. THAT. #ufo

— josh groban (@joshgroban) November 8, 2015
A test fire of what?! That is some unknown top secret stuff right there. Plus, X factor in all this, I was probed.

— josh groban (@joshgroban) November 8, 2015
There's a UFO in California?!

— Adore Delano (@AdoreDelano) November 8, 2015
Yo! Everyone in California just saw a UFO! pic.twitter.com/XzDAKezvZi

— James Murphy (@JamesMurphy) November 8, 2015
California, UFO spotted tonight over San Jose. Bright lights followed by a green trail. Crazy. #westcoastufo

— Ede Schweizer (@edeschweizer) November 8, 2015
---