ESPN commentator Stephen A. Smith said Monday that "in this particular situation," the University of Missouri system's president was right to resign amid racial tension on campus.
However, the ESPN commentator said  he was going to "ruffle a few feathers here" as he had a message for both white and black Americans.
"To white Americans out there, accept the reality that to some level racism still exists," Smith said to murmurs of agreement from the other two commentators sitting with him. "It's just inescapable. It's the reality."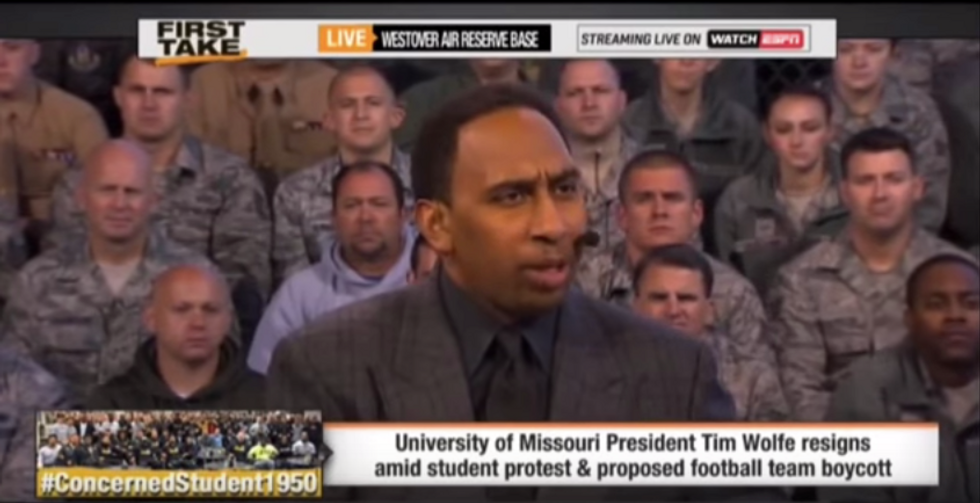 Image source: YouTube
"But to black America, let me make this statement — everyone who's white is not racist, and it's important to point that out because with this particular incident it was warranted," Smith said, referring to the Mizzou situation.
"We have an obligation to appreciate that there are a lot of people in this God-fearing country that we live in who are not racist," Smith continued. "Don't be so quick to jump. That wasn't the case here. That was valid. But there are some folk out there who will use this as an excuse to jump on every issue and attach racism to every issue when it may not be that. It may be that somebody just doesn't like you."
Smith reiterated multiple times throughout his short speech that he agrees with the Missouri outcome but admonished those not to assume that every case deserves the same outcome or is racist in nature.
"When it comes to legislating what's in somebody's heart, more often than not, you can't tell," Smith said.
Watch Smith's comments below:
---