The University of Missouri Police Department wants students who witness "hateful and/or hurtful speech or actions" to "call the police immediately."
In a stunning email sent to students, UMPD requested "hurtful incidents" be reported to the police as well as a detailed description of the offender.
"If possible and if it can be done safely, take a photo of the individual(s) with your cell phone," the email states.
The email concludes with the following disclaimer:
"While cases of hateful and hurtful speech are not crimes, if the individual(s) identified are students, MU's Office of Student Conduct can take disciplinary action."
Journalist Madi Alexander posted the email on Twitter Tuesday and posed a number of troubling questions regarding the initiative.
Well, this is an interesting email. pic.twitter.com/apMCbpym3e

— Madi Alexander (@MadiLAlexander)

November 10, 2015
1) Is MU going to making a habit of using its police force to police speech? 2) How do you define hurtful? 3) What if the person is faculty?

— Madi Alexander (@MadiLAlexander) November 10, 2015
MUPD reportedly confirmed to Mediaite that the email is real.
The race complaints at the University of Missouri came to a head last weekend, when at least 30 black football players announced they would not play until the president left. A graduate student went on a weeklong hunger strike.
Days later, University of Missouri system President Tim Wolfe resigned.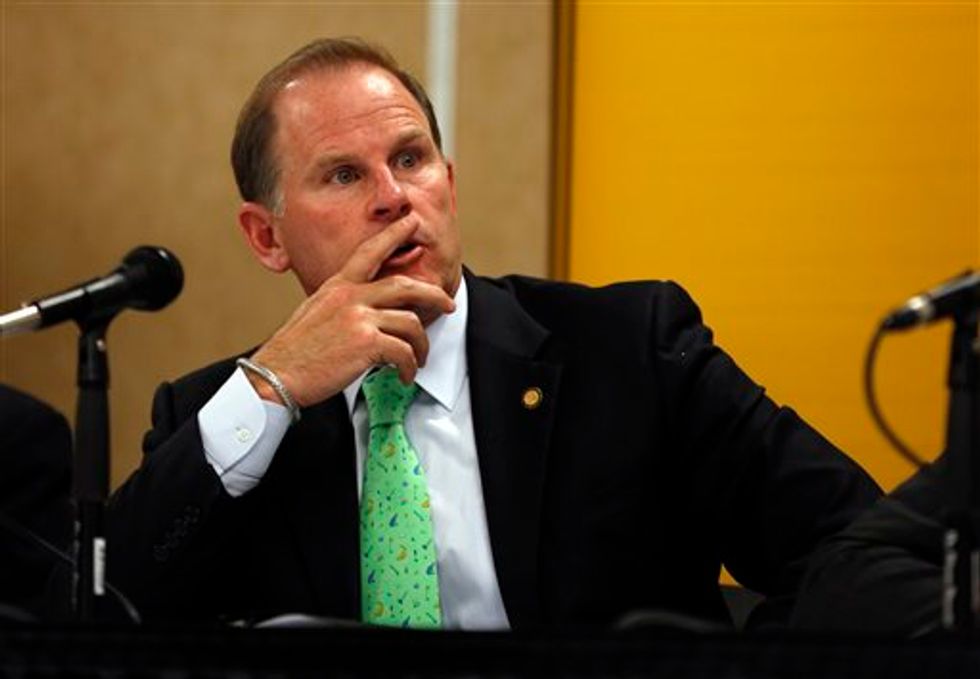 In this Friday, April 11, 2014, file photo, University of Missouri President Tim Wolfe participates in a news conference in Rolla, Mo. Missouri football players announced Saturday, Nov. 7, 2015, on Twitter that they will not participate in team activities until the university president is removed from office. The move aligns the team with campus groups who have been protesting the way Wolfe has dealt with issues of racial harassment during the school year. (AP Photo/Jeff Roberson, File)
Students who pressed for Wolfe's ouster celebrated Monday. Critics considered him out of touch and insensitive. He said the university would draw up a plan to promote diversity and tolerance by April, a wait protesters considered laughably unacceptable. They were also frustrated by his response to black protesters who blocked his car during a homecoming parade. Wolfe did not get out and talk to them, and they were removed by police.
That followed a September incident in which the student government's president, who is black, said people in a passing pickup truck shouted epithets at him. Early last month, members of a black student organization said slurs were hurled at them by an apparently drunken white student. Also, a swastika drawn in feces was found recently in a dormitory bathroom.
The Associated Press contributed to this report.
---