While the University of Missouri's campus is embroiled with racial tensions, Fox News' Jesse Watters went to the campus to talk to students about safe spaces and white male privilege.
"This country has been based on white supremacy, it's been built on a lot of people's blood," one black Mizzou student told Watters.
"We want justice. We want all this discrimination that they're doing to our people to end. All this racism, all these threats," another black student told Watters during a march. "What these white people need to understand is that they keep on threatening us, we're going to have to give them what they want. An eye for an eye, a tooth for a tooth."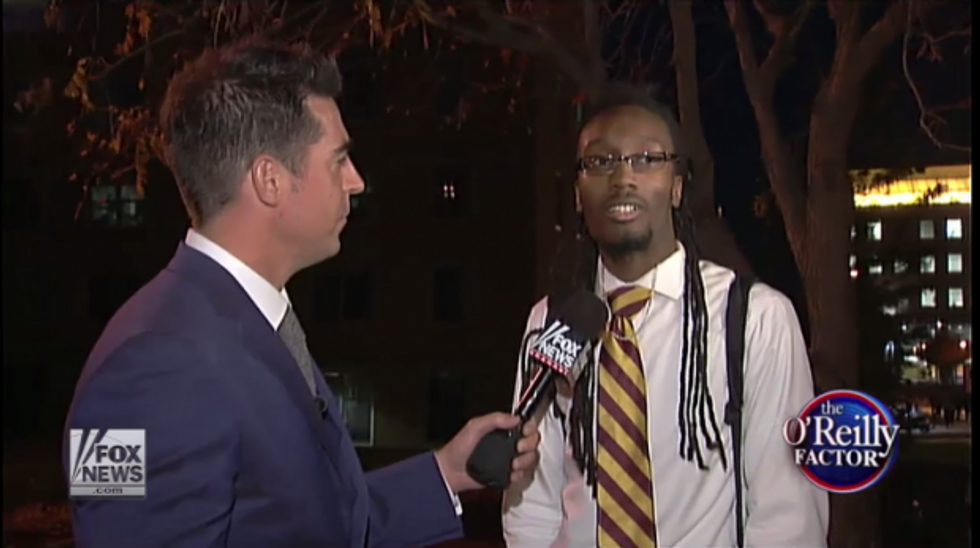 Image source: Fox News
The student said that now that they have gotten the university's president to resign, the students' next step is to "get justice" for Trayvon Martin and Michael Brown.
Watters also asked other students to define safe zones, privilege and marginalized, and some students couldn't seem to answer.
One black student told Watters that he believed the faculty at Mizzou to be "homogenous" and said that "there's something to be learned from every community."
"Becoming an adult, especially in this day and age, can place a lot of stress on a young person," one white student told Watters when asked about the students' demand for more mental health professionals on campus.
Watters talked to a group of four girls — two black and two white — as they all voiced their appreciation for one another and identified their common ground as women.
"I think one thing that gets misunderstood is that all black people hate white people or that all white people hate us and that's not true," one student said.
Watch the clip below.