Speaking in Paris Tuesday, Secretary of State John Kerry compared the Friday terrorist attack by the Islamic State with the radical Islamist attack on the satire magazine Charlie Hebdo earlier this year.
"There's something different about what happened from Charlie Hebdo, and I think everybody would feel that," Kerry said. "There was a sort of particularized focus and perhaps even a legitimacy in terms of — not a legitimacy, but a rationale that you could attach yourself to somehow and say, 'OK, they're really angry because of this and that.' This Friday was absolutely indiscriminate. It wasn't to aggrieve one particular sense of wrong. It was to terrorize people."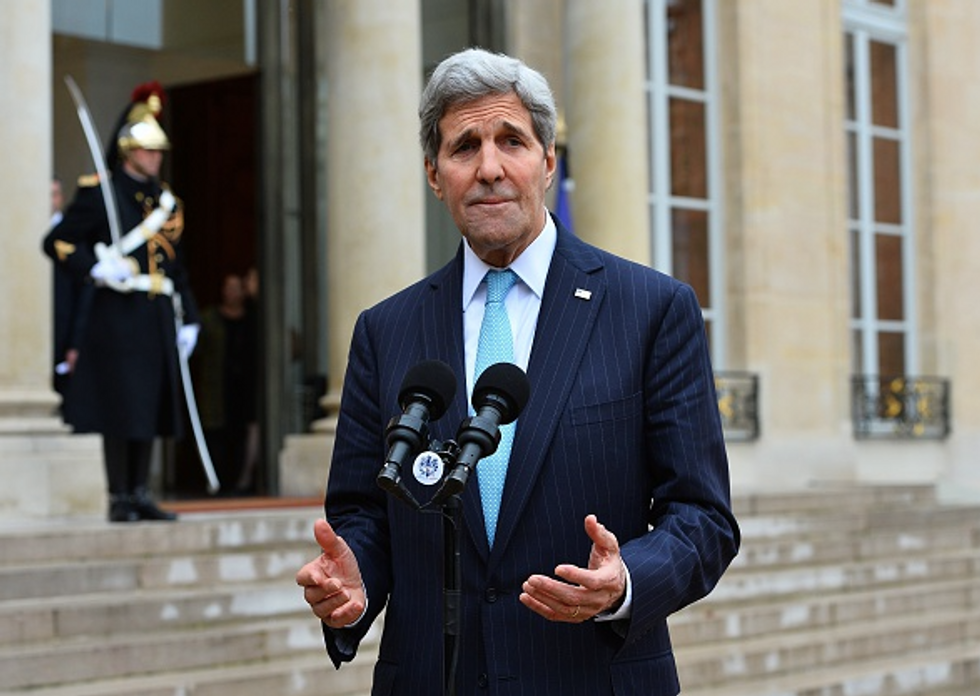 Secretary of State John Kerry delivers a statement after a meeting with French President Francois Hollande at the Elysee Palace in Paris Tuesday. (Mustafa Yalcin/Anadolu Agency/Getty Images)
The satire magazine was attacked earlier this year for publishing a cartoon that Muslims found insulting.
By Tuesday afternoon, Kerry was heavily criticized on Twitter.
Appalling moral equivocation as @JohnKerry seems to excuse Charlie Hebdo cowardly murderers https://t.co/bAtf1QbPgd

— Steve Cortes (@CortesSteve) November 17, 2015
John Kerry suggesting that cuz the Charlie Hebdo terrorists were angry, it was understandable. Heaven help us. https://t.co/eBmFlFng8T

— Joe Walsh (@WalshFreedom) November 17, 2015
Bad misspeak by John Kerry. Suggests Hebdo attacks had "legitimacy," backtracks, says "not legitimacy but rationale" https://t.co/Cy5BtTshC1

— Jeff Butera (@ABC7Jeff) November 17, 2015
WHAT did John Kerry say? The Charlie Hebdo attack had a "legitimacy" to it? Pointed satire makes murder legitimate? https://t.co/QYGsXfTLVp

— Mr Media Training (@MrMediaTraining) November 17, 2015
John Kerry: #ParisAttacks different from Charlie Hebdo, which had "a legitimacy…not a legitimacy, but a rational" pic.twitter.com/Dpzus104T5

— Kyle W. Orton (@KyleWOrton) November 17, 2015
Speaking about the Friday Islamic State attack, Kerry was more definitive.
"It was to attack everything that we do stand for. That's not an exaggeration," Kerry said. "It was to assault all sense of nationhood and nation-state and rule of law and decency, dignity, and just put fear into the community and say, 'Here we are.' And for what? What's the platform? What's the grievance? That we're not who they are? They kill people because of who they are, and they kill people because of what they believe. And it's indiscriminate. They kill Shia. They kill Yezidis. They kill Christians. They kill Druze. They kill Ismaili. They kill anybody who isn't them and doesn't pledge to be that."