The flashlight on the gun of an unidentified Bensalem, Pennsylvania, police officer may very well have saved his life.
"They say God is everywhere," Fred Harran, public safety director for the town, said. "God was in Knights Inn on Nov. 7."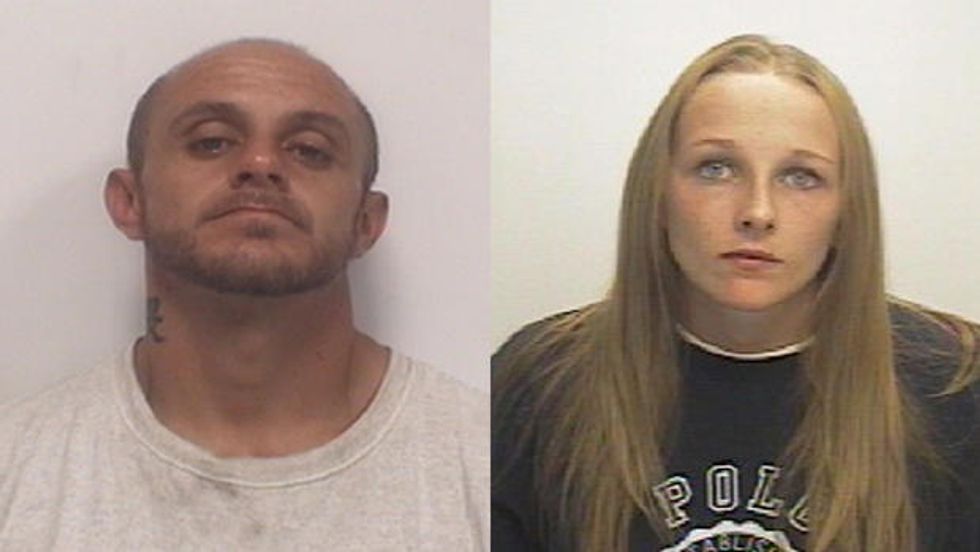 Lloyd Franklin, left, and Jennifer Lanning (Davidson County Sheriff's Office)
According to WCAU-TV, police were led to a motel in Bensalem during their search for James Miller, a man wanted for parole violation.
When police arrived at the motel room they believed Miller was hiding in, they were in for quite the surprise: Two criminals from North Carolina, Lloyd Wayne Franklin, 34, and Jennifer Michelle Lanning, 38, wanted for the murder of an elderly couple, in addition to a string of armed robberies in both North and South Carolina, were holed up in the room.
Franklin, armed with a gun, was hiding inside a closet when the officer entered the room. When the officer attempted to open the closet door, he was met with immediate gunfire.
The bullet fired from Franklin's weapon hit the flashlight just below the barrel of the officer's gun. According to WCAU, the incident unfolded so quickly that the officer did not realize his flashlight had been hit and believed his own weapon had jammed.
Shocked, the officer ran out of the room, and a stand-off ensued. After Lanning surrendered to police, the standoff continued for another 2.5 hours until Miller emerged. Franklin, however, was found dead with a self-inflicted gunshot wound.
"Two bad guys in custody. And one that'll be buried," Harran added.
Lanning has since been transferred back to North Carolina where she will face murder charges.
—
Follow the author of this story on Twitter and Facebook:
[facebook //www.facebook.com/plugins/like.php?href=