Sen. Ted Cruz (R-Texas) and ABC's Jonathan Karl sparred briefly over Cruz's plan for Syrian migrants during Tuesday's "World News Tonight."
Karl hit Cruz on a bill the senator plans to introduce that would keep Syrian migrants from entering the United States. Cruz explained to Karl that his legislation would bar not only Syrian migrants but any Muslim migrants from countries with a serious Al Qaeda or Islamic State presence — an idea very similar to legislation that Cruz's fellow Republican presidential contender Sen. Rand Paul (Ky.) announced earlier this week.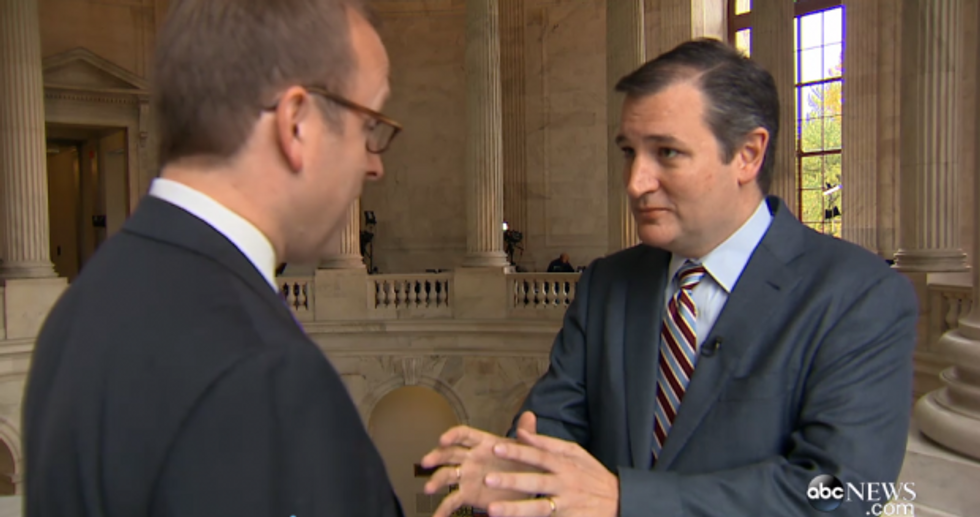 Image source: ABC News
When Karl pressed Cruz on the fact that the bill would prevent Muslim migrants while permitting Christians to continue to enter the country, Cruz responded, "Can you say 'radical Islamic terrorism'?"
"We should not be allowing Muslim refugees from countries where ISIS and Al Qaeda have control of significant amounts of territory," Cruz said, "because of the inability of this administration, the inability of our intelligence sources to distinguish between who is and is not an ISIS terrorist."
"At the end of the day, it's not that complicated," Cruz continued. "There's no history of ISIS terrorists embedding in the Christian community and pretending to be Christian. If that were occurring, we would work to prevent it."
"Christians are different in the Middle East, number one, because they are being persecuted and facing genocide, that is qualitatively different," Cruz said. "ISIS is crucifying Christians.