Vice President Joe Biden suggested that refugees actually have the most rigorous of screening processes in order to enter the U.S.
In the White House's weekly address, Biden said he wanted to "set the record straight" on how refugees can come to the U.S., including background checks and fingerprinting. He also said the vast majority of refugees are women and people who need medical help.
"In the wake of these terrible events, I understand the anxiety many Americans feel. I really do. I don't dismiss the fear of a terrorist's bomb going off. There's nothing President Obama and I take more seriously though than keeping the American people safe," Biden said emphatically. "In the past few weeks though, we've heard an awful lot of people suggest that the best way to keep America safe is to prevent any Syrian refugee from gaining asylum in the United States."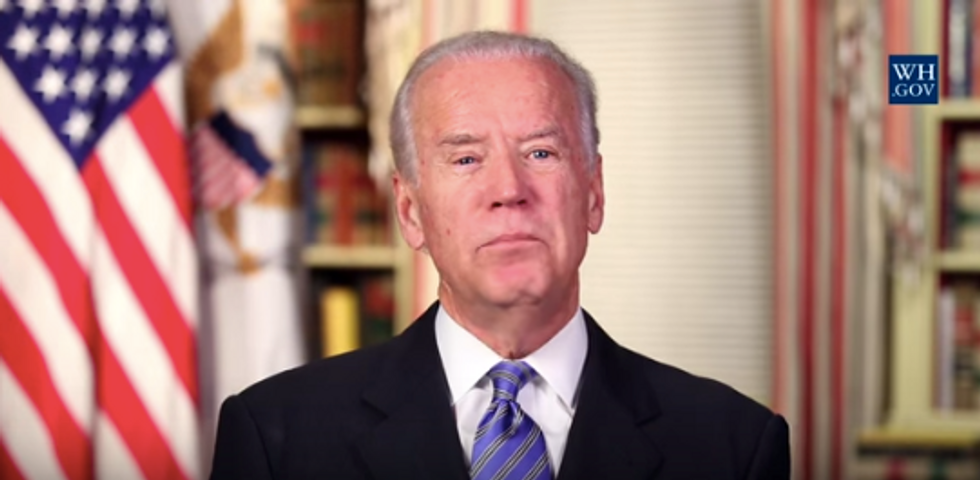 Image source: YouTube
"Refugees face the most rigorous screening of anyone who comes to the United States," Biden continued.
Biden added that the National Counterterrorism Center, the Department of Defense and State Department all have to sign off on refugees entering into the U.S.
"And to address the specific terrorism concerns we're talking about now, we've instituted another layer of checks just for Syrian refugees. There's no possibility of being overwhelmed by a flood of refugees landing on our doorstep tomorrow," Biden said. "Right now refugees wait 18 to 24 months while the screening process is completed."
The White House has faced intense scrutiny since the Paris terrorist attacks that left more than 120 people dead last week over the screening process that allows refugees into the country.
In the address, Biden said the Islamic State, which he called a "gang of thugs," wants people to "think in terms of us versus them" and wants the U.S. to turn its back on Muslims.
"We win by prioritizing our security — as we've been doing — refusing to compromise our fundamental American values — freedom, openness, tolerance — that's who we are, that's how we win," Biden said.
Ignoring a veto threat from Obama, the House passed on Thursday a GOP bill which would strengthen the vetting process of Syrian and Iraqi refugees.