There have been many parodies of Adele's latest hit single "Hello," but "Saturday Night Live" found a new use for the song — a way to prevent political arguments at the dinner table over Thanksgiving.
The venerable comedy show brought many of the program's favorite comedians to dinner to play an apparently Republican family with favorable views of Ben Carson and negative views on Syrian refugees. However, Cecily Strong played a more liberal family member who took issue with many of her family's political viewpoints.
"I am thankful that our governor is not going to let those refugees in here," Aidy Bryant's character said, continuing to claim that she "saw an ISIS" at the grocery store.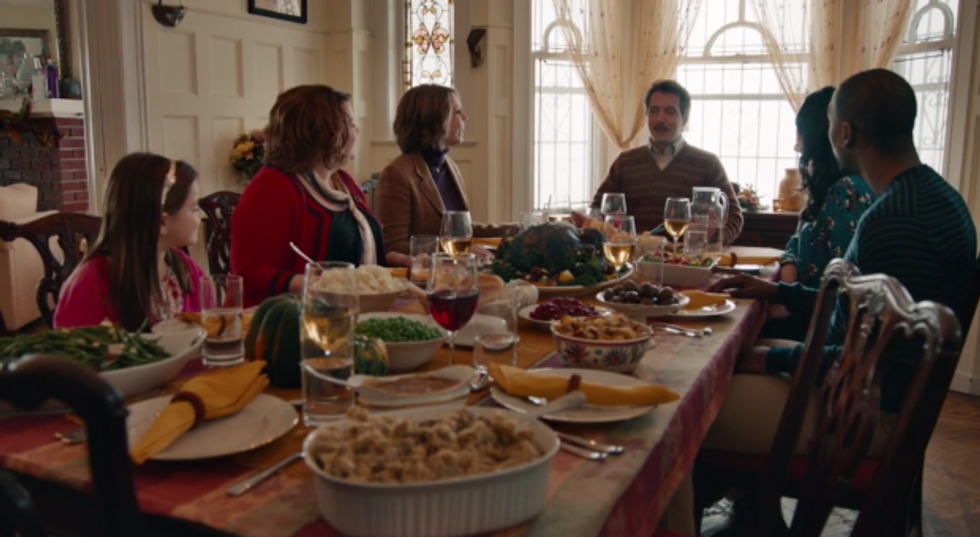 Image source: NBC
Bryant also asked Strong's "boyfriend" why his "friends keep antagonizing the police."
But as soon as the first chords of "Hello" began to play, the family stopped arguing and starting singing along — each verse becoming more dramatic than the last.
Adele was the "SNL" musical guest during Saturday's program. Prior to the live show, the singer said she credited former Alaska governor and vice presidential candidate Sarah Palin, in part, for her success as they both appeared on "SNL" on the same night in 2008  — one of the most-watched episodes. That particular episode aired two weeks before the Grammy nominations — which Adele eventually won.
Watch Adele's performance of "Hello" during last night's "SNL" below.