Journalist and author Glenn Greenwald railed against CNN coverage in the wake of the Paris attacks during an appearance on "Reliable Sources" on Sunday, accusing the network of leading the way in helping cultivate an "alarming anti-Muslim climate."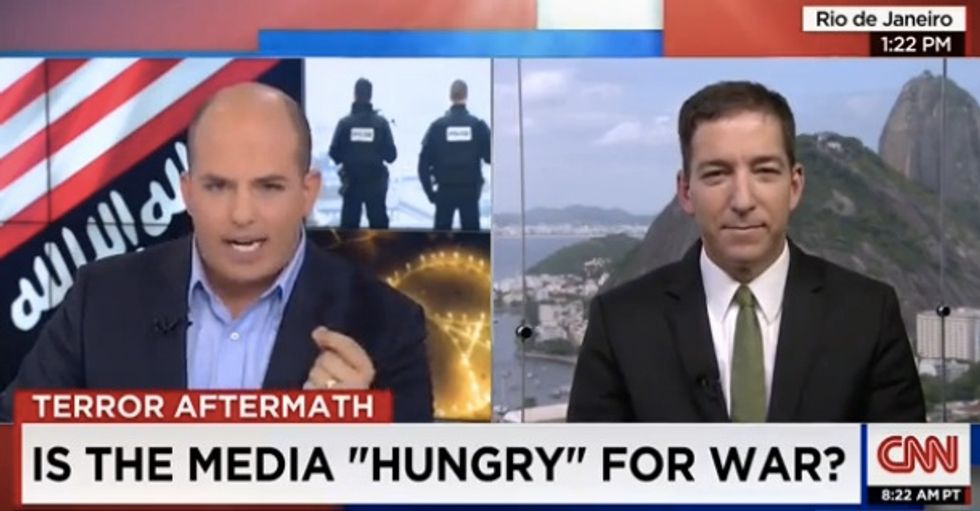 CNN host Brian Stelter and Glenn Greenwald (CNN)
"I think that CNN has actually, unfortunately, led the way in this," Greenwald told CNN host Brian Stelter, later adding, "There has been this really alarming anti-Muslim climate cultivated in this country, not just by Republican candidates like Donald Trump ... but by the American media itself."
He specifically cited an interview that was recently conducted on the network between two anchors and a Muslim activist — an exchange that he said is "the most despicable interview we've seen in the last several years."
Last week, anchors John Vause and Isha Sesay asked Yasser Louati, a representative from the Collective Against Islamophobia in France, what responsibility he believes that Muslims have in the wake of the Paris terror attack. It was an exchange that Greenwald clearly didn't appreciate.
"Aren't you cherry-picking here a little bit from 24 hours of television coverage?" Stelter asked.
But Greenwald continued by stating his belief that there's essentially a double standard in which some CNN staff members are permitted to share when he perceived as anti-Islamic sentiment, while others — such as Elise Labott, a global affairs correspondent — were punished for editorializing about a House bill that strengthened the screening process for Syrian refugees.
"The message that's sent is, 'You're free to stoke anti-Muslim animosity in the United States, but what you're not free to do is defend Muslims," Greenwald said.
Watch the segment below:
Steltzer shot back, "I personally haven't heard anti-Muslim rhetoric on this network in the way you're describing."
(H/T: Mediaite)
--
Follow the author of this story on Twitter and Facebook: