Supporters of Republican presidential candidate Jeb Bush sought to damage GOP Florida Sen. Marco Rubio's presidential campaign by "circulating lurid, unsubstantiated rumors of infidelity," Buzzfeed reported Monday.
The website published an excerpt from Buzzfeed writer McKay Coppins' new book, "The Wilderness: Deep Inside the Republican Party's Combative, Contentious, Chaotic Quest to Take Back the White House," which says, "Ever since he began to make a name for himself in Tallahassee, Rubio had been trailed by a persistent series of unsubstantiated rumors about his sex life."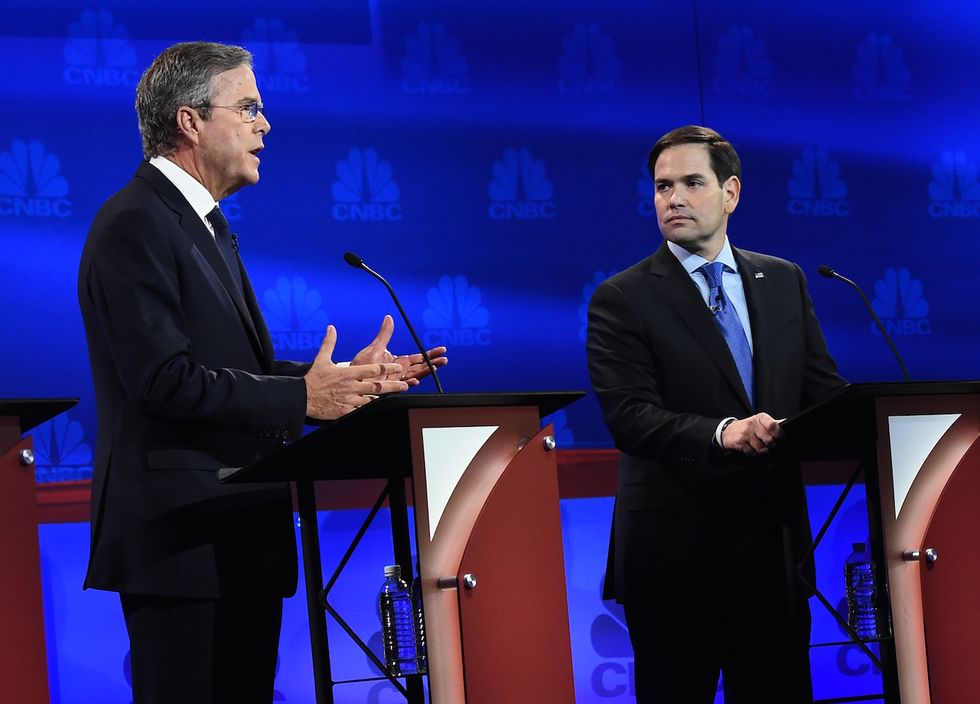 Former Florida Gov. Jeb Bush, left, and Florida Sen. Marco Rubio participate in a Republican debate at the University of Colorado on Oct. 28. (Robyn Beck/AFP/Getty Images)
It is these rumors that Bush supporters sought to breathe life into again. "Eventually, word got back to the senator's camp that Jeb's close allies in Florida were working to revive the 'zipper problem' meme in a last-ditch effort to freeze Rubio out of the race; they were circulating the rumors anew among donors and politicos and cautioning them to exercise due diligence before signing on with his campaign," according to Coppins' book.
The book, set for release Tuesday, reports that supporters for Bush, a former Florida governor, also set up an operation called "Homeland Security" to discredit Rubio with political media figures:
Meanwhile, in a series of off-the-record conversations, Jeb's messengers tried to convince a number of influential figures in political media that they had the goods on Rubio. Among these was MSNBC host Joe Scarborough. A former Republican congressman from Florida who remained tapped into the state's politics, Scarborough was skeptical whenever somebody tried to convince him that Rubio had an explosive career-ending secret lurking in his past. "Everybody who runs against him says he has girlfriends, or financial problems. They throw a lot of s**t at the wall," Scarborough told me. "It's the same thing from the Jeb Bush camp. They keep telling me, 'Oh, we've got the thing that's going to take him down.' But nobody's ever produced anything that we all haven't read in the Tallahassee Democrat."
Rubio's campaign reportedly spent thousands on private detectives and auditors to determine if there was any evidence the opponents could attempt to use of the alleged affairs, but found none — though they did find what they considered hypocrisy from the Bush camp:
To many in Rubio's orbit, the most maddening part of the unkillable zipper meme was not the thousands of dollars they'd already spent trying to debunk it, or even the fact that Jeb's people seemed so dead set against a competitive primary that they'd resorted to shameless gossip-mongering: It was the double standard at work. After all, Jeb had faced his own rumors of adultery in his day. In one of the more enduringly bizarre episodes of his governorship, a reporter had confronted him at a bill-signing ceremony about rumors that he was having an affair with a former model who had worked closely with his administration. Jeb had indignantly, and emotionally, denied the "hurtful" gossip, but the incident gave a Vanity Fair writer who profiled him shortly thereafter license to detail the other unsubstantiated Jeb rumors swirling around Tallahassee. And yet no one in the GOP establishment seemed to be wringing their hands over Jeb's "zipper problem."