Paul Ryan was infuriated when he first learned of Mitt Romney's infamous 47 percent comment during the 2012 presidential campaign, according to a new book.
The then-vice presidential nominee first learned of Romney's remark through an email as he boarded a plane on the fateful September afternoon the video was posted online, author McKay Coppins writes in "The Wilderness."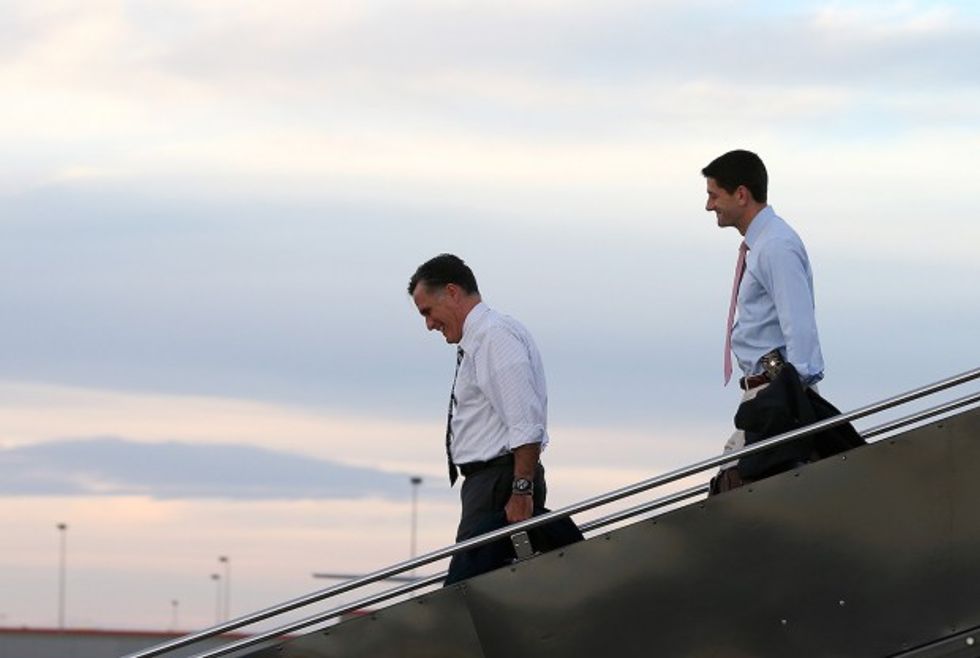 Justin Sullivan/Getty Images
The footage, published in a Mother Jones story headlined, "SECRET VIDEO: Romney Tells Millionaire Donors What He REALLY Thinks of Obama Voters," went viral instantly.
[sharequote align="right"]"He was apoplectic. He couldn't believe it."[/sharequote]
The recording showed Romney contend to a group of wealthy donors that 47 percent of Americans would vote for President Barack Obama "no matter what" because they are "dependent on government."
Ryan was not happy.
"Paul was f***ing livid," one Ryan aide, who was on the jet with him, told Coppins.
"He was apoplectic. He couldn't believe it," the aide added. "Obviously, it was a dumb thing to say and obviously it was bad politically."
According to the book, Ryan was particularly frustrated because he had been asking the Romney team for permission to deliver a major speech addressing poverty. Following Romney's 47 percent remark, Ryan knew that a speech on the issue would only appear to be a calculated move aimed at clearing the air (nevertheless, Ryan ultimately did deliver a speech the next month in Cleveland centered on the issue).
The revelation is only one that is documented in "The Wilderness: Deep Inside the Republican Party's Combative, Contentious, Chaotic Quest to Take Back the White House." The book, which hits stores Tuesday, provides an inside-look into the Republican Party's rising stars.
A spokesperson for Ryan did not immediately respond to a request for comment from TheBlaze Monday.
—
Follow the author of this story on Twitter and Facebook: