Police officers in Texas involved in an altercation were caught on video — and it appears the scuffle was between only the officers.
According to multiple videos obtained by KTRK-TV, two Harris County deputies were seen shoving each other in the middle of a street during broad daylight. According to witnesses, one of the officers — the smaller — made references to the other officer's finances, wife and ethnicity during their fight.
"At first they're were in each others face and real close," one witness, who wished to remain anonymous, told KTRK. "We tried to figure out if they were going to fight, that's why you hear people in the background asking if they're fighting."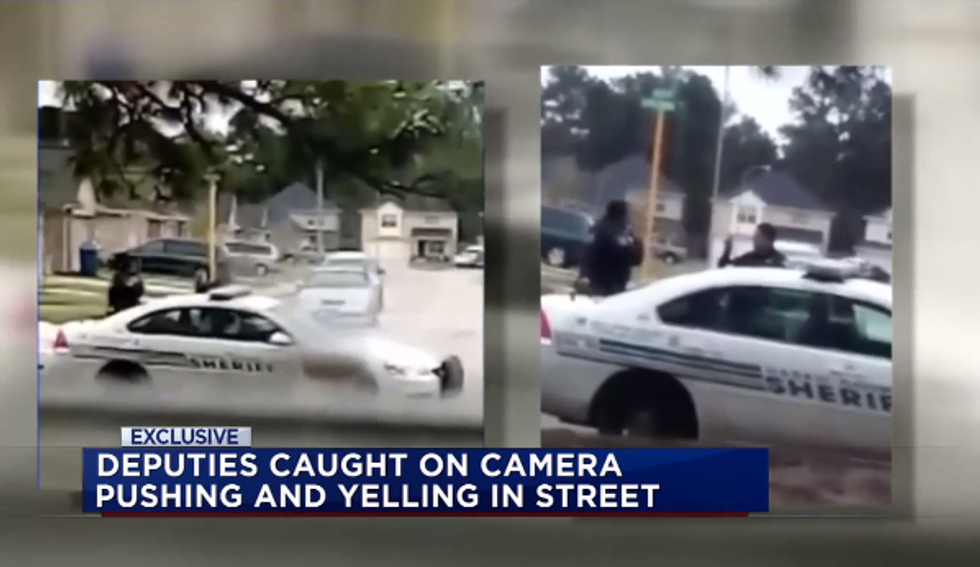 Image source: KTRK-TV
"Then they started shoving, and you knew it was serious," the woman, who recorded one of the videos, said.
Multiple witnesses and residents of the Greenspoint area said they recognized the two police officers, because they patrol the area quite frequently.
"You don't see police officers fighting every day," the witness said. "What I've seen them do, it didn't look like it was good at all. There was shoving. I mean, it didn't just get verbal, it got physical. What if it went farther than that, who was going to break it up?"
A Harris County Sheriff's Office spokesperson told KTRK that a grievance has been filed by one employee against the other, although the spokesperson did not reveal who was the one to file the grievance.
"The matter will be addressed in accordance with HCSO policy," the spokesperson said.
Watch footage of the altercation from KTRK below.