Senate Majority Leader Mitch McConnell (R-Ky.) said Tuesday that the Syrian refugee issue will be addressed in next week's must-pass government funding legislation.
"I think the refugee issue is likely to be dealt with in some way in the omnibus. There are a lot of moving parts, as you know," McConnell told reporters, adding that the omnibus is still a "work in progress."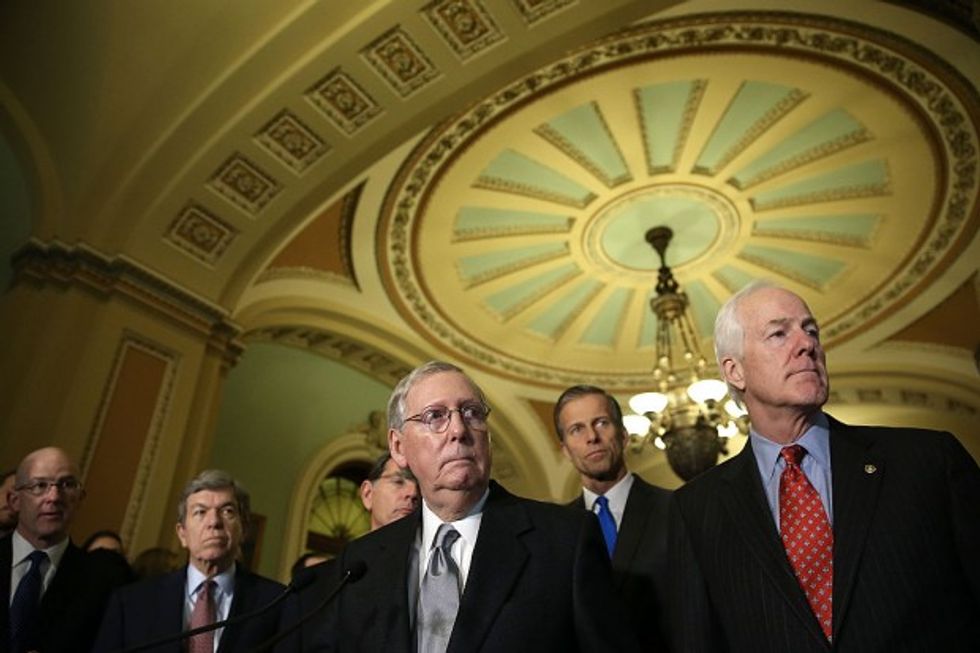 Senate Majority Leader Mitch McConnell (R-Ky.) speaks to reporters Tuesday. (Getty Images/Win McNamee)
McConnell, however, did not elaborate on what language the bill might hold, but there are several possibilities.
One option would be to tighten the restrictions on the "visa waver" program, which currently allows citizens from 38 different countries to visit the United States without obtaining a visa for their temporary stay. Security officials say that loopholes in the current "waver" program pose a great threat to the U.S., according to Reuters.
Another option would be to impose stricter screening requirements for refugees coming to the U.S. from Syria and Iraq. The House, with the support of nearly 50 Democrats, passed a bill last month to accomplish that goal. The bill would require FBI Director James Comey and other high-level intelligence officials to certify that each refugee poses no security threat.
The issue of Syrian refugees is just one of many that will make the omnibus negotiations a battle fought along partisan lines. Congress must pass the funding bill before the Dec. 11 deadline in order to avert a government shutdown.
—
Follow the author of this story on Twitter and Facebook:
[facebook //www.facebook.com/plugins/like.php?href=