Glenn Willwerth has owned a gun for more than 20 years with nary a reason to pull it from its holster.
Until Wednesday in San Bernardino, California.
Willwerth is the general manager of a paper company across the street from the scene of yesterday's shooting massacre — in fact, his office window faces the Inland Regional Center — and he told CNN Thursday he heard gunfire and then saw a person "run by my window very quickly."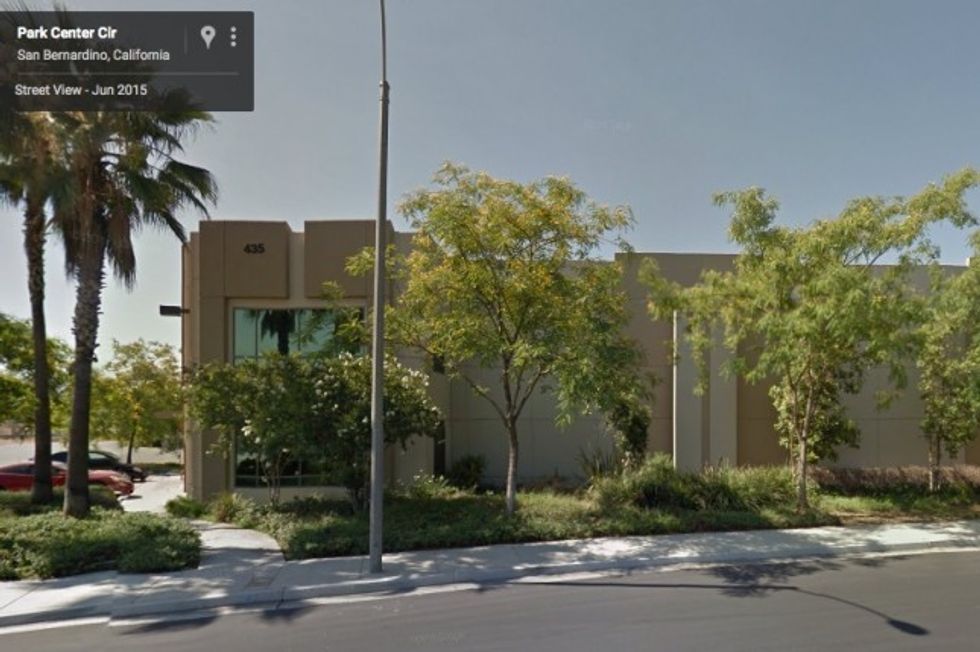 Image source: Google Maps
Willwerth said he "raced up to the front door to meet the person" and saw the "sheer look of panic on his face." When he opened door, the terrified man said, "They're shooting everybody!"
With that Willwerth told people in his office to lock down the building and for the man who just told him what was happening to stay put.
Then Willwerth got his gun.
"I grabbed my sidearm, I holstered it up, and I went out toward where the shooting was coming from," he told CNN's Brooke Baldwin. "I could immediately hear the shots being fired."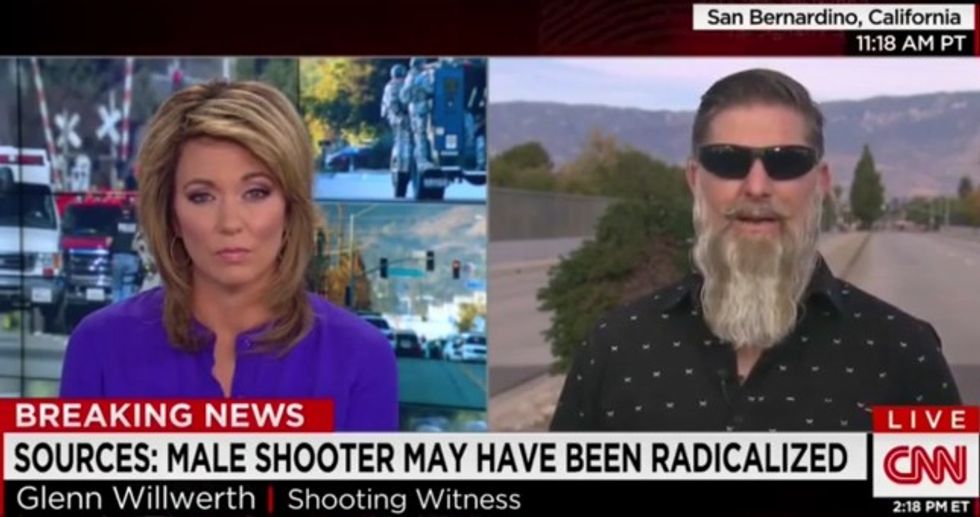 Image source: YouTube/CNN
"So you left your building?" the astonished host asked.
"Yes," Willwerth replied.
Baldwin inquired further, incredulously: "So as you're hearing the shots, you're going toward the shots?"
"Yeah, that's correct," he answered, noting that his "employees all have families" and his wife was in the building with him.
"I wanted to make sure it didn't travel to my location," Willwerth explained. "So I decided to go ahead and set up my own perimeter."
He told Baldwin he "hunkered down" by a water truck about 50 to 60 yards from the gunfire but couldn't see well through the foliage. He said he heard another 10 to 15 shots, then silence and soon "a lot of people scattering."
Except for one individual.
Willwerth said a "slow-moving person" got his attention amid the panic, and this individual hopped into a black SUV, which also pulled away slowly — "not in a hurry at all," he remembered.
"I immediately thought to myself, 'Whoever just did that [is] probably in this SUV right now,'" Willwerth told Baldwin.
He said he couldn't see inside the vehicle but the "high-powered shots" he heard convinced him to stay put, as he had only a sidearm.
But then the SUV began driving toward him.
"I unholstered my gun and I did point it at them," Willwerth said, "which was really irritating to have a gun for over 20 years and never have to do something like that. And you get some people who put you in a position to have to live with something like that — that's just ridiculous to me."
Willwerth said he didn't have to fire his gun and that the SUV changed directions and left the area. He then gave police a description of it and where it was headed.
Willwerth and another employee ended up staying at his office all night.
This story has been updated.
—
Follow Dave Urbanski (@DaveVUrbanski) on Twitter